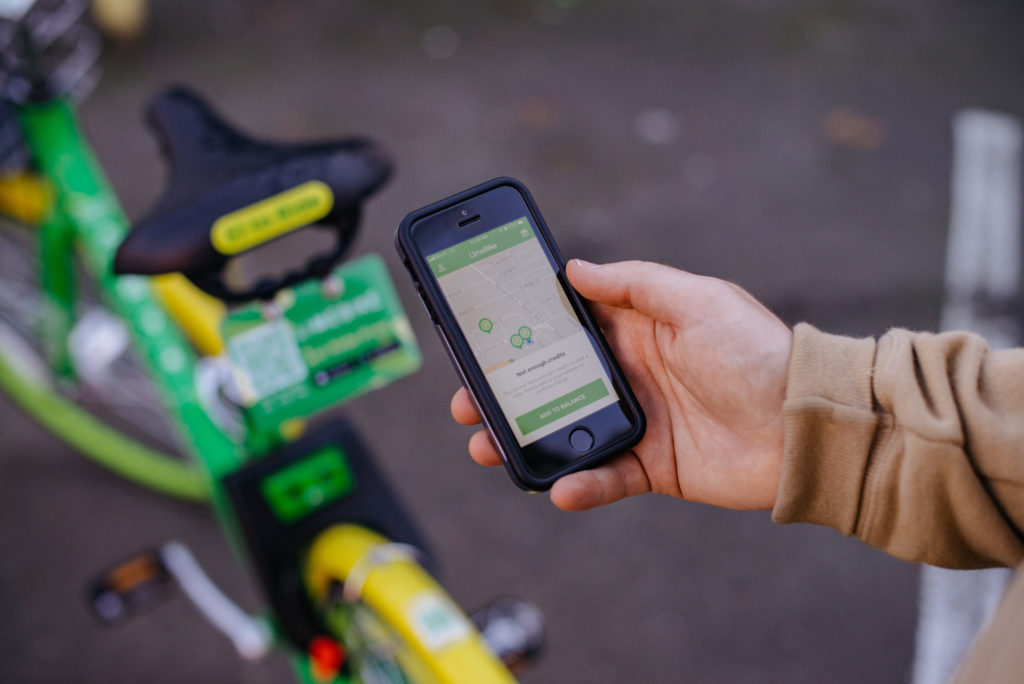 Bikesharing, like carsharing, has its roots in the zeitgeist of the 1960s, with the first generation appearing as free "White Bikes" in Amsterdam, Netherlands in 1965. Various sharing schemes ranging from free bikes to bike libraries were periodically implemented, usually by activist organizations, through the years. The bike library model is still used in areas where a sharing network is not practical, either because of a smaller and/or less dense land use context, or for adaptive bikesharing, which requires a variety of bikes for its fleet.
Second-generation bikesharing networks began to resemble present-day docked systems, with similar sturdy vehicles in locked stations. They used coin-operated docks, however, so the lack of accountability led to stolen and vandalized vehicles.
In the mid-2000s, a confluence of technology enabled a third generation of bikesharing as defined in detail, below. Soon, large cities such as New York City and Chicago successfully adopted dock-based systems. Practical GPS tracking, which enabled user and vendor accountability and balancing; payment systems, including eventual smartphone integration; and affordable solar power and LED lighting enabled the widespread use of the mode and the quick movement to the fourth generation.
Smaller and less dense cities started operating and permitting, respectively, more flexible station-based and later dockless networks. The latter privately owned and operated networks expanded rapidly. Electric pedal-assist bicycles and electric kick scooters would follow a similar model. The proliferation of dockless "micromobility" prompted a regulatory response in many cities, which are outlined in the pilot projects highlighted, below (see References, Shaheen). However, the wave of dockless bikes in 2018 was quickly replaced by a wave of shared electric scooters (e-scooters), as many dockless vendors turned their attention the more profitable scooter operations.
A bikesharing network most immediately offers the possibility of a significant reduction in driving, especially when offered as a first/last mile solution for transit. While some are publicly owned and operated, the docked systems are typically publicly owned and operated by a private vendor. The dockless systems are privately owned and operated. However, jurisdictions are increasingly regulating them through either a pilot or licensing regime.
The resources below first define the relevant terms for bikeshare, show how agencies plan for implementation, then offers key policies (regulation and procurement documents), and finally case studies that evaluate their role in the transportation landscape.
The Federal Transit Authority draws on the Shared-Use Mobility Center-authored Shared Mobility and the Transformation of Public Transit (TCRP Research Report 188) for their "Shared Mobility Definitions" page, definintg bikeshare as: "Short-term bike rental, usually for individual periods of an hour or less over the course of a membership (periods which can range from a single ride, to several days, to an annual membership). Information technology-enabled public bikesharing provides real-time information about the location and demand for bikes at docking stations throughout a community." Various forms of free-floating, dockless bikesharing have been implemented in North America since this report. In addition to their obvious physical differences (where they do not need a physical dock for parking), they also tend to operate privately, on a different payment model. We also include electric kickscooter sharing in this module, as they operate and are regulated similarly to free-floating bikesharing.
Station-based/Docked Bikeshare

: The most established system, station-based/docked bikesharing dates to the second generation, coin-operated systems. The current third and fourth generation networks fall under two models.

Smart Dock

:

this system includes a payment kiosk that is connected to the centralized reservations and tracking system. The kiosk is connected to specialized docks that operate the locking systems. This system allows both single use with a code, or a subscription service.

Smart Bike

:

the predecessors to dockless bikeshare, these systems are less expensive to install and operate. While some have payment kiosks, each bike includes at least solar-powered electronics for the locking system and GPS tracking. This system allows the use of docks that more resemble regular bicycle racks, or locking away from the station. (Shared-Use Mobility Center, TCRP 188)

Free-Floating/Dockless Bikeshare:  Privately operated, these systems are accessed via an app on the user's smartphone. The bikes contain all of the electronics and locking mechanisms, and can be tracked by the user; operator; and if relevant, the regulating agency.  (Hernandez)
Hybrid Bikeshare: A hybrid style of bikeshare is also emerging, in which station-based systems integrate free floating bikes into their existing docked fleet. Much of this is taking place as a result of e-bikes being added to docked pedal bike fleets; often, these e-bikes can be left at a docking station, or simply locked to a secure space (sometimes branded and/or geocoded to denote an acceptable locking location).
E-bikeshare: E-bikes (electric bikes) work in both docked (San Francisco, New York)

and dockless (

Chicago, San Francisco pilot)

systems. The model legislation promulgated by

People for Bikes

, divides e-bikes into three classifications. E-bikeshare falls into the "Class 1 electric bicycle" category that means an e-bike "equipped with a motor that provides assistance only when the rider is pedaling, and that ceases to provide assistance when the bicycle reaches the speed of 20 miles per hour." Especially in service areas where the topography might be prohibitive, either due to relief or distance, e-bikes offer accessibility to users who might find traditional bikesharing prohibitive.
Adaptive Bikeshare:

these systems serve users of handcycles, recumbent trikes, and other vehicles not served by bikeshare networks. A successful adaptive bikeshare should address a wide range of user needs, which also means that it is more difficult to reach a network effect. Currently, adaptive bikeshare systems operate as bike libraries in partnership with bicycle shops or non-profits near recreational facilities like off-street trail networks. The

Detroit and Portland

systems, while operating on a similar system, are piloting efforts to include the reservation and marketing in their wider bikeshare systems.
Planning for bikesharing has evolved along with the vehicles. The plans and tools shown below range from the large, phased roll-out of the large Citi Bike, to the dockless plans, the addition of e-bikes to the existing San Francisco network.
Bike Infrastructure Planning
The recent influx of biking and bikeshare programs has coincided with an increased interest in determining best practices for bike-related infrastructure. In particular, there have been several studies exploring the relationship between bike lanes and bike and pedestrian safety.
Docked Bikesharing
Docked bikeshare systems – such as those in New York City, Chicago and Washington D.C. – require significant up-front capital investment and planning. Often, because of their size and scale, docked systems are publicly programs that are managed by a single selected operator. In 2019, many systems using smart docks began to also incorporate smart bikes (often e-bikes) that could be locked to a docking station or to another permitted location.
Dockless Bikesharing
2018 bore witness to a wave of dockless bikesharing in the U.S. Operators expanded into new markets, and hundreds of thousands of dockless bikes hit the streets. However, many dockless operators have since shifted their attention to e-scooters, which are cheaper to manufacture and easier to balance. For example, Lime (tellingly, formerly Lime Bike) pulled all of its dockless bikes off the streets in a number of markets in early 2019 in favor of focusing on their e-scooter fleets. This left several cities—such as St. Louis and Rockford, IL—without a bikeshare program altogether.
It is also important to note that cities can have a docked system and a dockless program operating simultaneously. Washington D.C., for instance, has an extensive docked bikeshare system operated by Motivate, but it also has permitted dockless operator JUMP throughout the District. Similarly, New York City established a pilot program in the summer of 2018 allowing several dockless providers to operate in select New York boroughs, thereby increasing access to bikeshare quickly without investing heavily to expand the more-expensive docked system to those areas.
Some helpful examples of plans relating to dockless bikeshare include:
The Chicago pilot allows dockless bikes in an area deemed underserved by their docked, station-based network. Most of the bikes are required to have a locking system that can attach to a fixed object. Dockless Bike Share Pilot Project, Chicago, Illinois, 2018
E-bikes
E-bikes, also known as electric bikes or pedal-assist bikes, are becoming increasingly popular across the country. In some cities in which they have been incorporated into existing fleets, ridership of e-bikes is up to 4 times greater than the other bikes. These bikes help people ride farther and faster, and one study in Norway found that e-bikes increase the number of rides taken, particularly among women. These trends suggest that planners considering future bikeshare expansions or implementations should seriously consider how e-bikes will be incorporated.
Some useful examples of such plans include:
Equity
For both transit agencies implementing bikeshares and operators managing the systems, the goal of such a system is to establish an affordable, financially-sustainable bikeshare system that increases mobility and equitably serves the community. Unfortunately, due to a number of geographic, cultural and physical factors, many bikeshare systems are only as equitable as needed. Some tools and examples of efforts to address these barriers include:
Integration with Transit
Another element that city officials should consider when planning for new or expanded bikeshare systems is how the system can be incorporated with existing public transit systems. For example:
As the mode has evolved, so too have the procurement and regulations. The early docked regulations were largely proactive, which is not surprising because most of those systems are city-owned. On the other hand, the regulatory response to the dockless bikes is often reactive.
The dockless bike regulations are more extensive. This might be on account of both their more recent appearance—and subject to "lessons learned"—but also because of concerns about their potential to block the public right-of-way. Also, since the jurisdictions cannot mandate the location of docks, they must figure ways to either geo-fence their parked locations and maintain an accessible right-of-way.
As bikeshare grows in value around the country, communities' Members of Congress have taken greater steps to support it. A House bill introduced in July 2019 would make some federal transit funds available to bike share programs, a huge step in recognizing bikeshare as an important and valid component of a transportation network. Another summer 2019 bill would require 5% of each state's federal highway funds be allocated to complete streets programs to build necessary infrastructure for streets to feel – and be – safer for bicyclists.
Regulations
States and cities alike are working to ensure that their active transportation legislation stays up-to-date with emerging technologies and transportation needs. Often, this means passing updated zoning ordinances, formally defining e-bikes, and establishing permit requirements. Docked systems are often owned by the cities, whereas most dockless systems are operated via a permit granted to vendors. As a result, much focus on dockless regulation centers around permit requirements.
Examples of Docked System Regulation
Examples of Dockless System Regulation
NABSA Dockless Bikeshare Regulation Guidance
San Francisco

was one of the first cities to see the mode, and reacted with regulation. Its model of passing an emergency ordinance and creating a more robust permitting regime has since been repeated for other free-floating operations in the public way.  

A Resolution Limiting Free-floating Bikeshare, San Francisco, California, 2017

The

Seattle

system looks to regulate how they are parked in the right of way  

Bikeshare Permit Requirements, Seattle, Washington, 2017

People for Bikes has  Model-eBike-Legislation-06282018 people for bikes
Dockless Bike Sharing Ordinance and Permits, Durham, North Carolina, 2017
Shared Active Transportation Ordinance, Albuquerque, New Mexico, 2018
Examples of E-Bike Regulation
Federal Level: In 2002, Congress enacted HB 727, which amended the Consumer Product Safety Commission definition of e-bikes. A low-speed electric bike was defined as "A two- or three-wheeled vehicle with fully operable pedals and an electric motor of less than 750 watts (1 h.p.), whose maximum speed on a paved level surface, when powered solely by such a motor while ridden by an operator who weighs 170 pounds, is less than 20 mph." The Commission later clarified that the federal law does allow e-bikes to travel faster than 20 mph when using a combination of human and motor power.
California: In 2015, California passed a new state-wide legislation that designated three different classifications of e-bikes. The law distinguishes lower speed electric bicycles (with a maximum speed of 20 miles per hour) from higher "speed pedelecs" which have motors that provide assistance up to 28 miles per hour. These lower-speed e-bikes are permitted on bicycle paths. The law also allows municipalities to regulate e-bikes at the local level as needed.  Image: https://b.3cdn.net/bikes/2f0872d06ea26eb2b7_8zm6bi1fc.pdf
A primer on state electric bike laws released by the National Conference on State Legislators can be found here.
Examples of Procurement Regulations and Contracts
Bikesharing is now widespread, and there are a range of studies of the systems.
Related Items