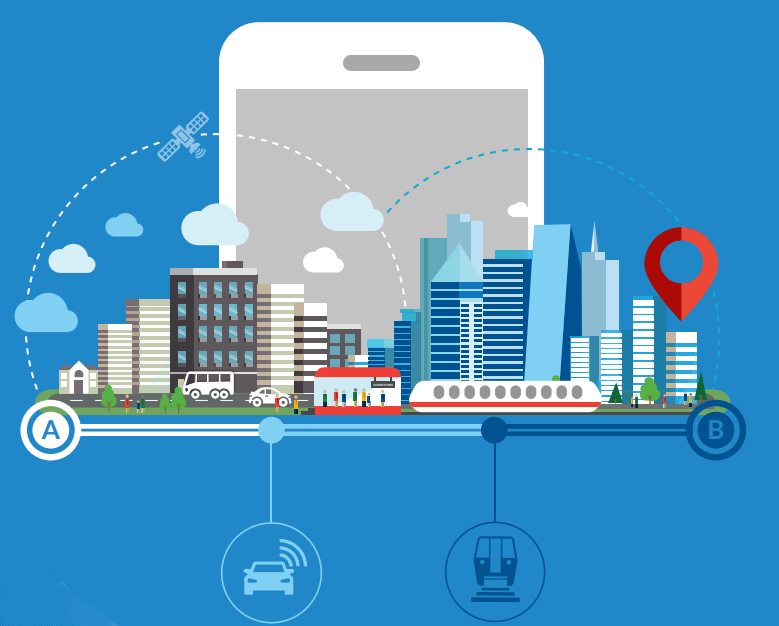 Transit agencies and local and regional governments have long used public-private partnerships (PPPs or P3s) for a variety of purposes, including leveraging funding to finance large capital projects and increasing operating efficiencies. According to the Federal Transit Administration, P3s "are essentially a form of procurement" rather than an innovative form of financing. The key element for P3s is that there is a single point of contact between the public agency and the private partner, and the private partner assumes a degree of both the scope and the risks of the project.
Mobility on Demand (MOD) P3s are formed when a transit agency or other jurisdiction finds a need for an MOD mode to operate within its service area. Most agencies contract with a private vendor that can meet the standards for operation. The partnerships range from operations contracts that resemble traditional agreements—such as is sometimes the case for MOD microtransit operations—to companies providing the technology to enable the MOD operation of agency fleet vehicles, to provision of vehicles and hiring of drivers that meet labor requirements.
How the risk and revenue is shared varies across modes, too. Agreements might range from a few carsharing vehicles at transit stations to meet first mile/last mile requirements to operation of an entire bikesharing system, such as Divvy in Chicago.
P3 Contract or Agreement The organizing category in the MOD Learning Center is "P3 Contract or Agreement," under a Document Type search. Each partnership will have a single record in this category. Ideally the record is a contract or agreement between the public and private entities. When the legal document is not available, an announcement will be shown in its place. Any other documents—marketing, reports, etc.—are linked to this document.  In addition to the document type, additional and supporting P3 information can be found under the topic search Public-Private Partnerships.
The evolution of partnerships between private MOD operators and public agencies is evolving, and planning for each mode varies according to service model.
A broad overview of how shared mobility and transit can work together is found in the SUMC-authored TCRP Research Report Shared Mobility and the Transformation of Public Transit.
SUMC also hosted a webinar—"Creating & Implementing Public-Private Shared Mobility Partnerships"—which discussed how to implement shared mobility public-private partnerships. Sharon Feigon, Executive Director of the Shared-Use Mobility Center, moderated the panel, which included Justin Holmes, Director of Corporate Communications & Public Policy at Zipcar (carsharing); Dani Simons, Director of Corporate Communications & External Affairs at Motivate (bikesharing); Paige Tsai, Transportation Policy & Research Associate at Uber (ridesourcing); and Marla Westervelt, Senior Transportation Planner, Policy and Innovation, Los Angeles County Metro.
The MOD Learning Center has a growing list of Mobility on Demand PPPs.  Included below are handful to help get you started in your search:
MBTA The Ride: This partnership provides mobility on-demand to ADA Paratransit users. The partnership was enabled by a procurement exemption passed by the Commonwealth. SUMC's analysis includes both the statute as well as the agreements between the agency and the private Lyft and Uber operators.
Arlington, Texas: This case study of the microtransit public-private partnership in Arlington, Texas offers a thorough discussion of the procurement process, with accompanying documents.
Pickup by CapMetro: Austin's Capital Metro transit agency (CapMetro) Pickup pilot project formed a public-private partnership with microtransit provider Via. The program repurposed agency paratransit vehicles to provide free, accessible on-demand transportation to a growing neighborhood not served by fixed route service.
Seattle, Washington: The city's bikeshare permit application offers an alternative to the traditional procurement process that is often done when looking for a private partner. The Seattle Department of Transportation (SDOT) responded with a six-month pilot program that regulates dockless bikesharing. Launched in July, 2017 the program includes relevant extant regulations for bicycles (e.g. lights, helmets, etc.), and establishes new regulations, such as granting SDOT the right to geo-fence where the shared bikes may be parked, and provisions for e-bikes. The program also requires customer service staffing, and real-time location data sharing. The permit application was renewed in November 2017 to include measures such as adaptive bicycles, equity in service, and marketing.
Related Items