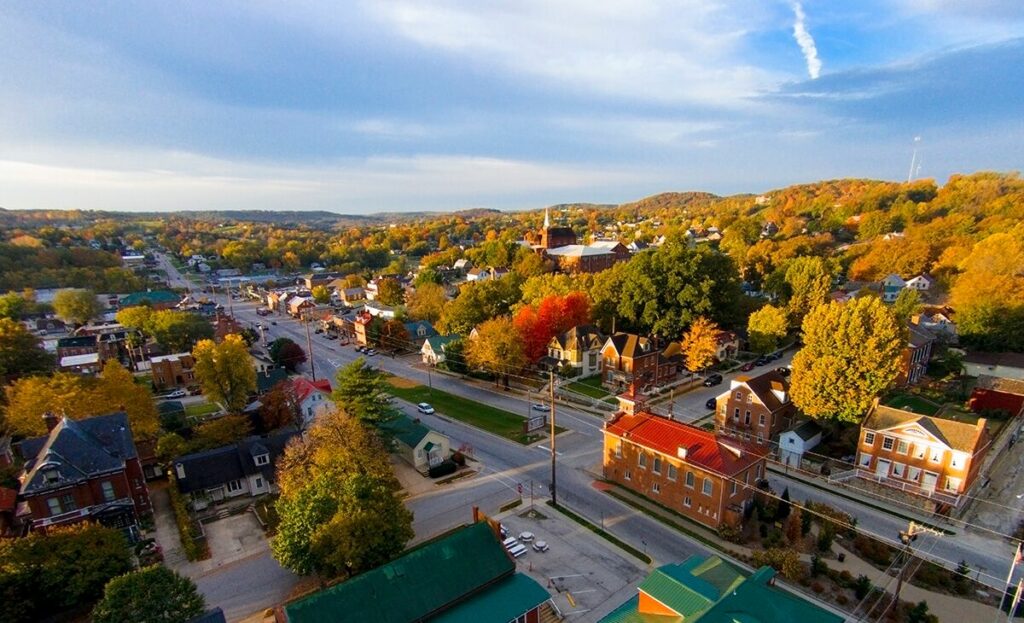 According to the U.S. Census Bureau, a rural area is any area that is neither an urbanized area (50,000 or more people) nor an urban cluster (between 2,500 to 50,000 people). Currently, over 60 million (1 in 5) Americans live in such areas. Similarly, the term "small town" has a wide array of connotations, encompassing communities ranging from tiny village to sprawling suburb. For the context of this Learning Module, both rural and small towns are discussed, as many small towns have a similar set of transportation needs as their rural counterparts, and they are often geographically isolated within a greater rural context. In compiling research and examples, most attention was paid to communities of fewer than 150,000 residents.
Unlike in densely populated urban communities, residents in rural areas and small towns do not have access to a wide range of mobility options. Typically, fixed-route public transit service is either limited or non-existent, flexible services require significant advance notice, and use of a private auto is the only available mode of transportation.
Furthermore, rural populations are also older on average than their urban counterparts, with residents 65 and older making up 18% of adults in rural areas as compared to 13% in urban areas.[1] This is particularly important news for transportation planners, as the elderly tend to have greater mobility considerations. In fact, about one third of people 65 and older have a disability that limits mobility.[2] Additionally, of the 3 million veterans enrolled in the Veterans Affairs health care system, one third live in rural and small towns.[3]
If individuals in these lower-density communities cannot drive themselves, they often lack access to alternatives. For example, a study conducted in New Brunswick, Canada found that if older drivers in rural areas lost access to a personal vehicle, they would not make 34% of the trips they normally do.[4] From a health and wellness standpoint, that lack of mobility is not just frustrating, but also dangerous; an older adult who cannot drive has an immediate increased risk for adverse health outcomes, and takes 15% fewer trips to the doctor. [5]
However, the lack of mobility options in small and rural communities is not just a challenge for the elderly. In general, public transportation is tied to job creation, economic growth, and improved quality of life.[6] Unfortunately, the lower population density in smaller towns often makes certain mobility offerings – like traditional fixed route bus service or shared active transportation programs – fiscally unsustainable. In conjunction with lower median income rates, this lack of options means that people living in rural areas spend about 7% more of their budgets on transportation than people in urban areas.[7]
As a result of these challenges, public agencies, non-profits and companies are collaborating in new ways to leverage emerging technology and service models to improve mobility options for rural and small town residents. Some agencies, like the Michigan Department of Transportation, are focusing attention on populations with the greatest mobility difficulties, like the elderly and people with disabilities. Others, like the Vermont Agency of Transportation, are seeking to develop online platforms that better facilitate the use of flexible modes of transportation like dial-a-ride services. Still others, like the Green Raiteros in rural California, are combining their decades of experience with private sector support to enhance their newly-formed volunteer transportation organization. And others still, like Iowa-based company Koloni, are working to find models for shared micromobility services that better fit the needs of smaller communities. The following examples demonstrate just a few of the ways public agencies and multi-sector partnerships are working to close mobility gaps in small and rural communities.
Mobility Management: The National Center for Mobility Management (NCMM) defines Mobility Management as "a customer-centered approach to finding transportation solutions for all populations with a particular focus on people with disabilities, aging populations, English language learners, low income communities, and other groups with unique needs." Mobility management principles are also embodied in the U.S. Department of Transportation's vision of Mobility Services for All Americans.
Paratransit: Paratransit is typically regarded as transportation service specialized for people who cannot use traditional fixed-route services. However, there are several types of transportation services that fall under that umbrella. For example, in the 1990 Americans with Disabilities Act (ADA), ADA paratransit service is required within 3/4 mile of any federally-funded public transit for no more than twice the regular fare, and this service must be available to people whose disabilities prevent them from using fixed-route service. Additionally, there are human services transportation, such as non-emergency medical transportation service, and dial-a-ride services.
Dial-a-Ride: Dial-a-ride service is often viewed as a component of paratransit service, as it is a service offered to those who cannot use traditional fixed route and timetable services like buses and trains. Traditionally, dial-a-ride has been a curb-to-curb service for those with mobility challenges, such as the elderly and people with disabilities. However, in some locations where there are limited mobility options (such as in rural communities), dial-a-ride service is open to anyone, including those without mobility challenges. The service functions much like a taxi, but significant advanced reservation notice is usually required (often 24 hours), and costs are usually kept lower than taxis by the agency providing the service. Many dial-a-ride vehicles are wheelchair accessible.
Non-Emergency Medical Transportation: Non-Emergency Medical Transportation (NEMT) is a specific category of human services transportation that, as the name implies, transports patients to medical appointments. Medicaid has a provision for NEMT, though the service provision differs by state, which might affect coordination with other services. The Government Accountability Office produced guidance in a report Non-Emergency Medical Transportation: Updated Medicaid Guidance Could Help States, and the Henry J. Kaiser Family Foundation has written both a helpful "key issues" primer and a state-by-state clearinghouse.  Another useful source to learn more about the differing state-by-state policies is the TCRP Project B-44 report.
Rural: The US Census Bureau does not formally define "rural" areas. However, an area is considered rural if it does not fit into the category of urbanized area (50,000 or more people) or of urban cluster (between 2,500 to 50,000 people). Typically, rural areas are understood to have a lower population density and limited commercial land use.
The specific transportation needs of rural areas depend a great deal on the type of rural area. Often, the categorization of "rural" brings to mind agrarian communities and little to no transportation infrastructure.  Some areas with small populations and low densities are located immediately outside urban boundaries (suburban areas) or slightly further out (exurban areas), but they are likely to have ranging degrees of access to the urban transportation system. For example, public agencies and community groups in Tompkins County, NY are working to integrate the transportation services offered by various mobility providers to better connect the surrounding rural communities with downtown Ithaca transit options. In general, the variety of the connotations surrounding "rural" means that policies and programs designed for some rural communities or small markets are not well-suited to the needs of others.
Small Towns:  The transportation needs of small towns vary considerably depending on their context.  A small town could be home to a college campus, could be located within a larger metropolitan area, or could be surrounded by farmland.  Depending on the context, the needs can differ greatly.  A small town with a college campus could likely support a small bikeshare system or other forms of shared mobility, whereas a small town within a rural setting may require more creative strategies given the lower population density. For the purposes of this Learning Module, small towns were considered to be communities with fewer than 150,000 residents.
Volunteer Transportation Organization: Volunteer Transportation Organizations (VTO) are organizations that manage and provide rides on a voluntary basis. Traditionally, they are comprised of local drivers transporting local passengers, and they predominantly serve populations with mobility challenges, such as the elderly, people with disabilities and veterans.  VTOs can range in size, with some requiring complex driver managing practices, specialized booking software and 24-hour call-in centers. The Volunteer Transportation Center in upstate New York, for example, operates in three New York counties, has hundreds of volunteer drivers and transports people  millions of miles each year. It also serves both medical trips and other types of trips on a limited basis.
In most VTOs, volunteer drivers use their personal vehicles to drive people who have requested a ride to and from their destination; however, there are some VTOs that own their own vehicles, such as the Green Raiteros program in agrarian Huron, California.
VTOs differ from TNCs in a number of ways; first, the drivers are volunteering their time, unlike TNC drivers who are paid. Second, VTOs are typically non-for-profit organizations, rather than for-profit companies; furthermore, because VTOs are often transporting passengers to medical appointments, and because Medicaid has special provisions for non-emergency medical transportation, many VTOs rely heavily on Medicaid for mileage reimbursements. Other operational and organizational costs are often covered through other sources of funding such as grants. Finally, passengers requesting a VTO ride usually need to request the ride in advance to ensure the organization can coordinate with an available driver.
A common phrase among transit planners is: if you have seen one non-urban transit system, you have seen one non-urban transit system. What this means is that every small community's transit system is different, because the mobility needs and local conditions (geography, street design, etc.) of that community are different. As a result, there are not clear one-size-fits-all planning and implementation plans that can easily be adapted from one market to another.
However, some clear trends are emerging regarding the travel needs of rural and small communities. A June 2019 report from Todd Litman at the Victoria Transport Policy Initiative found eight primary trends and their corresponding impact on rural transportation demands:
For accessible reading of this table, please click here. 
Planners should be aware of these trends, and explore how they are impacting local transportation needs and expectations.
Furthermore, there are several grant and technical assistance programs – particularly at the federal level – that can support local efforts to improve mobility options in rural and small communities.
Federal Programs & Initiatives:
Sample planning documents:
Request for Information
Bike share feasibility studies:
Active Transportation Memorandums of Understanding

Final MOU between Ithaca, NY & LimeBike
Current MOU required by Alexandra, VA for any micromobility operator

Micromobility Permit Applications
Partnership Contract with TNC
Additional resources for planners:
In general, it is always important to ensure that local policies do not conflict with state or federal requirements. For example, anyone interested in establishing a bikeshare system should know whether the state has established requirements regarding helmet use, bike use on sidewalks, and speed limits. For those interested in pursuing partnerships with TNCs or microtransit providers, compliance with ADA requirements needs to be considered in the earliest stages.
Federal Policies:
The federal government has a number of policies in place regarding transportation to which local planners must adhere. Below are a few of the key acts and statements:
State- and City-Level Policies:
Historically, most local transportation initiatives were more concerned with abiding by federal requirements than they were with state-level policies. This is largely because states did not have a great deal on the books that could have served as a major barrier to implementing innovative transportation projects. However, with the advent of new technology and the proliferation of e-bikes and scooters, some states are recognizing the need to adjust their existing language in order to more appropriately address the emerging mobility options. For instance, 29 states and Washington D.C. have passed some legislation concerning autonomous vehicles, while five more have issued a related executive order. Similarly, the emergence of scooters is pushing a number of states to codify their definition and permitted use, although definitions differ between states; for example, the same scooter that is legally categorized in California as a "motorized scooter" and is required to be ridden on the road is categorized as a "toy vehicle" in Colorado and is therefore required to be ridden on the sidewalk. As new mobility options emerge in the coming years, local planners will need to keep abreast of the language and requirements included in related state policies.
In the case of TNCs, many states are actively being encouraged by the private operators themselves to pass legislation regulating the industry. In part, TNCs are lobbying state representatives to legislate the market because the state-wide regulations tend to be far less constraining to TNC operations than city regulations. Moreover, 41 states have passed preemptive laws that limit the ability of local municipalities to set their own standards.[8] The Portland, OR mayor wrote a public letter discouraging Lyft's actions in early 2019, claiming that "if your lobbying efforts were to succeed, Portland would no longer be able to manage our transportation system to best support the mobility, safety, accessibility, sustainability and equity needs of our City".[9] Relatedly, several states are currently working to better enshrine data protections and data sharing requirements in state legislation, and these regulations would likely impact public agency partnerships with any private mobility operator, from TNCs to bikeshare operators to e-scooter companies.
For smaller transit or regional government agencies interested in partnering with private operators, these state-wide regulations can prove extra limiting. For example, if a county agency wanted to partner with a TNC for an on-demand service, the state-wide regulations could restrict the amount or type of data the local agency could require from the operator. Furthermore, because smaller communities tend to have less negotiating power when dealing with these companies, the TNC would have even less incentive to provide the local agency with any more than the bare minimum of data required by the state.
As a result, public agencies serving small and rural communities need to be particularly diligent about paying attention to state legislative efforts regarding shared mobility and emerging transportation technology, and to join forces to advocate for best practices for their residents. Additionally, there are several resources that smaller municipalities can utilize to ensure their interests are addressed in state-wide regulations. Some such resources include:
National League of Cities' Rights in an Era of Preemption: A State-by-State Analysis. This 2018 update outlines state-level preemption in seven policy areas, including ride-sharing starting on page 15.
Washington State's Policy Guide for the Regulation of TNCs, released in January 2019. This report summarizes several local-level regulations concerning TNCs.
California's TNC Access for All Act, which when passed in September 2018, charged the California Public Utilities Commission with developing TNC regulations that address issues relating to accessibility for persons with disabilities who use TNC services. Furthermore, the state now collects $0.10 from each TNC trip to distribute on a competitive basis to access providers that establish on-demand programs to meet the transportation needs of people with disabilities in each county.
Shared Use Mobility Center's white paper regarding data sharing decision-making processes for transit agencies' public-private partnerships, released July 2019.
Networks of special interest groups and advocacy organizations, including AARP, Grantmakers in Aging and the Rural Community Assistance Corporation.
Below are several examples of public agency partnerships and initiatives working toward improving mobility options for residents in rural and small communities. Some examples involve efforts that better connect exurban and suburban areas with their urban neighbors, while others are focused on addressing the mobility needs of the elderly and people with disabilities. However, these examples represent just a small collection of the many initiatives currently underway across the county. If there are others that you think should be featured here, please let us know by reaching out at info@sharedusemobilitycenter.org.
Additionally, please note: more in-depth case studies of several of these examples will be released in the coming weeks. These case studies will provide greater insights into the projects' planning process, unanticipated challenges, and key lessons learned.
Initiatives to Develop Online Platforms or Applications
One of the largest trends in Mobility-on-Demand approaches involves developing online platforms and applications that better inform users of their transportation options across multiple service providers.
On-Demand Service Improvements
Many municipalities and community organizations are also looking to the private sector to help move the needle on on-demand services in their communities.
Volunteer Transportation Organizations
Although volunteer transportation organizations (VTO) are not new concepts, VTOs are currently well-suited to leverage local networks of volunteer drivers and innovations in trip routing and booking technology to improve service and offerings.
Active Transportation Programs
Another trend among communities of all size is the exploration of active transportation programs, such as bikeshares and electric-powered scooter share systems (e-scooters). However, rural and small communities need to adjust the financial and operating models they employ to make such systems fit their local needs.
Carsharing and Carpooling Programs
Many small and rural communities have also been exploring ways to increase mobility options for their residents by incentivizing carsharing and carpooling programs. These programs also have the added benefit of decreasing the number of cars on the road.
Other Initiatives
In small and rural markets, we are seeing more:
Advocates championing innovative MOD initiatives in their own communities by leveraging local expertise and contacts

. For example, through his advocacy efforts with a local Latino-based non-profit, Huron, California Mayor Rey Leon was able to establish a volunteer transportation organization in his rural town. Furthermore, the program's director of operations is a Huron native with a degree in public transportation and planning from Stanford. Similarly, Iowa-based company Koloni started in its own backyard, establishing its first bikeshare system in the town of Pocahontas, Iowa after recognizing a local need for a bikeshare system to increase trail use. As another example, when Planet M (part of the Michigan Economic Development Corporation) was looking for agencies to take part in a pilot project delivering prescription drugs to homes in rural Michigan, it turned to Aequitas Mobility Services, a NEMT non-profit that has already been operating in the area.

Active transportation systems (like bikeshares) leveraging anchoring institutions and local assets to succeed

. For example, when Koloni looks for communities that might be interested in its small-town-specific bikeshare model, it starts by looking for places that have assets that help small bikeshare systems thrive. According to Koloni CEO and co-founder Brian Dewey, they search for small communities that are home to college campuses, existing pedestrian or bike trails, or influxes of tourists. Furthermore, a number of municipalities that are potentially too small to justify an independent bikeshare program are collaborating with their neighbors to establish county-wide programs.
Interest in developing "one-stop shops" for residents to find all transportation options on a single online platform. Most online trip planners are compatible only with traditional, fixed-route service, meaning that many of the more flexible, on-demand services are not included in the planners' results. This is particularly problematic for riders in small and rural markets, where fixed-route service is typically less prevalent. However, several agencies are working to address this gap. For example, the Vermont Agency for Transportation was awarded a grant through the FTA MOD Sandbox program, which provided the necessary funding to develop a state-wide trip planner that incorporates more flexible transportation options, such as dial-a-ride, hail-a-ride, and deviated fixed route service. Similarly, various public agencies and community groups in Tompkins County, New York are collaborating to hopefully integrate the transportation services offered by various mobility providers in the area into a single online platform. In the spring of 2019, a consortium of transportation agencies in Ohio collaborated to launch EZfare, an online application that allows riders to plan trips and purchase tickets across seven participating transit agencies.
Interest in formalizing VTOs & carpools to maximize efficiency. Although neither volunteer transportation organizations nor carpooling are new trends, there has been a greater push in recent years to formalize these traditionally less-formal activities. For example, Huron, California had been home to several "Raiteros" (or individuals with cars who drive friends and neighbors to their needed destinations) for generations. However, thanks in part to the advocacy efforts of the local mayor and funding from the California Public Utilities Commission, the town was able to formally establish the Green Raiteros organization, purchase dedicated cars, and set up a booking management system. Similarly, the Nebraska Department of Transportation chose to incentivize carpooling throughout the state by establishing the Go NEWhere, a vanpooling program in partnership with Enterprise that provides branded vans and subsidies to groups of coworkers who register with the state to carpool together.

Collaboration with private sector partners

. Just as is the case in large, urban markets, smaller communities are also leveraging the private sector's expertise in technology and mobility innovations. For example, to develop its state-wide trip planner, Vermont turned to Cambridge Systematics and Trilium to plan and build the online platform. Similarly, for the charging stations for their newly-purchased electric cars, the Green Raiteros received help from EVgo, a Los Angeles-based network of charging stations for electric vehicles. At the same time, small town governments across the country are turning to Koloni for help exploring small-scale bikeshares. When Planet M was looking for an organization to spearhead its pilot in rural Michigan, it awarded a grant to Hi-Ho Mobility, a private company that develops online platforms to coordinate rides for organizations with staff in the field. Agencies of all size seem to be recognizing the benefit of multisector collaborations for mobility-on-demand developments.
Pew Research Center (2018 May 22). What United and Divides Urban, Suburb and Rural Communities. Retrieved from https://www.pewsocialtrends.org/2018/05/22/demographic-and-economic-trends-in-urban-suburban-and-rural-communities/
Federal Transit Administration (2018). Beyond Traffic 2045. Retrieved from https://www.transportation.gov/sites/dot.gov/files/docs/BeyondTraffic_tagged_508_final.pdf
American Public Transportation Association (APTA) (2017 October 5). Rural and Small Town Public Transit Ridership Increased Nearly 8% Since 2007. Retrieved from https://www.apta.com/news-publications/press-releases/releases/rural-and-small-town-public-transit-ridership-increased-nearly-8-since-2007/
Hanson, T.R., & Hildebrand, E. (2011). Can rural older drivers meet their needs without a car? Stated adaptation responses from a GPS travel diary survey. Transportation, 38, 975-992.
Grantmaking in Aging (2018 April). The Future of Rural Transportation and Mobility for Older Adults: Current Trends and Future Directions in Technology-Enabled Solutions. Retrieved from https://www.giaging.org/documents/180424_CITRIS_rural_mobility_paper_F.pdf
Chatman, D. & Noland, R. (2013 August 1). Transit Service Physical Agglomeration and Productivity in US Metropolitan Areas. Urban Studies, 51(5). Retrieved from https://journals.sagepub.com/doi/abs/10.1177/0042098013494426?papetoc=
Bliss, L. (2017 October 10). "How Transit Use Could Rise in Rural America." CityLab. Retrieved from https://www.citylab.com/transportation/2017/10/how-transit-use-could-rise-in-rural-america/542184/.
Smith, R., Borkholder, J., Montgomery, M. & Chen, M. S. (2018 January 18). Uber State Interference: How TNC's Buy, Bully, and Bamboozle Their Way to Deregulation. National Employment Law Project. https://www.nelp.org/publication/uber-state-interference/
Theen, A. (2019 February 4). Portland blasts Lyft for proposed statewide bill, says may undercut local regulations. The Oregonian. https://www.oregonlive.com/commuting/2019/02/portland-blasts-lyft-for-proposed-statewide-assault-on-local-regulations.html
Related Items