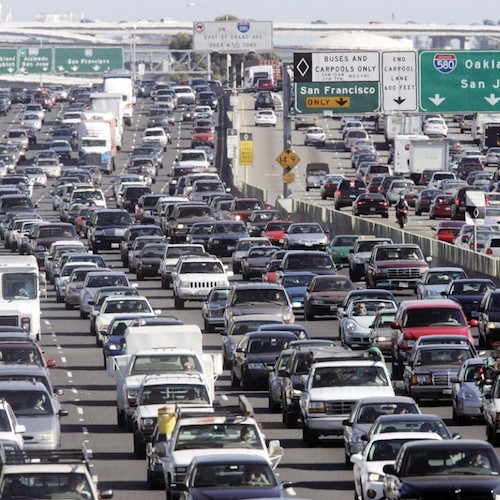 Employer transportation demand management (TDM) programs are employer-sponsored programs designed to reduce single-occupant vehicle (SOV) trips to and from the workplace. Programs generally contain some combination of three main approaches to reducing the number of car trips and related demand for parking and road capacity: 1) encouraging employees to shift travel to modes other than solo driving, 2) increasing vehicle occupancy rates through carpooling, vanpooling, and other ridesharing approaches and 3) reducing the number of work trips altogether, or shifting them to non-peak times through telecommuting or flexible schedules. While not an immediate option, it should be noted that TDM programs often supported by a transportation management association (TMA), non-profit organizations dedicated to TDM solutions over a locality or region. TMAs are most effective when supported by state or local trip reduction ordinances (TRO), which in practice are often directed at large employers or building owners.
Following are some of the key terms associated with Travel Demand Management:
Commuter Benefit: Employer based programs that allow employees to deduct a portion of their commuting costs before taxes to use non-SOV modes, such as transit, carpool, vanpool, and bicycles.
First-Last Mile: Refers to the movement of people and goods from a hub to a final destination.
Parking Management: An effective way to manage current parking facilities and their use.  A TDM parking management plan can include such strategies as eliminating monthly parking and giving discounted priority parking to carpool and vanpools.
Transportation Management Association (TMA): A non-profit organizations dedicated to TDM solutions over a locality or region
Transportation Demand Management or Travel Demand Management: Focuses on understanding how people make transportation decisions and helps to inform on modes other than single-occupancy-vehicle (SOV) trips, such as carpooling, vanpooling, ridesharing, biking, and transit.
While the organizational framework and common practices for TDM have been in place for decades, the US EPA has maintained a set of standards under the EPA Commuter Choice Leadership Initiative since 2001. According to the  program, fundamental elements of employer plans should include:
Emergency ride home services
Transit pass and vanpool/carpool subsidies
Parking cash-out programs
Telecommuting options
Complimentary TDM strategies can also include:
Rideshare matching services for carpools and/or vanpools
Preferential parking for carpools and/or vanpools
First-last mile shuttle service
Provision of bike lockers, showers, and/or changing facilities to support bicycle commuters
Rewards, incentives, and recognition programs that encourage non-SOV trips
Flexible/compressed work schedules
Depending on the size of an organization, these elements are often managed and measured by a designated staff coordinator or with the assistance of a TMA. Enterprise commute trip reduction (ECTR) platforms have emerged in recent years as a way to support these efforts. Most ECTR platforms  operate on a  Software-as-a-Service (SaaS) basis, hosted by the vendor, run from a web browser and often paid for on a subscription basis. ECTRs are intended to improve upon sporadic transportation  surveys and traditional payroll programs by providing a unified system that allow commuters  to easily plan and log their trips and offer a real-time data and analytics to both employees and transportation coordinators. These services generally track commute features such as the mode of transportation taken, parking usage, and miles traveled, and translate these into subsequent emissions, dollar, or caloric savings from mode shifts, while providing employers with an organization-wide picture of progress toward their goals.
Additional TDM strategies are discussed in the Victoria Transport Policy Institute TDM Encyclopedia under Commute Trip Reduction. and Commute Seattle hosts a number of TDM employer and employee resources.
Enterprise commute trip reduction (ECTR) 
The state of Washington is home to a number of TDM success stories, in large part due to regional TROs flowing from the state's environmental laws. In the early 1990s the Washington State Legislature enacted the Commute Trip Reduction (CTR) law requiring public and private institutions with more than 100 employees in the nine-county Puget Sound region to draft plans to promote alternatives to solo driving trips and to document progress over time. The CTR played an important role in the success that Washington state and Seattle have experienced through TDM and the mode shift from single occupancy vehicle commuter trips through development requirements, monitoring, subsidies, and other supportive TDM policies.  Seattle, Washington has been particularly successful with its TDM measures, achieving a 75% non-single occupancy vehicle (SOV) mode share as of 2017 . All this was accomplished at a time when Seattle was experiencing significant growth in both its population and its central business district. From 2010 to 2016, downtown Seattle added 45,000 jobs, yet 95% of the gain in net commute trips were by means other than SOVs.  For more information on the success that Seattle has observed through TDM read the Seattle Case Study.  Starting January 1, 2020 all Seattle employers with 20 or more employees will be required to offer a commuter benefit.
One example that played an important roal in helping Seattle reach these TDM goals is the Seattle Children's Hospital.  Highlighted by the Association for Commuter Transportation, is the Seattle Children's Hospital. While planning for a campus expansion, the  Children's Hospital developed a Transportation Management Plan (TMP) in coordination with the Seattle Department of Transportation to reduce SOV use among additional staff and visitors. The TMP took a tiered approach, with the first priority ensuring that on-site parking was priced at market rate and prioritized high occupancy vehicle (HOV) trips. The secondary approach involved creating network of subsidies and incentives for other modes of transportation. Several notable examples include a network of shuttles providing first-last mile access to the hospital campus, an on-site e-bikeshare program offered to employees and visitors and long-term bike rentals to employees that pledge to commute by bike twice a week.
As of 2015, the Children's Hospital had lowered its SOV travel to 38% of all trips, down from 75% in 1995. The hospital made these strides due to a variety of investments supporting its TMP, including the hiring a transportation coordinator. The hospital's ambitious plan has been assisted in recent years with an ECTR, in this case through the local vendor Luum. Through Luum's platform, their transportation coordinator is equipped with a real-time dashboard tracking parking space utilization, daily commute mode split, peer-employer comparisons. Other features implemented in the past nine years include:
A carrot/stick "feebate" parking program integrated with payroll processing to encourage a shift from monthly to daily parking contracts, as well as preferential pricing to carpools and vanpools.
A one-stop employee commute tools/assistance web portal (see below) incorporating onboarding materials, internal ridematching for carpools, a guaranteed ride home program, discounted registration for Zipcar, automatic contributions to the regional Orca transit pass and schedules for the hospital shuttle service.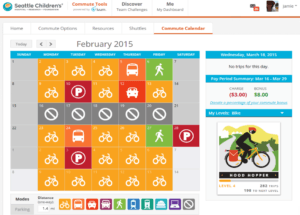 Image of employee-facing commuter portal
Other ECTR vendors (see appendix) that provide similar services include, but aren't limited to:
RideAmigos, perhaps the most widely utilized ECTR vendor in the US, and the provider for a number of large companies (e.g. Google, LinkedIn, etc.) as well as a range of public employers (e.g. City of Austin, University of Alabama, etc.).
Commutifi, a commute management platform for large employers (e.g., WeWork, City of Boulder, etc.). Notably, the company also has developed a robust site analysis tool to assign "commute scores" to potential locations.
AgileMile, originally NuRide, has evolved over 15 years to a white-label (i.e., branded with the institution's name) TDM desktop and mobile platform used at a network of government agencies and TMAs (e.g., Bay State Commute, Go! Vermont, etc.) for ridematching and commuter rewards programs.
Enterprise (Commute/Zimride) offers a web-based platform for coordinated
carpools and vanpools, along with the ability to lease vehicles at a discounted rate.
TripSpark, another white label vendor with ridematching capabilities, geared towards institutions with fleets (Rogue Valley Transportation District, Austin Independent School District) with route-matching and scheduling functionality.
Whether white-label or out-of-the box, most ECTR platforms are customizable and technically capable of various degrees of integration with external services. Smart Columbus, in a review of SOV-reduction strategies, verified a suite of example services capable of integration with their prospective ECTR vendors, ranging from commuter benefit platforms like Wageworks,  mobility aggregators such as Transit App, to  a variety of Mobility-on-Demand (MOD) services. Integration of ECTR platforms with a suite of MOD services is the central component of a campaign from the City of Palo Alto to reduce solo trips in the city. The initiative, supported by an FTA Sandbox grant, is planned to implement in later part of 2019. Arlington County, VA also has aggressive TDM strategy and has a number of tools available to promote non-SOV commuter work trips, including a TDM Return on Investment Calculator.
While capable of offering a robust set of options, custom ECTR services aren't the only tech-enabled TDM solutions available on the market. Since 2017, Go Redmond, the TMA in Redmond, Washington, has utilized the free ridematching system, "RideshareOnline.org," in conjunction with the peer-to-peer (P2P) ridepooling apps, Waze Carpool and Scoop, for its community carpool program. Once a profile with an address is created, users are given a code that places them in a pool of riders and drivers from their community. In both apps, users can request rides from other users within a week of the trip, with the ability to filter drivers by route (or in the case of Waze, other factors such as gender). Users are given a trip cost estimate once matched with a verified driver, who is then reimbursed after the completed trip. These P2P platforms  (which include others, such as iCarpool and Carma in the Bay Area) offer the benefit of removing "dead-head" trips associated with ridepooling services like UberPool or LyftLine,  leveraging drivers who were already making a trip and not simply providing the ride on a for-hire basis.
There are numerous TDM strategies that  organizations can pursue to encourage more efficient and sustainable commutes (for the most recent and comprehensive review of institutional and employer-based TDM strategies, see TCRP Report 95 (Chapter 19). These site-specific strategies are most effective when grounded in local ordinance,  supported by a TMA  or metropolitan planning organization (MPO), and address the availability and cost of on-site parking.  While implementation of TDM strategies does not necessarily require  technology-based solutions, a number of services  have entered the market over the past ten years that may merit consideration.  Enterprise Commute Trip Reduction platforms represent the most robust (and potentially most expensive)  option, offering managers the capability to  integrate  with a range of outside HR and transportation services and "gamify" positive transportation choices. The business models for vendors in the ECTR space vary in their designs, ranging from out-of-the-box products to white-label services integrated with the branding of an organization. Specific functionality of each vendor varies according to their market focus, though each at last utilize some form of ridematching (see appendix).  Complimenting ECTRs are an ever-growing range of MOD services offering new transportation alternatives, including a growing range of short-notice carpool services that have proven to work well with TDM.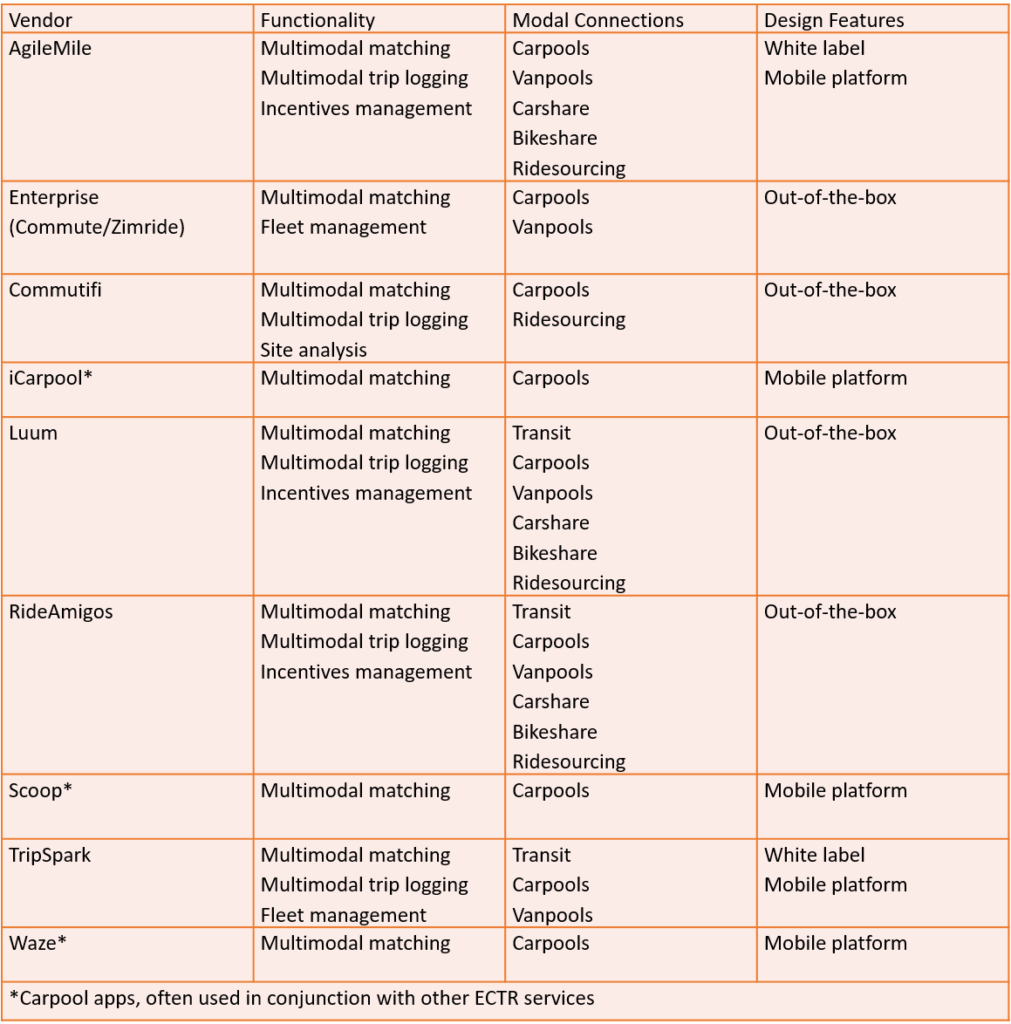 For accessible version of the table visit here.
Please note that this is not a comprehensive list of vendors or product features. Only includes US vendors operating nationally listed; free/community carpool portals not listed. See the University of South Florida's list of ridematching software platforms for more details https://www.nctr.usf.edu/programs/clearinghouse/ridematching-software/
Related Items