Virtual Cycling Tour, Bremen, Germany, 2020
5 minutes Date Launched: Nov 5, 2020 Pilot Project Timeframe: Date added to the Learning Center. Video published April 2020.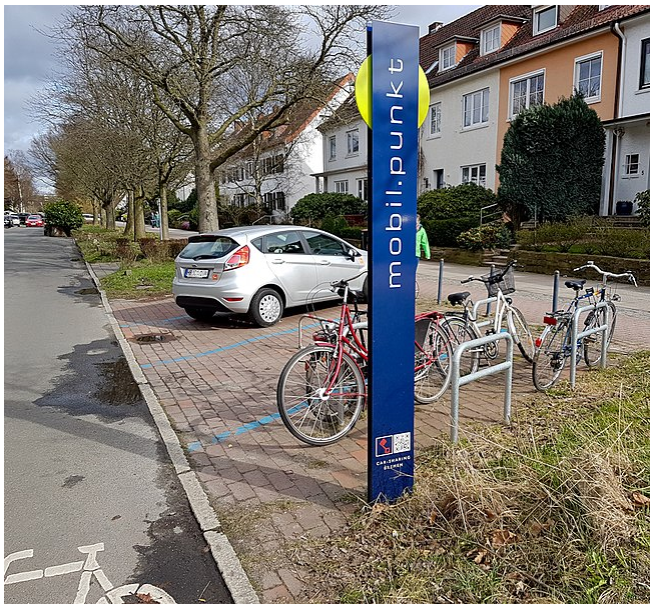 Summary
In light of the global COVID-19 pandemic travel restrictions, the city of Bremen, Germany, and the Mobility Hub Academy filmed a virtual cycling tour of the city in April 2020. The tour takes the viewer around Bremen with stops at a variety of large and small mobility hubs, notable cycling infrastructure and historical sites. The City of Bremen created its first Mobil.Punkt ("Mobility Point") in 2003, with a total of 43 mobility hubs established today, 10 of them as large mobility hubs that the city calls 'mobil.punkte'. These large mobility hubs link car sharing to public transport to cycling infrastructure and cycling parking and other community services like recycling services, clothing donation services, and taxis. The tour offers an insider look at the design details involved in the mobility hubs such as mobility hub signage and branding, parking space locks used to prevent private vehicles from parking in the dedicated car share space while the car is in use, and public transport and a rubber parking pole that designates two car share parking spots. A study conducted by the city found that in the in City of Bremen, one car-sharing car replaces 16 privately owned cars. The tour also takes you on interesting cycling infrastructure such as their new cycling street, a roundabout designed to prioritize cyclists, and their bicycle counter for every cyclist that passes on their most traversed bridge.
Click here  for direct link to video.