Bridj Microtransit Shutdown
20 minutes Author: Shared-Use Mobility Center Date Launched/Enacted: May 3, 2017 Date Published: May 30, 2018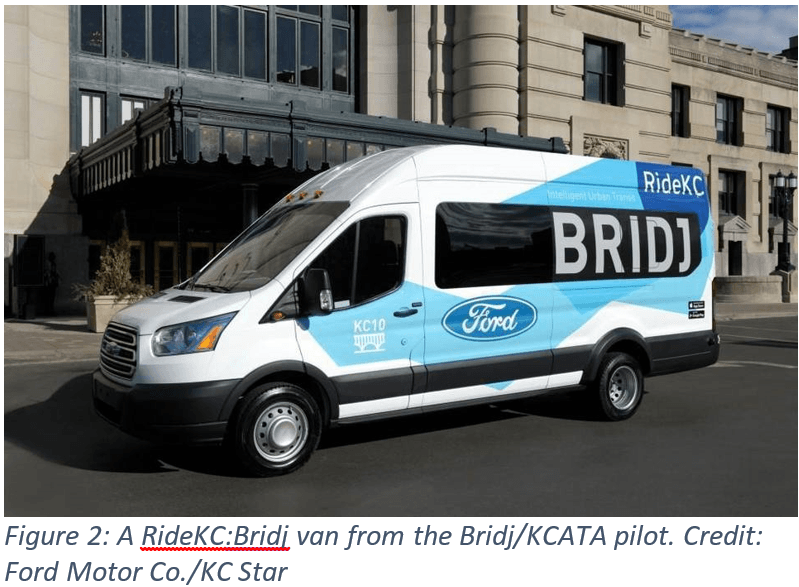 Brief Summary
The City of Centennial contracted with Lyft, a transportation network company, to offer customers subsidized fare-free shared rides to and from a nearby light rail station. Customers could travel between the light rail station and anywhere within a 3.75 square mile service area. This pilot ran from August 2016 to February 2017.
This pilot only served 1,302 total trips, or about ten rides per day, throughout its duration, costing the City of Centennial about $48 per trip.
This project did not meet expectations for potential reasons like population and job density and the size of the service area. These are necessary conditions to consider when implementing a first-/last-mile transportation project.
Introduction
Bridj (pronounced "bridge") was a transportation startup that operated tech-enabled, demand-based commuter vans in several cities, including a limited pilot with the Kansas City Area Transportation Authority (KCATA). Bridj abruptly ceased operation on April 30, 2017, notifying the public via a blog post from the founder and CEO, Matt George.[1] Like other microtransit operators, Bridj provided an on-demand, dynamically routed service that riders booked and paid for via mobile app. (See below for more discussion of this service model.) When it closed its doors, Bridj had 50 employees and had raised $11 million in investor money.[2]
The company was founded in Cambridge, MA, in 2013 and opened its first routes in Boston, Brookline, and Cambridge in June 2014.[3] Service areas as of closing are shown in Figure 1. Bridj added routes in Washington, DC in April 2015[4] and began its 1-year KCATA pilot in March 2016. The company quietly ended DC service in fall 2016, though it never formally announced an end to operations there.
Before its demise, the company made several high-profile service announcements that never ultimately materialized, including an expansion to Austin, TX, announced in July 2016,[5] and an August 2016 plan to use Bridj vehicles to deliver packages, aided by autonomous robot couriers.[6] Bridj also made an unsuccessful pitch to the Massachusetts Bay Transit Authority to provide shuttles to offset cuts to late-night T service.[7]
Microtransit is a service model that sits between traditional fixed-route transit and the services provided by new tech-enabled taxi models like Uber and Lyft. These ridesourcing companies provide a demand-responsive, commuter-focused service that uses ad-hoc pickup and drop-off points within a few minutes' walk of multiple customers, generally within limited service zones.
Microtransit uses vehicles smaller than transit buses but larger than the passenger vehicles commonly used by ridesourcing companies. In Bridj's case, these were 14-passenger vans equipped with Wi-Fi and other premium amenities. Prices are higher than transit service, but lower than a ridesourcing trip over the same route. Fares for Bridj's Boston routes were $3-6 per ride, varying with route and demand.
The hallmark of microtransit is the ability to flexibly create routes and stops in response to customer demand. In practice the services tend to converge on a limited number of routes between dense areas of high demand, and most operate only at weekday peak hours. Bridj claimed this flexibility resulted in a "40-60% more efficient trip,"[8] although it is unclear what the baseline is for this comparison.
Microtransit can have travel time advantages over fixed-route buses for a number of reasons:
No delays from farebox interactions when customers pay via app
Fewer intermediate stops
Ability to react to congestion and traffic incidents in real time by varying routes between stops
Over a slightly longer time horizon, microtransit can react more flexibly to localized changes in employment and residential patterns, such as office relocations or new residential developments.
Other providers in this space include Bay Area-based Chariot (acquired by Ford in September 2016 and terminated operations in February 2019)[9] and New York-based Via. Several similar services in the US and abroad have come and gone over the past several years, including DC's Split and Helsinki's Kutsuplus.[10] Uber and Lyft are also experimenting with microtransit-like services that rely on larger vehicles, multiple riders, and limited stops. But so far these services only exist in the companies' largest markets, which points to the large customer base currently needed for their success.
In March 2016, Bridj embarked on a one-year pilot in partnership with KCATA and Ford, using Bridj software to dispatch a fleet of co-branded, KCATA-owned vehicles operated by professional union drivers employed by the agency—a model that generated much interest. Supported by $1.5 million in local funds, the pilot operated between several zones in central Kansas City, Missouri and across the state line into Kansas City, Kansas.
Ultimately, the pilot had disappointing results: projected to carry around 200 riders per day after its first six months,[11] it had provided fewer than 600 rides total by the six-month mark, according to KCATA ridership reports,[12] and fewer than 1,500 rides over its entire 12-month course.[13] The pilot was not renewed, but KCATA planned to incorporate the lessons learned, especially on marketing new service formats, into a future on-demand service offering.
According to George, Bridj shut down not because of poor operational performance, but because of missteps in building an automaker partnership needed to help rapidly scale its business. Despite its tech-centered model, Bridj had large capital and operating costs not borne by key competitors, particularly Uber and Lyft: It leased its 14-passenger vans and directly employed its drivers rather than classifying them as contractors. It is likely that these factors contributed to its difficulties.[14]
In a post-mortem on WBUR radio, George said the company was operating profitably "on [our] most mature routes," and was "growing 1,000% year-to-year." Of the shutdown, he said the company had decided to forgo Series B funding (a third round of venture capital investment) in order to form a partnership with an auto manufacturer who had approached the company. The advantages of the proposed partnership included not only more funding than another VC round, but also access to thousands of fleet vehicles and autonomous vehicle research that only an automaker could bring. However, unforeseen delays in closing the partnership meant that Bridj exhausted their cash on hand before the deal concluded, which forced the shutdown. [15] (Bridj has not released financial statements that could verify the specifics of these or many of its other claims.)
Bridj did not publicly name the potential partner. An account in the Boston Globe identified the automaker as Toyota, saying the company "unexpectedly ended talks to make a big investment" in Bridj, according to "a person with knowledge of the matter."[16]
While it's difficult to know the exact reasons for Bridj's closure without access to information on its finances and operations, the company's shutdown does raise several issues, including:
Microtransit uses a relatively capital-intensive business model. Even in the world of shared mobility, microtransit is a relatively young and untested concept. So far, operators have relied on a business model that involves leasing vehicles and paying drivers as employees, as opposed to ridesourcing companies such as Uber and Lyft that rely on contractors who supply their own cars. The more capital intensive model used by current microtransit operators may make it more difficult to expand and sustain compared with the very rapid growth that's possible under the ridesourcing model.
Microtransit may be too similar to transit to succeed without a subsidy. Public transit is a vital component of any city, but it has rarely if ever turned a profit. In addition to farebox recovery, transit systems depend on funding from federal, state and local sources to support their operation. Microtransit operators provide a transit-like service except at a lower volume and without public support. While private funding has helped to fill that gap, it is much less dependable (as illustrated by Bridj's failed talks with its potential partner) and likely not a long-term solution.
Microtransit innovations might prove most valuable to existing public transit providers. Perhaps microtransit providers' most valuable commodity is their cutting-edge technology and the algorithms they use to monitor demand and create flexible routes in real time. Many public agencies could benefit from employing this back-end technology.
Bridj may have experienced company-specific challenges. Beyond issues related to the microtransit concept, Bridj may have also been undercut by problems unique to its organization. The most obvious reason that Bridj shut down is because it could not close on another round of private funding, which may have in part been due to internal issues.
Experimentation—and failure—is important to advancing new mobility solutions. While Bridj's pilot with KCATA did not meet expectations, it could still be considered a success in that it helped to test and advance a new concept. Failure is an important part of growth, and public agencies should be recognized for pursuing experiments that help the industry evolve and progress.
[1] https://medium.com/@NotMattGeorge/out-of-aces-8047b5114d46
[2] Curt Woodward, Adam Vaccaro, and Felicia Gans. "Bridj, local on-demand bus service, is shutting down." Boston Globe, 4/30/17. https://www.bostonglobe.com/business/2017/04/30/bridj-local-demand-bus-service-shutting-down/56xoGs674wYgyUWdrD9EuO/story.html  
[3] Katie Johnson. "Pop-up bus service Bridj to launch test runs June 2." Boston Globe, 5/13/14. https://www.bostonglobe.com/business/2014/05/13/pop-bus-service-bridj-launch-test-runs-june/tOGnFPBvXlSyzma28F71NK/story.html
[4] Lori Aratani. "Bridj pop-up bus service arrives in DC." Washington Post, 4/28/15. https://www.washingtonpost.com/news/dr-gridlock/wp/2015/04/28/bridj-pop-up-bus-service-arrives-in-d-c/
[5] http://www.bizjournals.com/austin/news/2016/07/29/tired-of-tncs-private-shuttlebus-service-coming-to.html
[6] Hiawatha Bray. "Ride service Bridj plans package deliveries, with robots helping." Boston Globe, 8/28/16. https://www.bostonglobe.com/business/2016/08/28/bridj-bring-boxes-bus/6vjAmqSiCRzpdTufTJ3SHO/story.html
[7] MBTA Innovation Proposals – Late Night: Bridj Late-Night Service Proposal http://www.mbta.com/uploadedfiles/About_the_T/Board_Meetings/H.%20%20FINAL%2011_15%20am%20Innovation%20Proposals%20-%20BRIDJ%2010%2028%2016_vF-POSTING.pdf
[8] MBTA Innovation Proposals – Late Night: Bridj Late-Night Service Proposal http://www.mbta.com/uploadedfiles/About_the_T/Board_Meetings/H.%20%20FINAL%2011_15%20am%20Innovation%20Proposals%20-%20BRIDJ%2010%2028%2016_vF-POSTING.pdf
[9] https://techcrunch.com/2016/09/09/ford-mobility-solutions-acquires-chariot/
[10] https://nextcity.org/features/view/helsinki-kutsuplus-on-demand-transportation-mobility-next-uber
[11] Amy Zipkin. "Do-It-Yourself Transit Planning, by App." New York Times, 7/20/16. https://www.nytimes.com/2016/07/21/us/do-it-yourself-transit-planning-by-app.html
[12] TransitCenter, ."A For Effort, But So Far, a Bridj to Nowhere." 2/24/17. http://transitcenter.org/2017/02/24/a-for-effort-but-so-far-a-bridj-to-nowhere/
[13] Aarian Marshall, "How a Failed Experiment Could Still Be the Future of Public Transit." Wired, 3/6/17. https://www.wired.com/2017/03/failed-experiment-still-future-public-transit/
[14] James Aloisi, "Lessons from the collapse of Bridj." CommonWealth, May 5/1/17. https://commonwealthmagazine.org/transportation/lessons-from-the-collapse-of-bridj/
[15] Matt George interview on WBUR, 5/2/17 http://wbur.fm/2p5kbxQ
[16] Adam Vaccaro and Curt Woodward. "Toyota pullout left Bridj out of Gas." Boston Globe, 5/1/17. https://www.bostonglobe.com/business/2017/05/01/toyota-pullout-left-bridj-out-gas/Z6fPYati25mwsfvzmoKa7I/story.html
Related Items