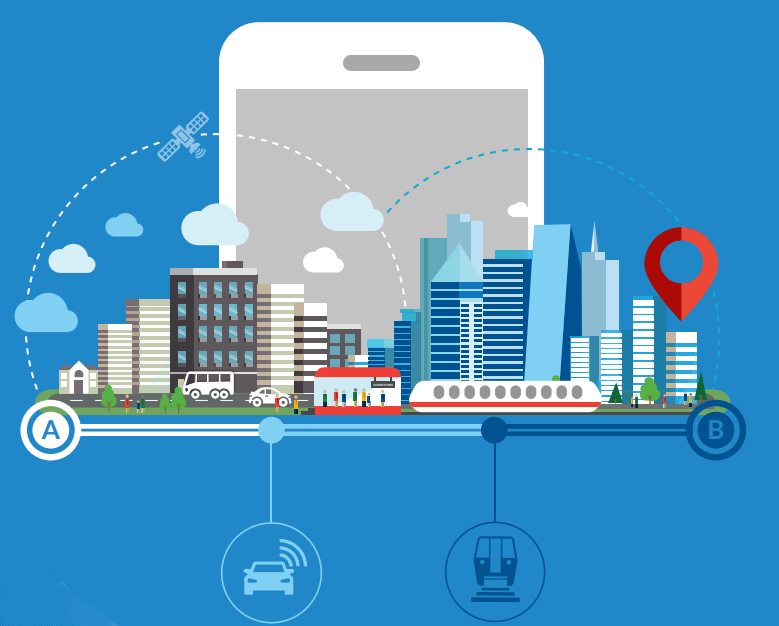 Here at the Shared-Use Mobility Center,  we broadly define shared mobility as transportation services and resources that are shared among users, either concurrently or one after another. This includes public transit; taxis and limos; bikesharing; carsharing (round-trip, one-way, and peer-to-peer); ridesharing (i.e., non-commerical services like carpooling and vanpooling); ridesourcing or ride-hailing; ride-splitting; scooter sharing (now often grouped with bikesharing under the heading of "micromobility"); shuttle services and "microtransit"; jitneys and dollar vans; and more.
This page provides an overview of shared mobility as well as specifics on several relevant applications. For more information, see SUMC's comprehensive Shared-Use Mobility Reference Guide, which was developed to equip government, business, and community leaders for the rapid changes in the transportation landscape currently taking place in cities around the world. The guide includes recommended definitions for new shared modes of transportation, updates on the latest industry trends, evaluation of changing local government roles and policy choices, and more. You can find the Reference Guide here.
Use Cases
Shared transportation has grown tremendously in recent years as a renewed interest in urbanism and growing environmental, energy, and economic concerns have intensified the need for sustainable alternatives.
Simultaneously, advances in electronic and wireless technologies have made sharing assets easier and more efficient. Automobile manufacturers, rental car companies, venture-backed startups, and city-sponsored programs have sprung up with new solutions ranging from large physical networks to mobile applications designed to alter routes, fill empty seats, and combine fare media with real-time arrival and departure information.
These new services represent innovative responses to the demand for new options, and offer an opportunity to:
Provide more mobility choices
Offer last mile and first mile solutions
Reduce traffic congestion
Mitigate various forms of pollution
Reduce transportation costs
Improve efficiency
Identify choices for those who cannot afford to buy and maintain a vehicle
Create accessible mobility options for those with limited physical ability