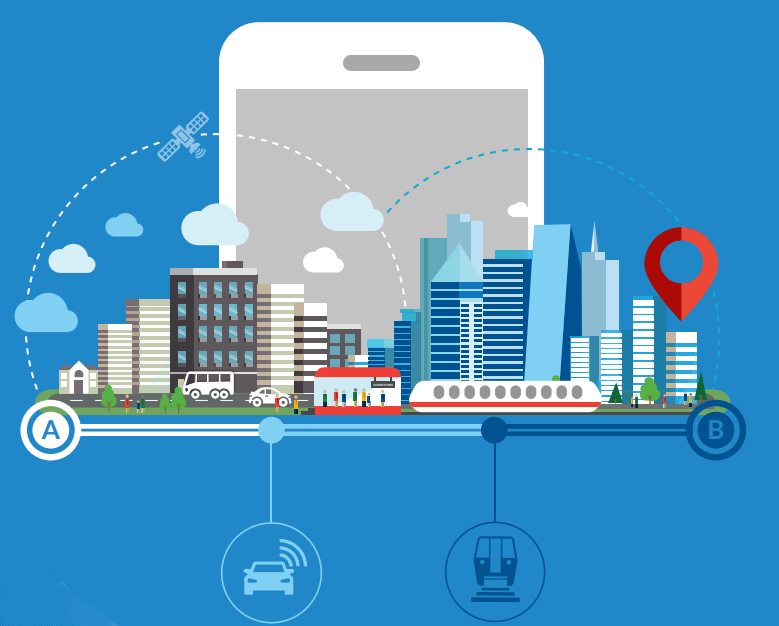 This page provides a list of common definitions in the shared mobility space, as well as supporting information. For a more comprehensive look, see the Shared-Use Mobility Reference Guide, which SUMC developed to equip government, business, and community leaders for the rapid changes in the transportation landscape currently taking place in cities around the world. The guide includes recommended definitions for new shared modes of transportation, updates on the latest industry trends, evaluation of changing local government roles and policy choices, and more.
Autonomous Vehicles (AVs)
Autonomous vehicles (AVs), otherwise known as "self-driving" vehicles, are defined by the U.S. Department of Transportation's National Highway Traffic Safety Administration (NHTSA) as "those in which operation of the vehicle occurs without direct driver input to control the steering, acceleration, and braking and are designed so that the driver is not expected to constantly monitor the roadway while operating in self-driving mode". AVs rely on on-board sensors to collect information on the surroundings of the vehicle and to operate the vehicle. Due to the innovative potential of AV technology, it is critical that they are well-regulated, produce zero emissions, and are part of shared fleets. Currently, university and hospital campuses are some of the earliest adopters of AV fleets, because the vehicles are restricted to fairly short routes and interaction with other vehicles is limited. 
AVs are classified based on six different levels, ranging from fully manual (Level 0) to fully automated (Level 5) systems. 
A Level 1 system offers driver assistance, with features like adaptive cruise control and parallel parking guidance. 
A partially automated Level 2 system can take control over critical functions like acceleration, braking or steering, but with continual "hands on" supervision by a human driver. 

A conditionally automated

Level 3

system allows drivers to safely relinquish supervision of the vehicle in limited circumstances. These "eyes off" vehicles can self-navigate at speeds up to 37 miles per hour when on a road with a median. 

 Highly automated

Level 4

systems, currently being tested in some US states, allow drivers to completely relinquish navigation to the vehicle except in certain fu

nctions, like parking, or under certain inclement weather conditions. 

Fully automated

Level 5

systems are capable of all driving functions and could, in theory, operate without a steering wheel or any other mechanism of human control. 
For more information, please visit SUMC's Learning Module on Shared Autonomous Vehicles.