Electric Scooter Sharing
7 Sections 45 minutes Author: Shared-Use Mobility Center
Module Overview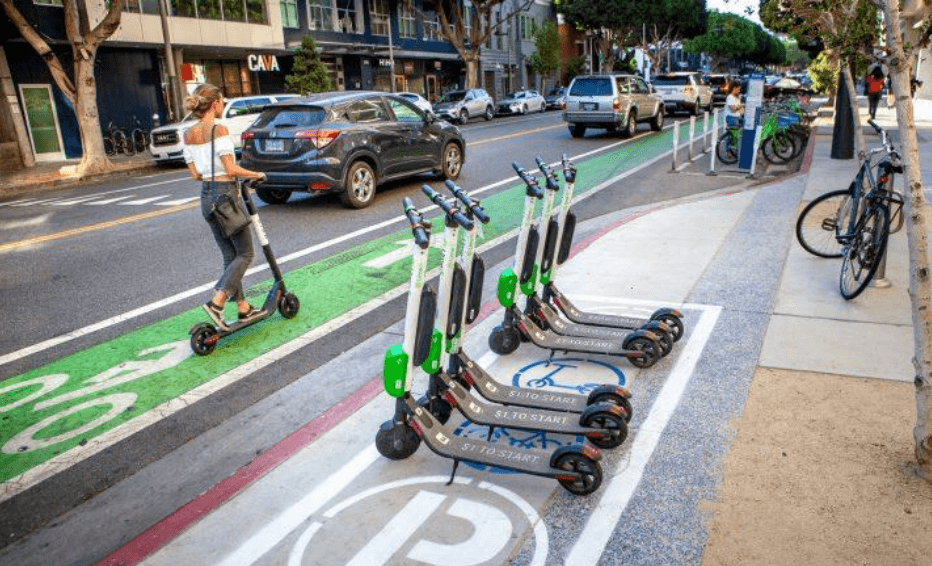 No mode better illustrates the accelerating growth of shared mobility than electric scooter (e-scooter) sharing. This module will focus mostly on the "kick scooter" version of the mode most common in North America, which relies on small-wheeled, free-floating vehicles on which the user stands upright, operated in a shared, app-connected fleet service. Other variants of this mode include seated versions of the kick scooters, as well as the larger, higher-powered sit-down e-scooters often referred to as mopeds.
Key Takeaways
Scooter sharing has only been available for a few years, but in its short history it has grown into a multi-billion dollar industry. This growth has been accompanied by technological developments, widespread regulation efforts, and industry changes as e-scooter operators have quickly become acquisition targets for larger mobility companies.
As safety is a prime concern for scooter sharing systems, most of these regulations focus on addressing top speeds, parking requirements, and where the vehicles are allowed to operate (both within the right of way and within the jurisdiction as a whole).
Some cities have enacted regulations to ensure equitable access to scooter share services. Some of these regulations include requirements for redistribution of e-scooters to designated areas, lower membership fees for low-income users, and adaptive options for users with mobility impairments.
Locations:
Charlotte, NC
Portland, OR
Austin, TX
Oakland, CA
Arlington, VA
Boise, ID
Columbus, OH
Santa Monica, CA