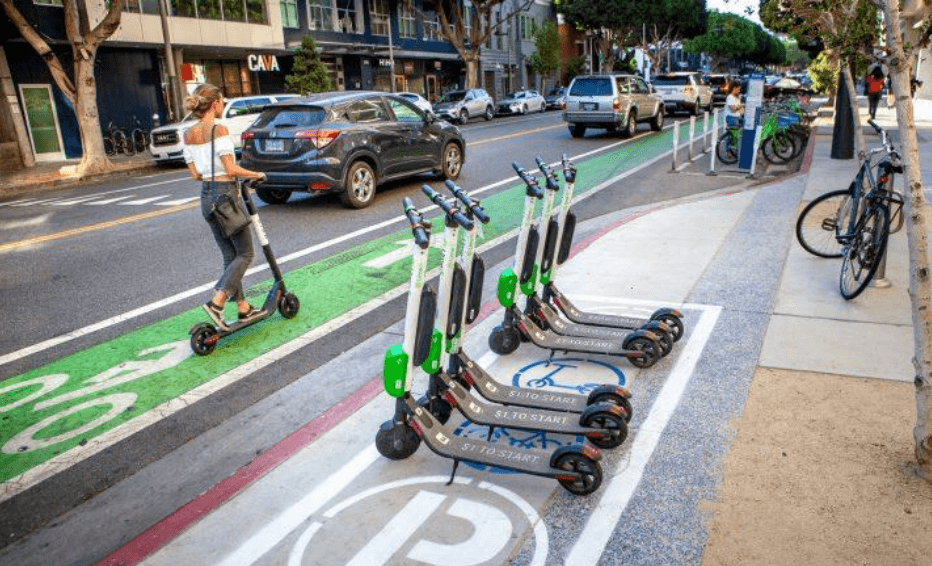 No mode better illustrates the accelerating growth of shared mobility than electric scootersharing. While this module will also discuss the larger-format sit-down scooters, it will mostly focus on the small wheel, stand-up, dockless, app-driven "kick scooter" mode that have proliferated across North American cities. The latter form of scootersharing, like many of the newer shared modes benefit from the convergence of a few technologies. A synthesis of more affordable advanced battery technology with free-floating dockless bikesharing technology and a similar business model enabled a quick deployment to a customer base educated on their use through the aforementioned modes. Any user with access to a smartphone and a credit card can download an app. Once approved, the user can find a charged scooter, unlock it, and rent it on a per-ride basis.
The breakneck evolution of dockless micromobility (i.e. bikesharing and scootersharing, for now) from privately-owned bicycles and publicly owned station-based bikes outpaced regulation in its early stages, and many local codes did not have any clear regulation for the dockless shared vehicles. The start-up operators stepped into the gap with a strategy of simply placing scooters in the market and announcing their availability. Just as the dockless bikesharing sector faced a backlash among the public and their elected officials, the scooters faced negative media attention for operations and parking. The latter elicited protests on both aesthetic and ADA-compliance fronts. This has lead to outright temporary bans in some areas to pilot programs and more traditional permitting with regulations in many other areas.
The mode remains popular regardless of the additional regulation and the scooter operators have become acquisitions targets for larger mobility companies such as the ridesourcing companies Uber and Lyft. This reflects a larger trend towards consolidation in the industry.
This learning module will examine definitions of electric scooter sharing; ways that jurisdictions have planned for the arrival and operation of the mode, along with model policies; public-private partnerships; and finally, case studies on scooter sharing.
The on-board technology that enables dockless shared electric scooter sharing directly evolved from dockless bikesharing technology, and operates similarly for the user, who downloads a smartphone app to register for the service and unlock the vehicle. The business tends to be regulated under the same model as bikesharing, while regulation of scooter operation in the public right of way is far from settled. Some jurisdictions still view the vehicles as a toy or recreational device, while others see it as a vehicle.
Meanwhile, the free-floating electric scooters/mopeds tend to borrow from the (also relatively new) free-floating carsharing technology. Long a presence as a gas-operated private vehicle, the shared electric scooters/mopeds tend to share regulations that are beginning to be based on power output or speed. Smaller vehicles usually require a standard automobile license, as opposed to a motorcycle license, and operate in the public right of way. Although the regulations vary by state, the California DMV provides a helpful illustrated guide along with their descriptions.
Shared Electric Scooters The users of these vehicles, also called "kick scooters," stand (with either a foot rest or seat) on the scooter, which have smaller wheels than an e-bike—typically less than 16 inches. They begin the trip under human propulsion with a kick, which they can choose to either continue to use, or opt to throttle via electric motor.
Privately operated, these systems are accessed via an app on the user's smartphone. The bikes contain all of the electronics and locking mechanisms, and can be tracked by the user; operator; and if relevant, the regulating agency. (Portland)
Shared Electric Mopeds These vehicles fall between e-bikes and motorcycles. The user is seated, and the vehicle is solely powered by the electric motor. The motor and operational speeds (see the California DMV definitions) are low enough that many states do not require additional licenses or endorsements beyond those required for an automobile. The sharing technology is also app-driven, but resembles free-floating carsharing.
These key policies represent an evolution of scooter policy from an emergency reaction to the adoption of it as a micromobility transportation option.
The shared electric scooter mode is relatively young, as of the writing of this Learning Module. It is not surprising, then, that public-private partnerships are relatively young. The pilot projects serve mostly a regulatory function. While the pilot programs might be technically framed as partnerships, in that that the public agencies are calling for proposals and offer some form of exclusive operation rights, they largely spring from regulation.
While the scooter companies are still launching unsanctioned operations in local rights-of-way, their regulation is increasingly grouped with dockless bikes, and future partnerships might include additional transit-supportive and equity provisions.
At this point, most of the reports on the mode have existed as broad, synthetic examinations of the mode. While shared moped-style scooters are an older mode, they are not widely adopted in North America. Case studies of shared electric kick scooters have just started appearing. The
The Micro-Mobility Revolution: The Introduction and Adoption of Electric Scooters in the United States offers a detailed overview of the rise of electric scooter sharing that expands on many of the themes discussed here.
The InnoZ Global Scootersharing Market Report from 2017 looks at the international market from 2015-2017 for scootersharing. This is for gas-based, seated moped-style scooters, and focuses on Europe. Nonetheless, it might offer a guide for those interested in planning for electric mopeds.
The National Association of City Transportation Officials (NACTO) Guidelines for the Regulation and Management of Shared Active Transportation is an extensive case study of, as they define it, both  Shared Active Transportation – a network or system of small vehicles, placed in the public right-of-way and for rent in short time increments, that provides increased mobility options over short distances in urban areas; and Small Vehicles – bikes, scooters, e-bikes, e-scooters, and other small, wheeled vehicles designed specifically for shared- use and deployed by Shared Active Transportation companies. Included are model policies and other tools.
Charlotte, North Carolina is less a complete case study than the NACTO report shown above, but it shows how local government with operational shared mobility systems can use data provided by the operators in the pilot program and from a local user survey.
Portland, Oregon is an example of a community that created a pilot program in anticipation of the scooters' arrival, after the major scootersharing companies contact the city. The 2018 E-Scooter Findings Report both outlines every step of the process towards implementing the regulations, including public education and outreach, and shares the findings from the gathered data. The report then draws on the findings to to recommend another pilot to improve service and better achieve public goals.