Pilot program to develop 12 "mobility hubs" in Minneapolis, MN, 2019
5 minutes Date Launched: Sep 29, 2019 Date Ended: Dec 31, 2019 Pilot Project Timeframe: 3 months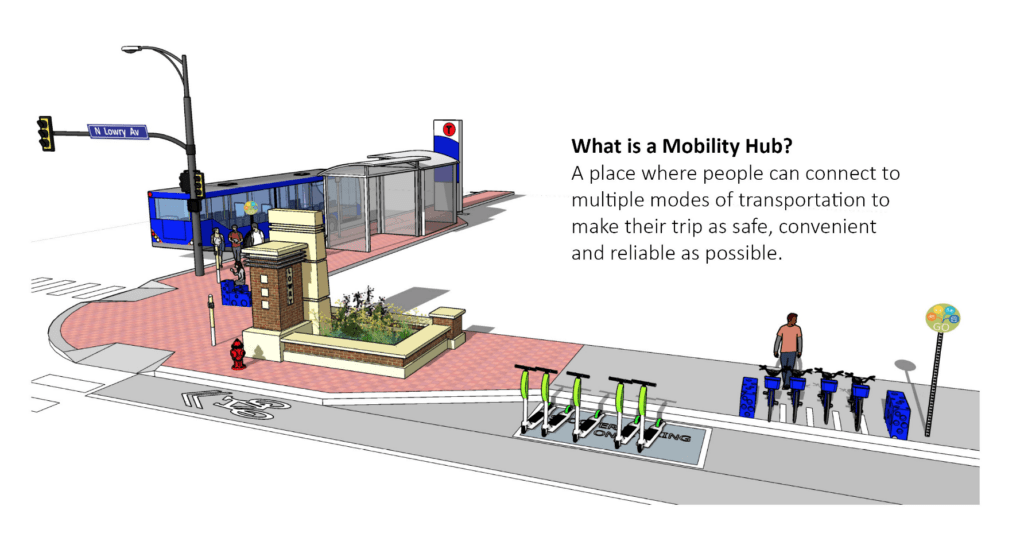 Summary
In September 2019, the City of Minneapolis launched its three-month pilot program to implement two "mobility hubs" throughout the city. Each hub features access to public transit, bike stations for the local Nice Ride bikeshare program, e-scooters parking, and way-finding signage with travel times to points of interest such as nearby parks or vehicle share programs. Minneapolis hopes to develop a long-term plan to implement a larger mobility hub network.
The first of the 12 hubs were unveiled in north Minneapolis in September, with the subsequent 8 being unveiled in south and northeast of the city through October and November. The goal of the mobility hubs is to provide customers with access to multiple modes of transit, and facilitate connection between them.
The city plans to collect feedback on the hubs to assess their impact, and it is collaborating with Metro Transit, Hennepin County, mobility service providers and neighborhood organizations. Initial concept for the hubs emerged as a result of the 2017 Twin Cities Shared Mobility Action Plan. This plan, facilitated by SUMC, was developed through support of the McKnight Foundation and convened stakeholders from around the Twin Cities to address ways for the region to improve shared mobility and public transit access.