EV Carshare Twin Cities Community Mobility Network, St. Paul, Minnesota, 2019
5 minutes Date Enacted: Jan 16, 2019 Pilot Project Timeframe: Planned launch in 2021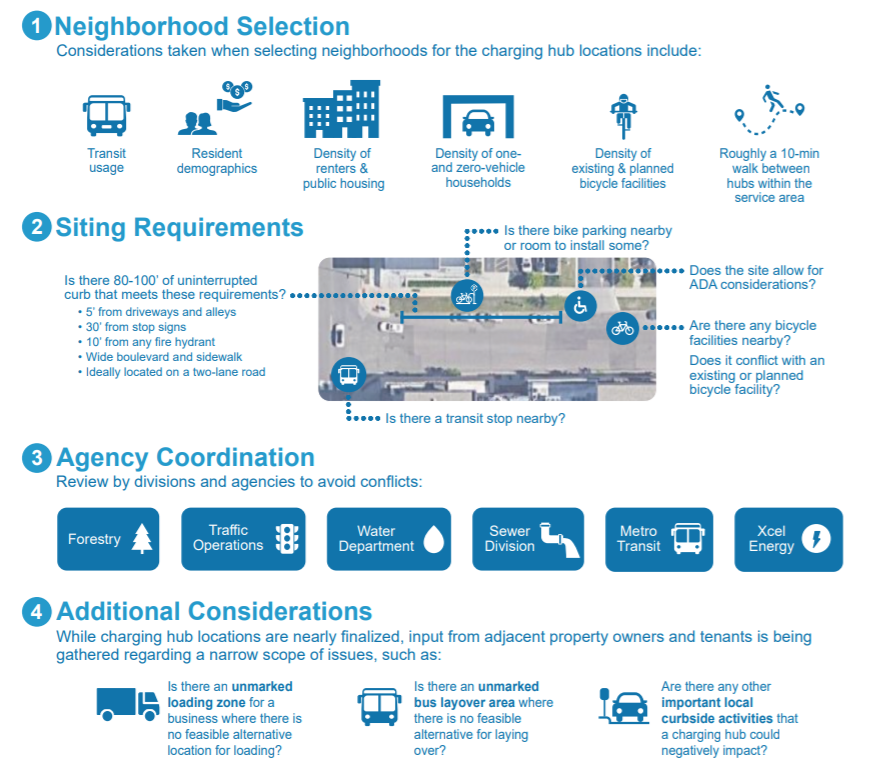 Summary
A new program called the Twin Cities Electric Vehicle Mobility Network in St. Paul and Minneapolis, aims to combine two common and critical shared-mobility options: car sharing and electric vehicles (EVs). The program plans to bring a fleet of shared EVs to working class parts of town in an effort to democratize the often inequitable use of EVs. The program is a collaboration between St. Paul, Minneapolis, Xcel Energy, the American Lung Association, and IHOURCAR, a car sharing nonprofit. The program will offer one-way trips where participants can park anywhere within the designated 35-square mile zone in an effort to reduce riders' anxiety about the lower mileage driving range associated with EVs. Users can find the nearest car through their smartphone app when they are in need of a return trip. 
Project Details:
The project hopes to launch the first 50 EVs during the summer of 2021 with about 150 vehicles by mid-2022. 

Members purchase an

annual membership

from HOURCAR and pay by the hour to use the vehicles.

The project will also include 70 EV charging hubs located curbside for use by public EVs and HOURCAR car-share vehicles. Each charging station will have four charging parking spots, two reserved for HOURCAR and 2 for public use, for a total of 280 EV charging parking spots in the area. It is fueled by 100% renewable energy, powered by XCel Energy. 

Level 2 charging, the standard EV charging used for the project, generates 25-30 miles of range per 1 hour of charging and Fast Charging, made available at select charging hubs and funded by the Department of Energy, produces 125 miles of range per 30 minutes of charging.

HOURCAR provides 24/7 customer support including liability insurance and fuel.

Twin Cities Electric Vehicle Mobility Network project is linked to larger Minneapolis efforts including:
Key Components:
Accessibility

Equity

With the location of charging hubs strategically selected, this project is deliberately trying to make it easier to choose using an EV, particularly for renters who might not have the ability to charge an EV in their home. 

50% of the charging hubs will be located in an Area of Concentrated Poverty (ACP) where more than 50% of the residents are black, indigenous or people of color. 

Community Engagement 

The project has received support from the American Cities Climate Challenge Team. 

Community Engagement efforts so far include:

Nov 2019- March 2020: Prototyping Focus groups from 

Summer and Fall 2020: Project Website and

Online Survey 

Fall 2020: Community Organizations Engagement Activities 

Themes the project learned (learned mostly through focus groups):

Flexibility 

Freedom

Independence 

Time

Effort

Reliability
More information on the project can be found here.
Download Supporting Documents