Shared Electric Scooter Pilot, Portland, Oregon, 2018
5 minutes Date Enacted: Jul 23, 2018 Pilot Project Timeframe: Four Month Pilot Project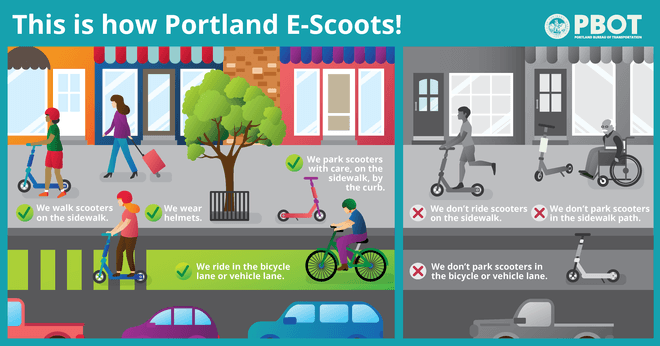 Summary
The Portland Bureau of Transportation launched a 120-day pilot program for "shared scooters" (i.e. shared electric kick scooters) in 2018 in response to the proliferation of these vehicles in the public right-of-way. The attached permit application includes FAQ with standard questions regarding maintenance, insurance, and operations.
The data sharing agreement (Appendix F of the attached Permit Application) is notable in that it not only includes availability and trip data, but also detailed information about any crashes or citations involving the vehicles.
The fee schedule also differs from comparable pilot agreements in that charges the operators per trip, not per vehicle.
Fee schedule

Permit application fee: $250.00
Pilot permit fee: $5000.00
Per-trip surcharge: $0.25
Evaluation
We will use the following tools to engage the public:
Trip data analysis
User surveys
Intercept surveys
Stakeholder focus group
Complaint form
The city was interested in evaluating if Shared Scooters contribute to the following goals:
Reducing private motor vehicle use and congestion
Preventing fatalities and injuries
Expanding access for underserved communities
Reducing air pollution, including climate pollution
Administrative Rule TRN-15.01 – Shared Electric Scooters.
The City evaluated the pilot in the linked report, below.
Updated May 2019
Download Supporting Documents