Guidelines for Regulating Shared Micromobility, Version 2, NACTO, 2019
5 minutes Date Launched: Sep 11, 2019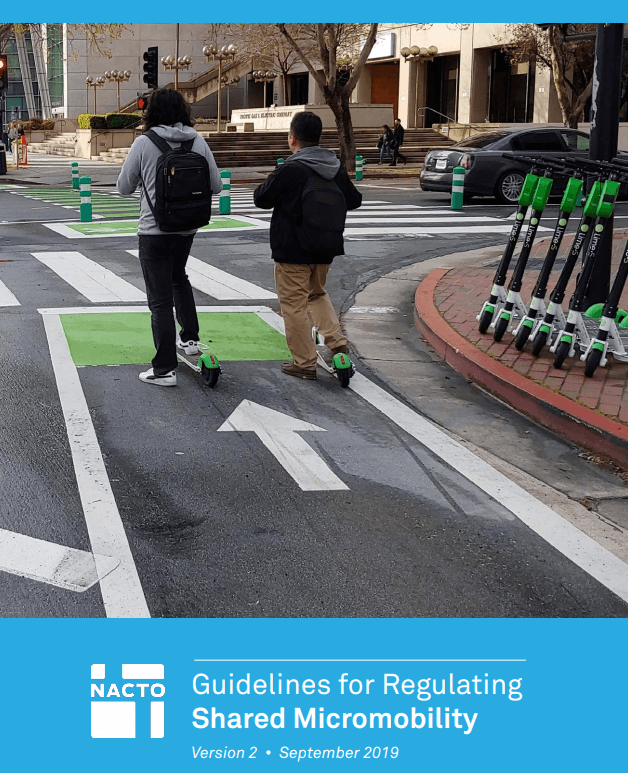 Summary
Bikeshare and Scootershare saw 84 million trips in 2018, with 38.5 million of those trips from e-scooters.  This growth has outpaced attempts by cities to manage and regulate this new shared mode.
In an effort to fill this gap, in September 2019 the National Association of City Transportation Officials (NACTO) released version 2 of their  "Guidelines for Regulating Shared Micromobility", an information brief that offers guidelines for cities to manage and regulate e-scooters that replaces the first version, released in July 2018.  The authors break the chapters into two broad sections:
Best Practices, which recommends regulations or policies for cities, and then provides a discussion guide to frame ongoing debate as the modes evolve.
Current State of the Practice, which compares regulations that cities have in place for vehicle requirements (speed and fleet maximums), fleet requirements (distribution and number of companies), data, permit fees, employment, adaptive device requirements, discounted prices, customer service (languages spoken), and parking.
The document as a whole integrates into NACTO's vision of complete streets that seeks to offer mobility choices on city streets.
Updated November 2019
Download Supporting Documents