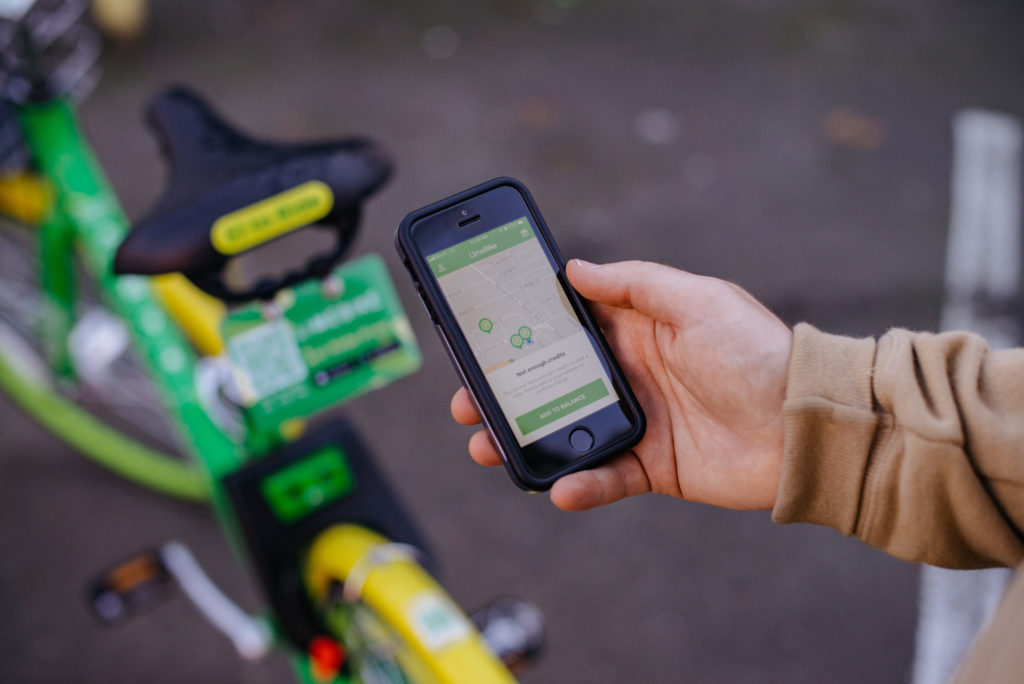 Bikesharing, like carsharing, has its roots in the zeitgeist of the 1960s, with the first generation appearing as free "White Bikes" in Amsterdam, Netherlands in 1965. Various sharing schemes ranging from free bikes to bike libraries were periodically implemented, usually by activist organizations, through the years. The bike library model is still used in areas where a sharing network is not practical, either because of a smaller and/or less dense land use context, or for adaptive bikesharing, which requires a variety of bikes for its fleet.
Second-generation bikesharing networks began to resemble present-day docked systems, with similar sturdy vehicles in locked stations. They used coin-operated docks, however, so the lack of accountability led to stolen and vandalized vehicles.
In the mid-2000s, a confluence of technology enabled a third generation of bikesharing as defined in detail, below. Soon, large cities such as New York City and Chicago successfully adopted dock-based systems. Practical GPS tracking, which enabled user and vendor accountability and balancing; payment systems, including eventual smartphone integration; and affordable solar power and LED lighting enabled the widespread use of the mode and the quick movement to the fourth generation.
Smaller and less dense cities started operating and permitting, respectively, more flexible station-based and later dockless networks. The latter privately owned and operated networks expanded rapidly. Electric pedal-assist bicycles and electric kick scooters would follow a similar model. The proliferation of dockless "micromobility" prompted a regulatory response in many cities, which are outlined in the pilot projects highlighted, below. (see References, Shaheen)
A bikesharing network most immediately offers the possibility of a significant reduction in driving, especially when offered as a first/last mile solution for transit. While some are publicly owned and operated, the docked systems are typically publicly owned and operated by a private vendor. The dockless systems are privately owned and operated. However, jurisdictions are increasingly regulating them through either a pilot or licensing regime.
The resources below first define the relevant terms for bikeshare, show how agencies plan for implementation, then offers key policies (regulation and procurement documents), and finally case studies that evaluate their role in the transportation landscape.
Bikeshare: The Federal Transit Authority draws on the Shared-Use Mobility Center-authored Shared Mobility and the Transformation of Public Transit (TCRP Research Report 188) for their "Shared Mobility Definitions" page, definintg bikeshare as: "Short-term bike rental, usually for individual periods of an hour or less over the course of a membership (periods which can range from a single ride, to several days, to an annual membership). Information technology-enabled public bikesharing provides real-time information about the location and demand for bikes at docking stations throughout a community." Various forms of free-floating, dockless bikesharing have been implemented in North America since this report. In addition to their obvious physical differences (where they do not need a physical dock for parking), they also tend to operate privately, on a different payment model. We also include electric kickscooter sharing in this module, as they operate and are regulated similarly to free-floating bikesharing.
Station-based/Docked Bikeshare

: The most established system, station-based/docked bikesharing dates to the second generation, coin-operated systems. The current third and fourth generation networks fall under two models.

Smart Dock:

this system includes a payment kiosk that is connected to the centralized reservations and tracking system. The kiosk is connected to specialized docks that operate the locking systems. This system allows both single use with a code, or a subscription service.

Smart Bike:

the predecessors to dockless bikeshare, these systems are less expensive to install and operate. While some have payment kiosks, each bike includes at least solar-powered electronics for the locking system and GPS tracking. This system allows the use of docks that more resemble regular bicycle racks, or locking away from the station. (Shared-Use Mobility Center, TCRP 188)
Free-Floating/Dockless Bikeshare:  Privately operated, these systems are accessed via an app on the user's smartphone. The bikes contain all of the electronics and locking mechanisms, and can be tracked by the user; operator; and if relevant, the regulating agency.  (Hernandez) 
E-bikeshare: E-bikes (electric bikes) work in both docked (San Francisco, New York)

and dockless (

Chicago, San Francisco pilot)

systems. The model legislation promulgated by

People for Bikes

, divides e-bikes into three classifications. E-bikeshare falls into the "Class 1 electric bicycle" category that means an e-bike "equipped with a motor that provides assistance only when the rider is pedaling, and that ceases to provide assistance when the bicycle reaches the speed of 20 miles per hour." Especially in service areas where the topography might be prohibitive, either due to relief or distance, e-bikes offer accessibility to users who might find traditional bikesharing prohibitive.
Adaptive Bikeshare:

these systems serve users of handcycles, recumbent trikes, and other vehicles not served by bikeshare networks. A successful adaptive bikeshare should address a wide range of user needs, which also means that it is more difficult to reach a network effect. Currently, adaptive bikeshare systems operate as bike libraries in partnership with bicycle shops or non-profits near recreational facilities like off-street trail networks. The

Detroit and Portland

systems, while operating on a similar system, are piloting efforts to include the reservation and marketing in their wider bikeshare systems.
Planning for bikesharing has evolved along with the vehicles. The plans shown below range from the large, phased roll-out of the large Citi Bike, to the dockless plans, the addition of e-bikes to the existing San Francisco network.
Docked Bikesharing
The plan for what eventually became Citi Bike: New York City DOT and Motivate partner to bring bikeshare to NYC, 2009
US EPA-assisted planning for Baton Rouge Bike Share Business and Implementation Plan, Baton Rouge, Louisiana, 2016
Equity program offering discounted memberships for low-income users: "Divvy For Everyone" Bikeshare Discount Membership Program, Chicago, Illinois, 2015
Dockless Bikesharing
The Chicago pilot allows dockless bikes in an area deemed underserved by their docked, station-based network. Most of the bikes are required to have a locking system that can attach to a fixed object. Dockless Bike Share Pilot Project, Chicago, Illinois, 2018
Seattle is currently running a permitting program for private, dockless bikesharing in the city. By establishing a regulatory framework, the city hopes to harness the accessibility and reach of dockless bike companies, while working to remedy common complaints and avoid pitfalls. After an initial pilot program that ran from July to December 2017 (and has since been renewed), the city council approved a plan to double the number of bicycles in the city from 10,000 to 20,000.
Additional resources can be found at Alta Planning + Design's brief introduction to the mode.
E-bikes 
The Sacramento Area Council of Governments (SACOG) formed a partnership to place dockless JUMP electric-assist bikes over region: Regional E-Bikesharing Partnership, Sacramento, California, 2018.
San Francisco added e-bikes to their docked, station-based network: Ford GoBikes add E-bikes to Fleet, San Francisco, California, 2018.  
As the mode has evolved, so too have the procurement and regulations. The early docked regulations were largely proactive, which is not surprising because most of those systems are city-owned. On the other hand, the regulatory response to the dockless bikes is often reactive.
The dockless bike regulations are more extensive. This might be on account of both their more recent appearance—and subject to "lessons learned"—but also because of concerns about their potential to block the public right-of-way. Also, since the jurisdictions cannot mandate the location of docks, they must figure ways to either geo-fence their parked locations and maintain an accessible right-of-way.   
Regulations
Docked
An Ordinance by Zoning Committee to Amend the Code of Ordinance Regarding Bike Share Facilities in the City of Atlanta defines the range of operations models—this predates dockless—and restricts stations in the right of way to certain zones.
Dockless
NABSA Dockless Bikeshare Regulation Guidance
San Francisco was one of the first cities to see the mode, and reacted with regulation. Its model of passing an emergency ordinance and creating a more robust permitting regime has since been repeated for other free-floating operations in the public way.  A Resolution Limiting Free-floating Bikeshare, San Francisco, California, 2017
The Seattle system looks to regulate how they are parked in the right of way  Bikeshare Permit Requirements, Seattle, Washington, 2017
People for Bikes has  Model-eBike-Legislation-06282018 people for bikes
Procurement and Contract Examples
Here the difference is that cities often own the docked systems, versus the dockless systems, which concentrates more on the details of permitting.
Bikesharing is now widespread, and there are a range of studies of the systems.
National: This organization of city transportation officials is generally pro-bikeshare, and the relatively straightforward NACTO Study on Bikeshare in 2017 is more exposition than analysis:
Local/Regional: After a failed station-based program, the City of Seattle permitted dockless, or "free-floating" bikesharing. This is their evaluation of the program: Free-Floating Bike Share Pilot Evaluation Report, Seattle, Washington, 2018
This study of the District of Columbia, pre-dockless system, shows a 4% reduction of traffic congestion: Bicycle infrastructure and traffic congestion: Evidence from DC's Capital Bikeshare, Washington, DC, 2016