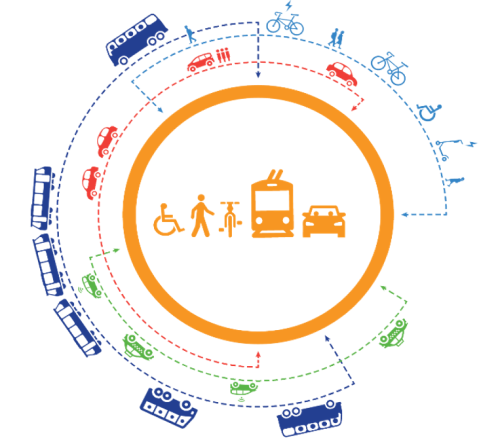 Traditional sources of funding through the government and local partnerships play an important role in funding shared mobility projects. However, those sources do not always cover the entire cost of a project, nor do they necessarily supply the sustained resources needed to turn a pilot into a successful large- scale program. Other revenue streams and strategies can help to offset the money needed by local governments for transportation initiatives. This Learning Module will draw from pilot project examples, to explore potential funding options available for shared mobility projects, both traditional and more innovative programs and strategies. The Learning Module is organized by:
Subscription-based Business Models: The concept of utilizing a subscription-based business model to generate revenue in new ways. 

Bundle Transit: It uses the concept of considering a city as a network of destinations within which transit is embedded as the mechanism for funding by looking at the destinations as partnerships within the same network and the shared motivations and interests across these entities.

Taking Stock of Space and Resources: The concept of considering space and resources as assets to be leveraged into revenue sources.

Environmental Incentives: The concept of tying shared mobility projects to environmental goals and initiatives that may generat

e funding opportunities. 
There are several other considerations that are inherently connected to a project's opportunities and decisions related to funding. The first is identifying a project's goals to ensure the mechanisms used to secure funding align with these goals. For instance, one of the funding strategies that serves to produce higher revenue is if the shared mobility project operates its service in areas likely to generate higher levels of ridership, which in turn helps to reduce per-passenger capital costs. In this case, avoiding outlying stations can reduce redistribution costs and produce higher revenue. If profitability through increased ridership was the only goal of the project, this may be a viable revenue strategy. However, that is not always the case. Mobility equity often requires that service is provided in lower density, harder to reach locations, where the revenue generated is often insufficient to operate a project. A Learning Module dedicated to goal setting is forthcoming. Another consideration is understanding the costs of the project. In general, costs can be bucketed into capital costs, and operational and maintenance costs. It is important to note that funding sources are sometimes restricted to either category. Lastly, understanding partnership dynamics and models is critical to leveraging innovative funding solutions and lasting shared mobility programs. Equitable Public-Private Partnerships can help to share the risk and reward between a public agency and its private partner. These partnership models balance ownership, governance, management, operations, marketing, and funding. As such, the way these partnerships are structured dictates organizational responsibility and how the funding is shared or distributed. This Learning Module will reference these considerations throughout the paper.
Federal & State Funding
Federal funding often sources a large portion of the capital and operations funding for shared mobility projects. Numerous federal agencies provide grants and other programs that involve funding options. These are typically competitive and require documentation of the project need, costs and benefits. Traditional funding sources through large federal agencies are not the central focus of this paper. For reference, and in terms of transportation, four agency examples that offer federal funding include the US Department of Transportation, the Federal Transit Administration (FTA), and the Federal Highway Administration (FHWA). The US Department of Energy's Office for Energy Efficiency and Renewable Energy (EERE) offers an additional resource on funding electric vehicles and charging infrastructure. The Center for Transportation Excellence outlined the transit ballot measures for each election since 2012, including the total revenue and the percentage breakdown of revenue types and where the funds would be allocated for each ballot measure, if passed.  State funding typically stems from tolls, taxes, bonding and debt, state DMV fees, state grants, and transportation budgets.
County & City Funding
Local public funding can show the private sector the local government's commitment in a public/private business model. These funds are often used towards capital costs or a specific annual amount for operations as agencies may be less likely to take on the responsibility and uncertainty of operating costs [1]. Additionally, some federal grants require a local match of typically 20%, adding to the necessity of finding local funding to close the gap [1]. Local funding can come from a variety of sources including steady streams such as taxes (income, general sales, and property), parking revenue, tollway revenue, congestion pricing revenue, distribution of license plate fees, public grants, and other funding associated with construction and development such as Development Impact Fees, Tax Increment Financing, and Special Assessments. Other opportunities include subsidies, leveraging budgets from other projects and Municipal Economic Development Tools. Lastly, Community Development Block Grants are a flexible program and revenue source administered by HUD and dedicated to benefiting low-income individuals and communities.
Air quality initiatives such as the Congestion Mitigation Air Quality (CMAQ) help fund transportation projects that seek to reduce transportation related carbon emissions. CMAQ is often administered by the local Metropolitan Planning Organizations, is used in nonattainment areas and is often a popular funding mechanism to help support bikeshare programs.
Mobility innovation initiatives, under the FTA, supports innovative pilot projects to experiment new mobility services and technologies.  Past and ongoing funding opportunities include the MOD Sandbox, MOD On-Ramp, Integrated Mobility Innovation (IMI), and Accelerating Innovative Mobility (AIM). 
Federal government partnerships is a way to pool funding and resources across agencies with similar interests and motivations. The Partnership for Sustainable Communities, for example, was a joint project, founded in 2009, between the Environmental Protection Agency, the U.S. Department of Housing and Urban Development, and the U.S. Department of Transportation. The Sustainable Communities Initiative provided grants to improve regional and local planning efforts that integrate housing and transportation. While the program ended in 2016, it is an innovative concept of bringing together these three agencies in a single program that could be looked to as an example. 
Local government partnerships can similarly connect local governments and other important stakeholders to work together and development and deploy new technologies and resources. PlanetM, for example, in Grand Rapids, Michigan is a concierge service comprised of government agencies, mobility organizations, communities, educational institutions, and research and development and connects any mobility-focused company or investor to the Michigan automotive ecosystem. This program funded an $8 million innovative grant through the Michigan Mobility Challenge that aimed to address core mobility gaps for seniors, persons with disabilities, and veterans. One of the recipients was a project called The Rapid, an 8 month pilot for an on-demand paratransit service run by private microtransit operator, Via, and non-profit Disability Advocates of Kent County.
Dedicated mobility offices such as LA Metro's Office of Extraordinary Innovation (OEI) can create a space to generate innovative mobility processes and programs such as LA's Unsolicited Proposals and Public Private Partnerships that encourages the private sector to present innovative ideas directly to Metro for evaluation, leading to a demonstration, pilot project, or potentially full deployment across Metro's system. The District Department of Transportation (DDOT) in Washington D.C. offers a similar program for unsolicited project proposals.
RFI's that solicit innovative mobility solutions to request ways to improve mobility is an initiative that as an example, Indianapolis Public Transportation Corporation, called IndyGo, leveraged. This RFI was intended to help IndyGo gain information from potential vendors on the services they offer and the types of partnerships the agency might pursue to improve mobility after passing a ballot to allocate 0.25% local income tax to the expansion and operation of transit infrastructure. An open RFI can help an agency think through the different mobility options and foster a competitive process with the private sector.
Permit fees are when a city interested in soliciting new shared mobility services charges a permit to providers looking to operate within their city limits. Designing a successful permitting program requires a balance of incentives and regulations, and this equation will be different for each city. In general, a permit fee should not be onerous to the point that it dissuades companies from locating to a city unless that permit fee has benefits associated with it that help to offset the costs. Flexibility and covering the administrative costs is the most important aspect to encourage multimodal transportation.. Examples of cities initiating a permit fee for a bike-share program is Seattle which utilized a very high fee of $250,000, Denver which flexes its permit fee based on revenue potential, and Dayton which is outlined below: 
Dayton,

a smaller, lower density metropolitan area, is not necessarily the type of city where venture-capital backed private providers might focus their expansion efforts. However, the City of Dayton administered a permit fee for any Electric Transportation Device which encompasses a one-time $2,000 Probationary Operating Permit Application fee and an annual $1,500 Annual Operating Permit Application fee to cover administrative costs. This was utilized for Link, the bikeshare program, and Spin, the scooter-share program currently operating in Dayton.
User Fees are collected from those who utilize a service or facility. The fees are collected to pay for the cost of a facility, finance operations, or generate revenue for other uses. Fare box revenue is a common source of revenue for operations and maintenance costs of shared mobility projects. Additionally, it is a good fit for cities that hold large events, concerts, or conferences on a regular basis where the city can count on a spike in usage to generate revenue [1]. This was the tactic used by Austin's B-Cycle, as they leveraged the annual South by SouthWest Festival for a 50% increase in usage during those weeks. It should be noted that shared mobility projects should not rely on this revenue at this time due to the global COVID-19 pandemic starting in March 2020 that has prohibited these events and will continue to be throughout the upcoming year. Typical usership and membership funding mechanisms for shared mobility projects are annual/monthly membership, weekly/daily passes, pay-as-you-go, and penalty fees. Relying on fare box revenue is not typically found to be sustainable as the sole financial source [4]. Specifically for bikeshare, US companies have reported the percentage of operating cost recovered by user revenues ranging from 36% (Boulder B-Cycle) to 97% (Capital Bikeshare) [1]. Capital Bikeshare comes close by signing on 16,726 annual members, 1664 monthly members, 4,118 weekly members, and 86,019 casual users for a total of just under one million trips in their first year. Part of the success for farebox recoveries for bikeshares comes from the large number of tourists who purchase the more profitable single-day passes (as compared to annual member fees) and pay overtime fees [3].
Advertising includes a contract with a company to provide a regularly changing graphic display and message that can be independent of the shared mobility service. This funding strategy can be a cyclical investment in that local businesses who advertise on the shared mobility service will often encourage their patrons to engage with the service as increased usership leads to increased advertisement viewership for them. An example of a shared mobility project heavily funded through advertisements are the free shuttles in tourist destinations. This free service is made available by a large amount of advertising that you experience on the shuttle, through the driver, and in printed material. Another example of a pilot project leveraging advertising for funding is Lake Nona, FL's, AV pilot called Move Nona. Given advertising is a common source of funding—agencies often have a webpage that outlines the opportunities (creatively described) and costs (see SUMC Move Nona Case Study). 
Sponsorships [4, 5] often involve a longer-term relationship between the vendor and the sponsor and can take the form of several different partnerships. They are a common source of funding. Given the higher private investment associated with a sponsorship, they are sometimes identified through staff and board connections and by targeting companies that support green and/or healthy living initiatives [5]. A good source for finding such sponsorships can be through green conferences or business association meetings [5]. Prices, contract length and other stipulations regarding the location and extent of the marketing value can vary on the program. Sponsorships come with a level of risk when affiliating the shared mobility project with a private company, should the company have image problems that the project is then promoting [4]. Since this is such a heavily relied on source of funding for shared mobility projects, we have included a few differentiating factors and partnership options to consider [1, 5]: 
Community Publicity Partnership

: In exchange for publicity in the shared mobility monthly newsletter and on their website, local businesses provide discounts to shared mobility members (e.g., 25% off food purchase) as well as a monetary contribution to service.
Hotel Partnership

: Hotel partnerships involve the purchase of 24-hour memberships in bulk quantities at a discounted price. The shared mobility service can provide equipment such as helmets, brochures and maps with hotel partnership purchases. 
In-Kind Advertising Partnerships

: In exchange for advertising space on stations or the mode of transportation, the service receives in-kind gifts from companies, such as products or services. 
Event Participation

: The shared mobility service can participate in an event ranging from marathons to various festivals in exchange for publicity, and provide their service or equipment, volunteers, and staff for a range of events. 

An example of this is the Norwalk CT Make Music Day event that encouraged people to use

Wheels2U

to travel to and from multiple stages. 
Ridership Partnership

: This type of agreement pairs the mobility service with exposure for the funder. As an example, every Wednesday for a certain amount of time, B-cycle partnered with Wells Fargo Bank, providing free rides at select stations with Wells Fargo advertising. In exchange, Wells Fargo contributed funds in excess of the lost revenue attributed to free rentals. 
Local Business Partnerships:

  Local, grassroots efforts can help create community-based services. Wheels2U, mentioned above, also

partnered with local restaurants and businesses to offer promotions to Wheels2U users. Participating businesses could display a Wheels2U

promotional poster

.

In this case, Wheels2U did not receive funding from these businesses, but it did help to increase ridership and awareness of the program.
Private grants are another source of funding that agencies and nonprofit organizations can apply for. Boulder B-Cycle hired a part-time worker to solely apply for individual grants such as Patagonia and the Gates Foundation [5]. 
Private investment can be a large portion of the local funding provided for shared mobility projects. Specifically, it can provide financial support for the often 20% local match required of many federal funding programs. 
For Profit Corporate

:

Lone Tree Link in Denver

: The Lone Tree link is a free shuttle that addresses the first/last mile issue for a suburb in Denver. As of 2017, the cost of the shuttle is $500,000 per year or $40,000 per month and is split

between Charles Schwab (paying slightly extra than the others), Denver South TMA, the City of Lone Tree, and companies from two other campuses—the Sky Ridge Medical Center and Park Ridge Corporate Center. This shuttle was created to help demonstrate the market potential for a light rail extension. 

Foundations:

Nice Ride

in Minneapolis received funding from the

Central Corridor Funders Collaborative

, a coalition of 14 local and national private foundations interested in supporting activities synergistic with the local light rail lin

e. Foundations

are becoming an increasingly important source of funds for shared mobility projects. Many corporations or wealthy business families have related foundations that support social causes, including the health, environmental and equity benefits of shared mobility projects

[5].

 

Private Developer

: Norwalk Transit District

Wheels2U

microtransit service is sustained through a public-private partnership between Norwalk Transit District and local mall developer, Brookfield Properties, that pays a large percentage of the operating costs to service the downtown area and local mall. Move Nona, an AV shuttle piloted in Lake Nona

, is another example of a private developer as one of the main funding sources. The public agency must set the terms with a private funder so that appropriate user fees are set and equitable requirements are met. 
In-kind donations are when a public organization offers their services such as staff time, right-of-way use, or reduced street parking cost. This option is most commonly used for community-based projects serving a unique need.
Regional power utility companies are a large potential player in shared mobility projects, specifically any electric vehicle or electric micromobility program as there is added incentive for them. Utility companies can cut across public and private funding infrastructure depending on if they are publicly or privately owned. They can act as a project sponsor, offer direct funding, or offer in-kind services to help pay for infrastructure, such as electric vehicle charging equipment.  LA Department of Water and Power (LADWP) was a core partner in the BlueLA pilot project, providing management support, station design services, and funding.  As a municipal utility, LADWP had more flexibility and familiarity with other city programs and agencies then its private utility counterpart.
Crowdsourcing, the practice of obtaining information or funding by enlisting a large number of people to join, typically on the internet through companies like kickstarter, ioby, and Indiegogo, might be a viable solution for a small portion of the costs of a new project, particularly one that serves a specific community need. The Transit Center and ioby launched a campaign in 2016 for transit oriented projects called "Trick Out My Trip" where the Transit Center matched every dollar, up to $100 per donation.
Multi-jurisdictional funding offers the opportunity to share costs with a neighboring jurisdiction. These efforts can be agency driven, for example when a transit service extends beyond a city boundary to serve its neighboring suburbs, or through private interests. The Shuttle Bug is a shuttle service in the Chicagoland region intended to provide first mile/last mile solutions for Metra train and Pace bus riders that was funded through a multi-jurisdictional transportation management association.
Membership organizations such as the National Association of City Transportation Officials (NACTO) can organize cities and transit agencies together to exchange ideas, insights and practices. NACTO is an association of 81 major North American cities and transit agencies and recently awarded 10 member cities to receive grants of $25,000 as part of their Streets for Pandemic Response and Recovery program. The City of Minneapolis Public Works was one of the recipients who plans to use this money to expand the defined used of Mobility Hubs beyond being a place where people can connect multiple modes of transportation and respond to the new needs of the community due to COVID-19 and civil unrest. Another organization that functions similarly is the Urban Sustainability Directors Network (USDN) which aims to connect local government practitioners to improve urban sustainability in part by offering various grant and funding opportunities.
This section has grouped different innovative funding strategies into four mechanisms: Subscription-based Business Models, Bundled Transit, Taking Stock of Space & Resources, and Environmental Incentives. It is acknowledged that there are likely regulatory barriers to transferring and adapting some of these strategies to a shared mobility project. However, the goal of this section is to stimulate new ways of thinking about these opportunities and avoid a siloed or restrictive thought process.
Subscription Based Business Models
Co-operatives, specifically in the case of carsharing, have been a common model providing benefits financially, environmentally, and socially [6]. Users pay a one-time deposit that the carshare company can use for start up capital costs such as the buying of cars. As co-op members, users then pay a low fee per hour to use the car. Depending on the program structure, if someone no longer wants to be a user or part of the co-op, they  get their deposit back. Many Canadian carshare companies have utilized a co-operative model; specifically as of 2015, there were 10 carshare co-operatives in Canada [6,7]. Previously known as Co-operative Auto Network (CAN), Modo is one example of a carsharing company that uses a co-op model. The company initially charged a $3,300 per vehicle per year premium; it's current membership model includes a $500 deposit and $4 fee/hour to drive with insurance and for fuel. The co-op model is typically only viable for a middle to upper class community given the upfront user costs. While there are not active co-op models in the United States today, the concept offers a great opportunity to raise capital while keeping usage fees down for customers. 
Monthly subscriptions is a unique form of charging users for micromobiity and microtransit projects that may result in more reliable and/or higher revenue streams. For example, a new company in the Netherlands started a bikeshare company, Swapfiets, that operates by leasing bikes out for months at a time starting at 39.99 euros per month while providing free bike repairs or replacements. This model shifts the capital and operating costs by not requiring fixed docking stations or rebalancing bike operations but does rely more heavily on more employees for repair and replacement service. 
Mobility as a Service (MaaS) describes the use of a single application with a single payment channel (instead of multiple ticketing and payment operations) for a diverse menu of options—public transportation, ride-, car, or bike-sharing, taxi, car rental or lease, scooters, or a combination of these. This makes the transportation network greater than the sum of its parts. The way to achieve this may be through a subscription based model where the user has access to multiple modes under one monthly fee. If MaaS can provide better service with seamless access to multiple modes, then usage of transit — and revenue — may increase. There are large and still unanswered questions about developing cost sharing and payment across participating stakeholders in a way that is equitable and proportionate to the services received. If services are bundled together, this is all the more true.
Bundled Transit
Health organizations such as hospitals and health insurance companies are entities that can be incentivised to fund shared mobility projects to aid in getting their patients or members to and from their appointments. Getting to medical appointments on time can be difficult for a variety of reasons, from feeling too sick, not having a driver's license, or having limited access to transportation. Additionally, patients often need a ride home after undergoing anesthesia. High no-shows and cancellation rates cost health organizations a lot of money which can motivate them to look to solutions such as mobility on demand to reduce these occurrences. Shared mobility projects can also apply to be a Non-Emergency Medical Transportation (NEMT) entity, which offers per-mile driver reimbursements. For example, Logisticare is a non-emergency medical transportation service offered free of charge to members through Blue Cross Complete of Michigan's services. TNCs such as Uber and Lyft are also partnering with other players in the healthcare space such as the electronic medical record companies Cerner and Epic to embed the ride-calling technology into the EMR. 
Go Dakota

is a partnership between Dakota County, Minnesota and Lyft to offer flexible, on-demand rides to individuals with disabilities who receive home and community-based services in the county.

Through this

pilot program

, eligible individuals may use Lyft credits, paid through Medicaid waivers, to order rides to or from work. 

Another program in Minnesota is a partnership between

Hitch Health and Lyft

. In July 2018, Hitch Health – a healthcare technology company – released the results of a 12-month pilot in partnership with Lyft to provide non-emergency medical transportation to appointments at Hennepin Healthcare internal medicine clinic in Minneapolis. During the pilot, Hennepin provided the contact information for patients in need of transportation who had missed appointments previously. Hitch then offered these customers participation in the service, in which they could request rides via call or text. Hitch would proactively and automatically send patients offers for rides when appointments were scheduled, and it would handle the logistics with Lyft on its end. When the patient was ready to go home, they would text "ready" through the Hitch platform and a Lyft ride would be dispatched. The results released suggest that the pilot resulted in a 27% reduction in the no-show rate for appointments, an increase of $270,000 in revenue for the clinic, and an estimated 297% return on investment (

Examples of Mobility on Demand Policies and Public-Private Partnerships to Increase Accessibility

).
Sporting event transit validation is a concept in which sporting venues contract with transit agencies so that ticket holders for the sporting event can ride buses and trains free on game days. Seattle, Ottawa, Phoenix and Salt Lake City all have fare-free transit programs that follow this model. Shared mobility projects could look to these types of events as sponsors or direct funders to help draw a diverse crowd to the stadium and reduce drunk driving on the way home by covering first mile/last mile options. Theaters, concert halls, museums, airlines, amusement parks, the 2028 Olympics in Los Angeles are all examples of other venues that could adopt the bundled transit model and become partners for shared mobility projects.
One example is the San Francisco Municipal Transportation Agency's (

SFMTA

) new 2019 program for the Chase Center, an 18,000 seat, $1.4 billion arena played on by the Golden State Warriors. All event tickets serve as transit passes for all patrons on SFMTA buses and rail lines, paid for by the Chase Center. The typical day pass is $5, while the Chase Center pays the city a "transit service fee" of only $1.46 per ticket to offer the service fare-free to everyone.
Employer Based Programs are mutually beneficial programs that align employers with transit services. Employees are encouraged to take part in an employer based program because it can improve employee morale and productivity due to reduced stress, fewer late arrivals and the ability to work while commuting. Companies are also more attractive to potential employees as this broadens the region that an employee might be able to live while getting to work creating a more accessible and equitable workplace environment. Lastly, employers save money through tax benefits, reduced overhead costs associated with parking expenses and mileage reimbursements. Shared mobility projects could look to employers for funding as an innovative way for their employees to get to work, specifically those harder to reach regions the first mile/last mile problem that mobility on demand projects seek to solve. For some cases, there are TDM requirements that instigate an employer based program but some are generated without this incentive or regulation. Seattle has found great success with their TDM programs, achieving a 75% non-single occupancy vehicle mode share as of 2017 while the city was experiencing significant growth in both its population and its central business district. 
The

Denver Lone Tree Link

is an example of an employer based program whereby a group of employers jointly fund the cost of the Lone Tree Link to service their employees to the transit centers. This case also provides an example of an employer funding a solution to demonstrate a market for rail/transit extension. In this way, the employer based shared mobility project is an extension service until a larger, more permanent infrastructure improvement is made to the transit system.
Taking Stock of Space & Resources
Asset recycling is an innovative funding mechanism used for infrastructure which typically involves the selling, leasing or repurposing of government owned assets (airports, seaports, toll roads, electric utilities, transmission grids, etc.) to tap latent capital for other infrastructure projects. One study found that between $720 to $885 billion could be generated by public-private partnership long term leases for existing U.S. infrastructure. These funds could be adapted to finance transit or other mobility projects. Earmarking these funds for shared mobility projects could also be a marketing strategy to showcase a commitment to equitable, environmentally sound projects. Asset recycling was first used in Australia and can be referenced as a successful use case. 
Air rights, also known as floor area ratio or FAR, is defined as the ratio of a building's total floor area to the area of its zoning lot. Some buildings have a substantial amount of unused FAR and have the opportunity to sell these air rights. This sale is potentially a very lucrative idea to generate needed revenue for things like building improvements. New York City, an already very dense city with little to no ground space left to build on, is taking advantage of this coveted real estate. While there is no precedent for transit agencies selling the air rights above their train stations, this could be a potentially viable opportunity to generate revenue for shared mobility projects. 
Parking spaces can be accessed, divided, and ultimately used in ways to generate revenue. These often underutilized assets hold opportunity ranging from simply taking stock of how current transit parking fees are operating and if there is room for adjustment, make-shifting irregularly shaped space near transit stops into a parking space for first mile/last mile shuttle connections or carshare spots, and repurposing unused parking lots as a revenue generator. One study found that if only nine of the 230 Metra stations in the Chicago region were used more efficiently, they could generate as much as 1,188 new residential units and at least 167,000 square feet of new commercial space. Another Chicago example, the CTA generates a small amount of revenue from renting out space under the "L" for parking. 
Leveraging state resources/infrastructure is one way to potentially reduce the capital cost required for projects, depending on the mode. For example, the Alternative Fuel Corridors program seeks to build out fast charging infrastructure along interstate corridors, providing state resources for inter-jurisdictional planning, public education, and signage. For a shared mobility project involving electric vehicles, being aware of and utilizing this infrastructure might reduce the anticipated cost to pilot. Another example of this kind of resource sharing is CapMetro's innovative interoperability between Proterra and New Flyer electric buses and chargers allowing the agencies to use each others chargers. This is a good example of investing in infrastructure that will reduce funding required for future fleets and projects.
Thrifty resourcing is the idea of using used equipment as a tool to reduce the funding required. Shared mobility projects that require a smaller fleet or less equipment might consider this route. The small town of Pocahontas, Iowa adopted this model and purchased 3,600 used bikes from a larger operator and was successful at keeping capital costs down. Additionally, nonprofit Houston Bike Share, was presented an opportunity to purchase used bikes from nonprofit Denver Bike Sharing when it decided to shut down. The deal saved more than 100 bikes and 45 docking stations from the scrapyard, and offered the nonprofit an affordable opportunity to expand its network, particularly into underserved communities.
Commercial center pool funding could be a strategy that businesses within a city or commercial center collectively do together to bring an additional means of transportation that customers can access their businesses. Chicago's trolley's, contracted through Chicago Trolley Co., were previously subsidized by tourist destinations such as Navy Pier, the museums and the zoo. 
Goods delivery through transit is an innovative approach by which transit services are adapting their offering to include deliveries as a way to increase revenue during the COVID-19 pandemic that has led to decreased ridership and consistent need for essential goods such as medicine and food. While this a unique situation and would certainly come with many regulatory and logistical barriers to work through as a more permanent system, it is a good case study for innovative partnerships with a goal of increased revenue streams. Private microtransit operator, Via, recently acquired Fleetonomy to accelerate its foray into logistics and last-mile goods delivery. Other examples of food and package delivery programs in response to COVID-19 that are specific to persons with disabilities are summarized in National Review of Public Transit COVID-19 Delivery Programs.
Licensing products is a strategy used by Dallas Area Rapid Transit (DART) where they are licensing their Mobility as a Service (MaaS) app, GoPass. DART contracted out to consulting firm, KPMG, to complete a feasibility study evaluating scalability of GoPass to a national platform. The revenue streams from this licensing come from mandatory onboarding fees to new agencies using the GoPass, licensing fees for agency operation that include program management fees and ticketing revenue share and optional Feature development, feature activation, and platform extension revenue opportunities. One example of a city that has rolled out the GoPass is Tulsa Transit. DART hopes that the revenue generated from leasing its GOPass app will help to support its continued development.
Developer funding is an opportunity to align shared mobility projects with private developers who often hold the key to necessary funding. Shared mobility projects could be incorporated into residential and/or commercial developments pursued by developers. This offers the developer community-driven publicity and marketing as well as widespread impact, and offers the transit agency or nonprofit the funding required to develop the project. Additionally, there is the potential for private developers to contribute to a shared mobility project if it is part of a trip mitigation or travel demand strategy.  Discussed earlier in this document, the Wheels2U microtransit program partnered with the local developer to provide on-demand service in the downtown and the local mall. 
Environmental Incentives
Carbon Tax Credits are part of a growing effort to mitigate greenhouse gases. One carbon credit is equal to one tonne of carbon dioxide and is used as a way to measure, regulate, cap, and allocate greenhouse gas emissions with the goal of driving industrial and commercial processes towards less carbon intensive approaches. Examples of organizations leveraging this model are the California Air Resources Board (CARB), and the Regional Greenhouse Gas Initiative (RGGI). RGGI is unique in that it is a cooperative effort among the states of Connecticut, Delaware, Maine, Maryland, Massachusetts, New Hampshire, New Jersey, New York, Rhode Island, and Vermont to cap and reduce carbon dioxide emissions from the power sector. It is the first mandatory market-based program in the United States to reduce greenhouse gas emissions. These groups are great resources to leverage for funding opportunities with a couple examples from CARB below: 
California Air Resources Board (CARB)

is part of the California Environmental Protection Agency that is tasked with protecting the public from harmful pollutants and developing programs and actions to combat climate change. Their programs range from requirements for clean cars and fuels to innovative solutions to reduce greenhouse gas emissions. Two examples of the funding that comes from their programs include:

Clean Mobility Options

is a program

directing $32 million in funding and capacity-building to disadvantaged communities deploying shared and electric mobility solutions. 

Los Angeles'

EV carsharing pilot

is an example of a shared mobility project that was funded by a grant through the California Air Resources Board. Specifically, funding was provided through CARB's Low Carbon Transportation Investments, which is funded out of the Greenhouse Gas Reduction Fund with proceeds from the state's cap-and-trade program.
Settlement funds can be an opportunity to allocate those funds in innovative ways. For example, $2 billion of the settlement funds from the United States v. Volkswagen Group of America et al., will be spent on national zero emission vehicle investments and $2.9 billion will be used to establish an Environmental Mitigation Trust, which states can use to invest in transit projects that will reduce NOx emissions. States across the country have used the settlement funds for EV mobility programs. Another example, Green Raiteros, a volunteer transportation organization, used funds from a legal settlement to purchase two electric cars, a garage and an office for operations.
This paper hopes to offer a comprehensive overview of funding opportunities for shared mobility pilot projects including traditional government funding, innovative government strategies, traditional partnership funding sources, and innovative funding strategies. There are many great ideas and pilot projects in the United States, however, funding sources and strategies are often what inhibits a pilot from turning into a long-term solution.
Related Items