Move Nona AV Shuttle Pilot, Lake Nona, FL
20 minutes Author: Shared-Use Mobility Center Date Launched/Enacted: Oct 7, 2020 Date Published: October 7, 2020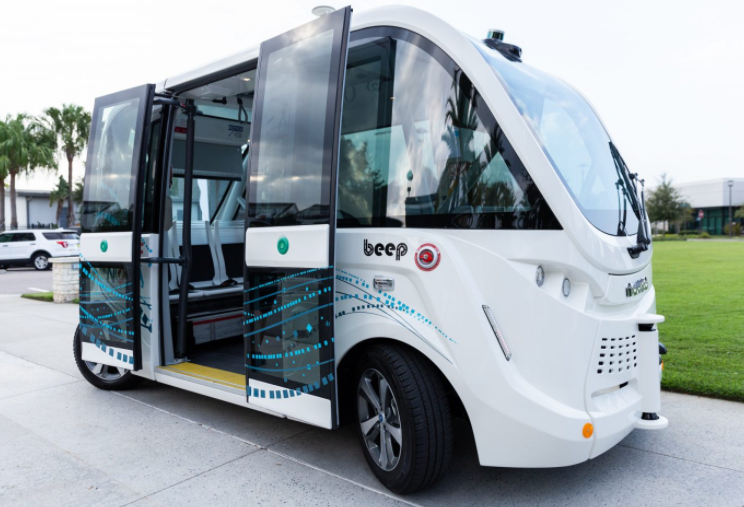 Brief Summary
In 2019, The City of Orlando and Orange County partnered with Tavistock Development to create Move Nona, an AV pilot for residents of Lake Nona, a very car-dependent community within Orlando.  
Shuttles are manufactured by NAVYA and operated by Beep. Florida's Autonomous Car Law, which allows driverless AVs to operate on public roadways, also enabled this pilot.
The initial "Green Line" route, which connects residential neighborhoods to the town center (approximately 1.2 miles), carried about 15,000 passengers in the first six months of the pilot. Subsequently, Move Nona expanded and implemented additional lines, providing access to recreational areas and a model home development.
Introduction
As a way to accommodate the Orlando region's growing population and influx of new personal vehicles, the city of Orlando and Orange County partnered with Tavistock Development, a private real estate firm located in Central Florida focused on innovative community projects, to create Move Nona in September 2019.[2] Move Nona is an autonomous vehicle (AV) pilot that provides residents and visitors in Lake Nona, a fairly affluent 17-square-mile mixed-use planned community within Orlando, with a shared transportation option. Lake Nona selected Beep as the AV shuttle operator and NAVYA as the manufacturer. The shuttles operate daily on a one-mile fixed route with three stops. There is no cost to the rider. Each shuttle holds up to 10 passengers and operates at a maximum of 15 mph. 
Lake Nona is a car-heavy community. An estimated 97% of citizens in Lake Nona use a car as their primary means of transportation. Adding to that, Orange County welcomes approximately 1,000 new residents each week [14], and was voted "Fastest growing metropolitan area in the U.S in 2017[11]". Move Nona reflects a desire to provide multimodal transportation choices, with goals that benefit the Nona community and beyond.
Improve the lives of every resident or guest.

Support multimodal transportation options that make it easier to travel in and around the Lake Nona community.

Address first and last mile access to essential services.

Increase job creation in Lake Nona and Orange County through innovative projects

Reduce roadway congestion.

Develop safe pedestrian and bicycle infrastructure.

Reduce personal vehicle miles traveled by 2.5 million annually.
Orange County Mayor Jerry Demings wanted to make this Central Florida county an "Experimental Prototype Community of Tomorrow". This paved the way for an autonomous vehicle service to set up operations in Lake Nona.[6] Lake Nona is home to more than 40 miles of paved and unpaved trails, EV charging stations, community shuttles, and a car sharing program featuring Tesla Model 3s at the Pixon apartments. This pilot was made possible through Florida's Autonomous Car Law, which allows AV's to operate in public roadways without having a driver behind the wheel. This law also encourages AV businesses in the private and public sectors to test AV pilots in Florida.[5] 
Funding for this pilot program, in part, comes from various advertising opportunities for local businesses. The Beep vehicles house interior and exterior advertising displays, with the interior displays consisting of high-quality video screens. Perspective companies can also opt for Beep attendants to distribute promotional materials to passengers and have a brand ambassador discuss information about their respective companies.[13] Move Nona has a selection process in which companies draft a bid to have their prospective business displayed on and in the AV shuttles.[12] 
The initial "Green Line route" that launched in September 2019, is a 1.2-mile linear route that runs through Tavistock Lakes Boulevard connecting the residential neighborhoods to the Town Center[3].  This 1.2 mile route is shown below, with three stops connecting Lake Nona Town Center to Boxi Park, the Pixon Apartments, and The Laureate Park neighborhood village center.
To ensure safe and secure travels for passengers, the Beep AV shuttles keep in constant communication with the Beep command Center located in Lake Town.[7] Shuttle operating times reflect a Spring 2020 pause in service as a result of the COVID-19 pandemic. Move Nona is open to all residents and visitors to the area; children under the age of 18 must be accompanied by a parent or adult. The Beep shuttles can hold up to 10 passengers and travel at a maximum speed of 15 mph. During the pilot phase, the cost to ride the shuttle is covered by Lake Nona and Beep.[1] The Beep Bestmile Rider Portal allows riders to see live data on where each AV shuttle is and its next stop.
Within the first 6 months of operation of the Move Nona pilot, the Green Line route had approximately 15,000 passengers in total.[3] This led Move Nona to expand from the pilot stage to implement the Yellow and Blue Lines for the Beep shuttles. The Yellow Line is a 1.1-mile route serving the Laureate Park neighborhood and provides access to recreational areas like Heroes, Nona Adventure, and Crescent Park, soccer fields, and various other recreational activities. The Blue line is a 1.5-mile loop that allows potential homebuyers to view Laureate Park Model Homes.[3] This route displays the AV technology to potential new residents.
The development of these routes is in part due to the NAVYA autonomous shuttle navigation system and Beep's mobility platform. NAVYA AV's have extensive background in transporting riders at airports around the world. This means that the AV's have to be able to handle large volumes of passengers and weave through traffic at airports.[9] Combined with Beep's mobility platform, which allows for safe and efficient riding on predefined routes, Move Nona was able to safely expand routes that can handle sudden stops and operate on public roads.[10]  
After a temporary closure due to the COVID-19 pandemic, Move Nona reopened on June 18th with established protocols to adhere to safety and social distancing guidelines outlined by the state. Face coverings are required by all of the passengers and attendants inside the shuttles. Each shuttle has a hand-sanitizer dispenser for its riders and operators and shuttles are cleaned every shift. As a way to ensure this, Move Nona hired Berman, a non-profit that specializes in property maintenance and janitorial services, to install hand sanitizers in all the shuttles and to clean the shuttles throughout the day.[6] 
In November 2019, Lake Nona was awarded a $20 million Orange County BUILD Grant to help implement its Reimagining Mobility Project. This plan outlines a Local Alternative Mobility Network (LAMN), which integrates a multimodal system and supporting infrastructure, including pedestrian and bicycle infrastructure, personal electric bicycles, dedicated commuter ways, mobility hubs, and AVs.  An expansion of the Move Nona AV shuttle pilot is part of this larger effort to increase access, with a goal of creating more than 25 miles of dedicated AV lanes. 
The budget for the larger Reimagining Mobility Project is $43 million. The BUILD Grant provides about half of these funds, and the remaining are met through a combination of sources including private investment from Tavistock Development, and Community Development District (CDD) . These CDD's are previously committed sources and use their funding primarily for public infrastructure. Of the total budget, $12.6 million is allocated to AV infrastructure which will go towards maintenance and expansion of fleet size. 
In addition to the scope of the Reimagining Mobility Project that the BUILD Grant funds will go towards, the BUILD Grant award enables additional private investment by Tavistock and BEEP Inc. of approximately $14 million to be used for related scope infrastructure. More specifically, it will be used for user parking and the AV shuttle building structure, also a Mobility Hub featuring: 
All 20 AV shuttles, with average yearly maintenance costs estimated at $144,000[11]  

Systems operating supplies,

Complementary community park bodies, 

The Lake Nona Autonomous Mobility Innovation Lab [11]. The Mobility Innovation would be in partnership with the University of Central Florida (UCF) and supported by the private sector.[11]  
Orange County is making progress implementing innovative projects that will help connect people to different services. Move Nona experienced success through its Green Line pilot, which led to the addition of the Yellow and Blue Lines. Move Nona has followed the guidelines to help ensure passenger travel can still occur during the Covid-19 pandemic. Hiring an outside company to properly sanitize the vehicles and enforcing social distancing guidelines has helped to build confidence in the AV program.  
As a whole, Move Nona is an innovative pilot program that connects residents to shopping and recreation opportunities and helps to reduce Lake Nona the carbon foot-print of Lake Nona residents and visitors. The program encourages shared, multimodal transportation, with its intrinsic environmental, social, equitable and economic benefits, in an car-dependent region. 
Related Items