Little Roady Autonomous Shuttle Pilot, Providence, Rhode Island
20 minutes Author: Shared-Use Mobility Center Date Launched/Enacted: Dec 4, 2019 Date Published: December 4, 2019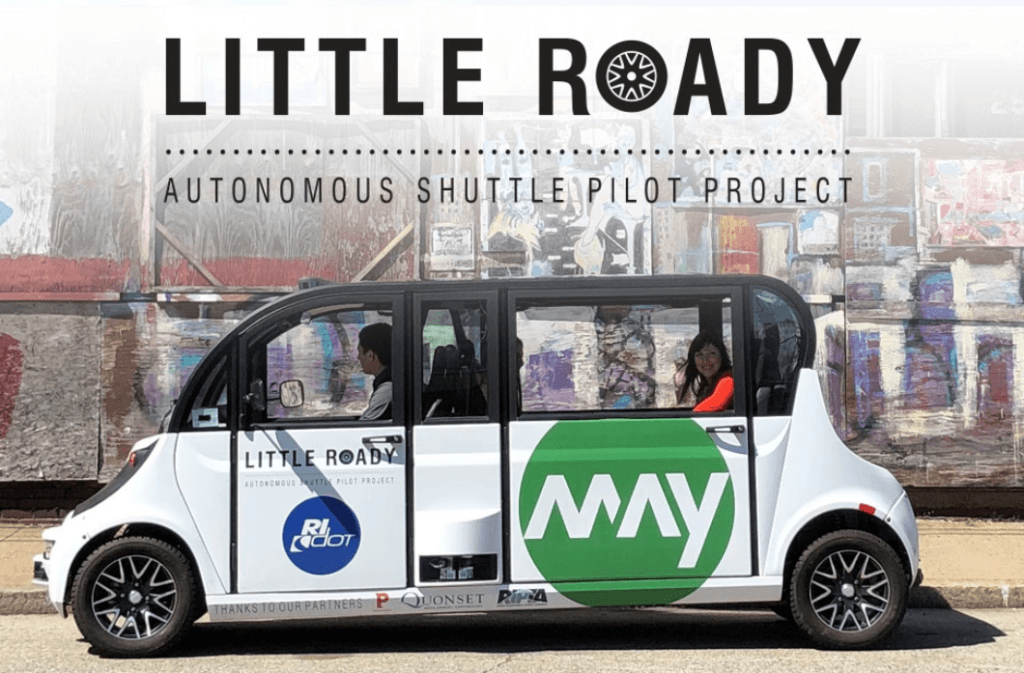 This case study on the Little Roady is part of a collaboration between SUMC and the Hewlett Foundation that aims to explore a broad array of electric and shared mobility pilot projects across the U.S. and to build greater understanding of these innovative projects across various disciplines.
Brief Summary
The Rhode Island Transportation Innovation Partnership (TRIP) launched the Little Roady Pilot Project in 2019. In this 12-month pilot, fare-free autonomous shuttles operate on a 5.3 mile fixed loop in downtown Providence. These vehicles can carry up to six passengers at a time.
Little Roady was developed after the Rhode Island Department of Transportation (RIDOT) issued a request for proposals (RFP) in 2018. The RFP called for a low to zero-emission autonomous vehicle project as a first-/last-mile service. Ultimately, RIDOT selected May Mobility as the vendor to operate Little Roady.
The state Attorney General's office funded this project with a $500,000 grant from a legal settlement with an automobile manufacturer.
May Mobility must provide RIDOT access to a digital database with live statistics on Little Roady.
Introduction
Dubbed the longest free transportation route in the country, the Little Roady Pilot Project is an autonomous shuttle pilot program launched in May 2019 in Providence, Rhode Island. The service uses 6-passenger electric vehicles operating autonomously on a continuous 5.3-mile loop between Providence Station and Olneyville Square. Customers can board at either ending station, or at any of the 12 stops in between, and rides are completely free. The vans are autonomous, but each has an attendant on board. The program is operated via partnership with the Rhode Island Transportation Innovation Partnership (TRIP), a multi-agency effort to explore new technologies in transportation, with partners including the City of Providence, the Rhode Island Public Transit Authority (RIPTA), and the Quonset Development Corporation. Since its launch, ridership has averaged around 120 people daily, and typically between 4-6 vehicles are deployed at a time. [1]
The program was developed in response to a RIDOT request for proposals released in 2018 for vendors to enter into a public-private partnership for a mobility pilot featuring autonomous vehicles. Submissions required potential partners to describe their plans in regards to marketing, implementation, service, scalability, risk and mitigation, deployment, public education, communications, and coordination, among other plans.
In fall 2018, Michigan-based company May Mobility was awarded a 12-month contract with TRIP to operate a free service using its autonomous vans. Under the terms of the contract, RIDOT would contribute $800,000 for the first year of operation, while another $300,000 coming from the Federal Highway Administration and matching state funds. [2] A $500,000 grant awarded by the R.I. Attorney General's Office as part of a settlement with Volkswagen for its diesel fuel emissions scandal would also support the program.  Should TRIP choose, the agreement with May Mobility may be extended for an additional two years after the first 12-month pilot concludes.
The goals for the autonomous vehicle program were laid out in the RFP released by RIDOT in 2018. The pilot was intended to reach the following objectives:
To introduce low- or zero-emission vehicles that are largely autonomous to Rhode Island's capital;
To serve as a first/last mile service;
To connect two neighborhoods of the city designated by a need for greater mobility access;
To offer new opportunities for job development and exposure to career pathways relating to emerging transportation technologies;
To push the needle on use and adoption of CAV and Vehicle-to-Infrastructure technologies in Rhode Island;
More broadly, to accelerate development and innovation in Rhode Island;
To thoroughly evaluate the pilot's performance; and
To assess the public's response to and experience with the pilot.
The RFP includes no objectives relating to frequency of use, nor operating costs.
After extensive testing of the vehicles at the nearby Quonset Development Corporation's business park, the pilot launched to the public in May 2019. The service operates seven days per week from 6:30am to 6:30pm, and it runs on a continuous 5.3-mile loop through Providence. The roads used have speed limits of up to 25-miles per hour, and the route includes public roads in both commercial and residential areas. In part, this route was selected because the service is primarily framed as an experiment, rather than a new service: the pilot is intended to be a "research and fact-finding project to learn about autonomous vehicles and how they fit into public transit and long-term transportation plans for Rhode Island and other states". [3] As a result, by seeing how the autonomous vehicles operate in different types of service areas (such as in commercial versus residential) and respond to different stimuli, more information can be gleaned on how to plan for future autonomous programs. In addition to shedding light on autonomous vehicle programs in general, the Little Roady pilot project also aims to provide a first/last mile service to passengers. At both ending points of the route, customers can connect with RIPTA buses, while both MBTA and Amtrak trains leave from Providence Station. Shared bike and scooter stations are also available along the Little Roady route.
Use of the service is free, and no sign-up is required. Customers can simply head to one of the designated stops, and board a shuttle when it arrives. To see the current location of vehicles and their arrival times, customers can access an online interactive map. If a shuttle is full, the wait time for the next shuttle is approximately 10-15 minutes. Traveling the full route from Providence Station to Olneyville Square (or vice versa) typically takes 20 minutes. Minors under 18 must be accompanied by an adult, and customers must provide safety seats for babies and toddlers. Pets are not allowed, and there are no bike racks available.
The success of the program will be measured based on the performance metrics laid out in the RFP released by RIDOT.
Based on the RFP, May Mobility is required to provide RIDOT access to a digital database with live statistics on the program. Some of the data that must be maintained include the miles driven in autonomous mode versus total miles driven; on-time performance; average wait times; costs per hour of operation and per passenger; and daily ridership information.
Throughout the pilot, a research team comprising of Brown University, 3X3 Design (Brooklyn-based urban planners), STAE (data firm), Bits and Atoms, and the Massachusetts Institute of Technology will be analyzing data about ridership and workforce and environmental impacts. RIDOT is also working with the Amalgamated Transit Union to better study the Union's concerns in regards to this pilot. [4]
Although the Little Roady pilot is part of the early generation of autonomous vehicle pilots, it distinguishes itself in how it is operated.  It will be important to monitor the lessons learned in these early pilots to see how they can inform supportive and regulatory policies around use, access and safety of the mode. As a multi-passenger shuttle, the Little Roady can further help to inform the role of shared autonomous vehicles as a public transit mode and how it can help to meet the mobility needs within a community. The Little Roady also connects to other transportation modes, which could enable evaluators to see how it might work within a multi-modal context.
This case study on the Little Roady is part of a collaboration between SUMC and the Hewlett Foundation that aims to explore a broad array of electric and shared mobility pilot projects across the U.S. and to build greater understanding of these innovative projects across various disciplines.
The series of case studies released through this collaboration serves to capture emerging best practices among mobility and charging operators and local governments and to highlight the successes and challenges faced through the projects' lifecycle. A particular emphasis is placed on opportunities to scale the featured projects and bring them into the mainstream. The case studies largely rely on performance data, publicly available reports, and stakeholder interviews.
This case study was written by the Shared-Use Mobility Center.
Faulkner, T. (2019 August 03). Diverless Little Roady Shuttle Hits a Few Speedbumps. EcoRI News. https://www.ecori.org/transportation/2019/8/2/little-roady-shuttle-reaches-milestone-hits-speedbumps
RI DOT (2019 May 14). RIDOT Kicks off Autonomous Vehicle Pilot Project: Press Release. https://www.ri.gov/press/view/35849
EcoRI News (2019 May 17). This is Only a Test: Autonomous Bus Service Underway. https://www.ecori.org/transportation/2019/5/17/test-drive-of-autonomous-bus-service-underway
Anderson, Patrick (2018 December 05). Driverless Buses to Roll Out in Providence, R.I. in 2019. The Providence Journal. https://www.govtech.com/fs/transportation/Driverless-Buses-to-Roll-Out-in-Providence-RI-in-2019.html
Related Items