Pocahontas, Iowa Sees Opportunity for Small Town Bikeshare
20 minutes Author: Shared Use Mobility Center Date Launched/Enacted: Aug 26, 2019 Date Published: August 29, 2019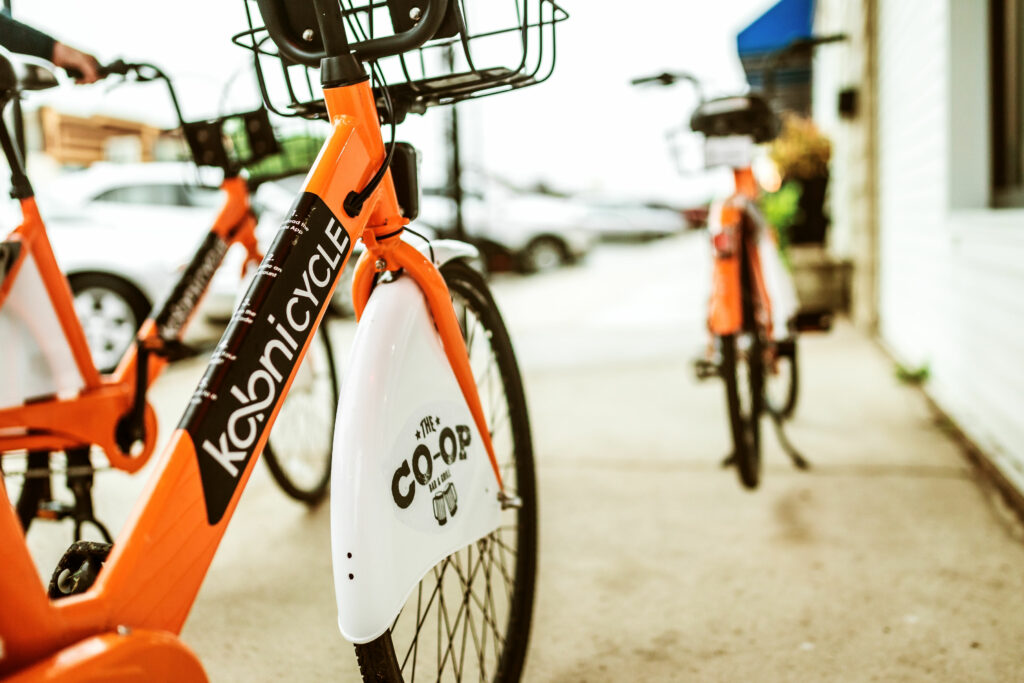 Brief Summary
The town of Pocahontas, IA launched a bikeshare program in 2018 in partnership with Koloni, Inc. Rather than contracting the operations out like most bikeshare systems in larger cities, the town manages the fleet and operations, and only leases the bikes and software from Koloni.

One of the key lessons learned from this program was the role of community support. After a slow beginning, awareness of the program increased and marketing efforts and engagement with local businesses brought greater advertising revenue and buy-in from community members, who hoped that bikeshare would help bring people to downtown shopping areas. The cost of the program is now completely covered by advertising. 

Pocahontas can be a feasible model for other micromobility projects in small towns. Because the town rents refurbished bikes, manages operations in-house, and uses hybrid parking systems, operational costs are low enough that advertising can nearly make up for all costs. As a result, Pocahontas does not have to worry about maintaining a high level of ridership to keep the system operational. 
Introduction
In 2018, the small Iowa town of Pocahontas launched a bikeshare program with Koloni, Inc., a company local to the community. Unlike many bikeshare programs in larger cities, the city of Pocahontas manages its own bike fleet, handling all balancing and operations. Koloni leases bikes to the town, and it provides system software for finding and renting the bikes. This low-cost model primarily relies on advertising revenue rather than ridership revenue, thereby allowing Pocahontas residents access to bikeshare despite the city's relatively small population. The program uses a hybrid docking model, which permits the shared bikes to be parked (and rides to be formally "completed") at simple bike racks that have been geo-fenced as designated parking locations.
In 2015, Brian Dewey was working with the town of Pocahontas to help develop a strategic plan for greater use of the local bike trails across Northeast Iowa. He noticed that there was a need for bikesharing in the community, but at just 1,700 residents, Pocahontas was not a particularly desirable market for large bikeshare companies, which count high ridership numbers and population density as critical markers of sustainable programs. In response to this need, Dewey founded what came to be the company of Koloni, which now serves small markets across the South and Midwest, including Evanston, IL and Brusly, LA. The city of Pocahontas, however, was Koloni's first partner.
To keep costs low, Dewey purchased 3,600 used bikes from the large operator Spin when Spin shifted its focus from bikes to e-scooters. Pocahontas rented 15 of those refurbished bikes for an initial pilot in 2016 at no cost, as Koloni was hoping to test the concept of renting bikes for locally-managed systems. After a successful pilot in 2016, a change in software postponed the formal program launch to spring of 2018. The price for today's fleet of 25 bikes is $40 per bike per month.
Pocahontas staff and volunteers are responsible for rebalancing the bikes across town. Users simply download the Koloni application to locate and rent a bike, and city officials use the Koloni software to track usage. Revenue primarily comes from advertisements rather than rider fares, as one sponsor paying the $40 for advertising on a single bike's front and back fender covers the cost of the bike's rental from Koloni.
The initial goal of the Pocahontas bikeshare system was to demonstrate enough local interest in biking to warrant extending a regional bike trail network through the small town. The logic was that shared bikes would get people riding, and the availability of bikes at the trail site would ensure that it would be used. According to Dewey, cities interested in applying for competitive grants to build out bike trails should follow Pocahontas' example of first implementing a bikeshare program, which helps to generate the hard, numerical tracking data needed to be awarded such funds (Dewey, Koloni Interview for MOD Learning Center, 2019).
Another intention of the Pocahontas bikeshare program was to provide a low-cost amenity popular among millennials – a workforce that towns like Pocahontas are actively seeking to attract and retain. Furthermore, bikeshare programs can support local business on Main Street by providing an alternative to driving to a regional shopping center, and they can offer recreational opportunities for workers during their lunch hour. In Pocahontas in particular, bikesharing has also driven local commitment to safer cycling facilities: the city added signs and striped bike lanes to streets after the introduction of the program.
Since its launch, the program has had over 400 riders, with an average of 75 riders each month. Currently, the cost of the program is entirely covered by local advertisements.
Unlike most bikeshare programs, Pocahontas does not contract out the daily operational duties to a private vendor. Instead, Pocahontas manages its own fleet, and simply leases the bikes from Koloni. This means that Pocahontas city staff are responsible for finding bikes, rebalancing them across town, and tracking repairs.
Source: Koloni; Pocahontas staff member crouches in front of Koloni bike
Operations
Bike Management

: Pocahontas leases the refurbished bikes from Koloni for $40 per month, and it has set the rental price for system users at $2 per hour. With a hybrid system, rebalancing (relocating bikes to where they are most needed) is much easier to manage than with a dockless system, where the bikes may be spread across a wide area. Pocahontas has dedicated staff that allocates approximately 5 hours per week to bike rebalancing efforts, and volunteers also assist. In general, Koloni advises that for a system of 40 bikes, the owner needs one person to spend 12-18 hours per week managing the system. In many markets, this task falls to a summer intern.

Dock Management

: Pocahontas chose a hybrid style for its system, which means that the bikes can be locked to traditional bike racks that have been geocoded as designated as parking locations. When a bike's GPS recognizes that it is in one of these designed zones, the bike can be locked and a trip is registered as complete. These docks were branded so that riders could see that they were acceptable parking locations.

Bike Maintenance

: For bike maintenance, a local volunteer group handles the limited repairs a fleet of 25 bikes requires. In some other markets where Koloni operates, the city partners with a local bike shop for repairs. Due to its harsh Midwestern winters, Pocahontas chooses to shutter its bikeshare system during the winter months. It still pays the $40 per bike per month fee, regardless of whether the system is operating during those months.

System Software

: Users locate available bikes and pay for them through the Koloni app. Koloni charges a user fee of 5% + $0.50 per transaction. The software can generate two monthly reports for the owner in PDF format—an economic report that tracks revenues and a usage report that identifies ridership patterns. Both use aggregated, anonymous data. However, the app does allow users to leave a comment and their email address so Pocahontas staff can communicate with them directly.
Marketing
Because Pocahontas manages its own bikeshare fleet, it can determine how to use the available space on bikes and racks for advertising. According to Dewey, strong local advertising increases ridership because any business that advertises on the bikes will also champion the system (Dewey, Koloni Interview for MOD Learning Center, 2019). For example, if a local hardware store sponsors a bike, the store owner will likely encourage people to use the bikeshare program and keep an eye out for his advertisement. Similarly, starting July 2019, the Koloni platform allows local businesses to advertise and offer redeemable promotions to bikeshare users; for example, if a rider opens up the Koloni app and looks at the map of bikes around town, they may also see a coupon for an ice cream shop near one of the parking hubs.
Pocahontas' sponsors have included a dental office, an insurance agency and a chiropractor, among others. The city offers advertising space on bikes' front and rear fenders for $40 per month. Another of Koloni's partners, the city of Brusly, LA, received a corporate sponsorship of $23,000 from Dow, which has a plant in the community; in return for its sponsorship, Dow's name is on each bike, and Dow employees are able to ride for free.
Initial funding for the bikeshare program came from a grant for $4,000 awarded to the county. For the initial pilot in 2016, Pocohontas rented 15 bikes. Koloni chose to lease these bikes at no cost, as it was testing out the concept. Starting with the formal launch of the program in 2018, the city pays $40 per bike per month, and this fee includes use of the Koloni software and application for finding bikes, paying for rides, and analyzing system use. Over the course of the first 3 years of operation, the city spent $2,500 in marketing to promote bikeshare use around town. Insurance for the system was underwritten under an existing insurance plan taken out by the city, and it added $20 per month in premiums.
The city is now able to cover the cost of the bike rental entirely through advertising revenue. An advertisement for a local store on the front and back fenders of a bike costs $40 per month, which is equal the cost of the bike rental from Koloni. Riders who use the bikeshare program pay $2 per hour, and Koloni takes 5% + $0.50 per transaction.
This financial model is what sets Pocahontas' system apart from most larger systems; the low cost of the bike rental, combined with the lack of need to make a profit as a private vendor would, means that as long as the advertising revenue covers the rental costs, the city does not have to worry about the financial viability of the program.
Recently, Pocahontas requested to add tricycles and e-tricycles to its existing fleet. As of summer 2019, Koloni is working to source these bikes.
For traditional locked systems, incorporating different style bikes can prove challenging, because the bikes must be retrofitted to be compatible with existing docking stations. However, because Pocahontas chose to use a hybrid model that simply requires parking vehicles in designated geocoded zones, it is easier to incorporate these adaptive bikes into the larger system.
Furthermore, if Pocahontas wanted to add other types of adaptive bikes or modes into its shared-use mobility system, Koloni could work with them to do so. In other markets, Koloni has already begun incorporating e-scooters.
The greatest challenge to implementing this bikeshare program centered around securing the necessary funding at the outset. In 2015, the county applied for a local grant of $4,000 and was awarded the funds.
Since its launch, the Pocahontas bikeshare system has demonstrated the vital importance of community support in the sustainability of such programs. Initially, ridership was very low, and gaps in internet access meant that some residents were not able to use the system even if they were familiar with it. However, awareness of the program increased with local marketing efforts, and active engagement with local businesses meant greater advertising revenue and buy-in from community members. City officials did not anticipate how eager local businesses would be to lend financial support to the bikeshare program. This readiness perhaps stemmed from Pocahontas business owners' hopes that affordable bikes would increase downtown foot-traffic and shopping.
Going forward, the city of Pocahontas plans on incorporating more types of adaptive bikes into its fleet, as well as continuing to expand its existing fleet as needed. Although e-scooters are predominantly the domain of large, densely-populated urban cities, it is possible that the city will also pursue adding this emerging mobility mode to its program as well.
Another potential next step for the Pocahontas bikeshare program would be to expand coverage to its neighbors, eventually establishing a county-wide program. This trend is emerging among small suburban communities from Illinois to Florida, where a single bikeshare system is distributed across a several contiguous towns with docking hubs located less densely than in urban areas. Currently, however, there is no such plan in place among Pocahontas city staff. The Pocahontas program's reliance on local advertising may make business owners less inclined to pay for an advertisement on a bike that  regularly ends up parked two towns away.  Although written with carshare in mind, the Bay Area Carshare Implementation Strategy offers some useful information that could carry over to bikeshare, particularly in regard to creating a set of uniform policies across jurisdictions.
On Koloni's end, the company is already accruing new bikes to replenish the initial batch purchased from Spin in 2016. The new bikes cost $50 per month to rent, rather than the $40 for the refurbished bikes.
The bikeshare model employed by Pocahontas is a model that is potentially well-suited for small towns across the country. In general, big cities are more desirable markets for private bikeshare vendors, because high density and rider numbers means greater opportunity to make a profit off ridership fares. Small towns like Pocahontas, however, are not usually viewed as viable markets for bikeshare; in these towns, revenue from ridership rarely covers the operational costs of rebalancing and repairing vehicles.
Pocahontas' model, however, makes such a program more feasible. The city rents refurbished bikes, rather than new models; it manages operations in house, rather than contracting it out to another party; and it uses a hybrid bike parking system, rather than expensive docking stations. These choices keep operational costs low enough that local advertising can recoup nearly all expenditures. As a result, the city does not have to concern itself with whether or not ridership is high enough to justify a sustainable system – most revenue comes from advertising, not from riders.
This model could work for small micromobility fleets in a number of different contexts. As long as staff is willing to manage operations themselves, cities, non-profits and colleges could all ostensibly establish their own bikeshare systems using this model. However, according to Dewey, this model tends to work best in areas that already have some biking assets to leverage, such as bike or pedestrian trails, influxes of tourists, or college campuses. Pocahontas, for example, benefits from proximity to a series of bike trails through Northeast Iowa, which increases interest in biking. Furthermore, Pocahontas' system is dependent on the financial support of local business through advertisements; it is possible that less tightly-knit or pro-biking communities may find securing local sponsors more challenging.
Nevertheless, this model illustrates that bikesharing is not only the purview of large urban cities, and that under the right conditions, small towns can support sustainable bikesharing programs as well.
Related Items