National Review of Public Transit COVID-19 Delivery Programs
20 minutes Author: Al Benedict & Mallory Livingston Shurna, Shared-Use Mobility Center; Todd Hansen, Texas A&M Transportation Institute Date Launched/Enacted: Aug 10, 2020 Date Published: August 10, 2020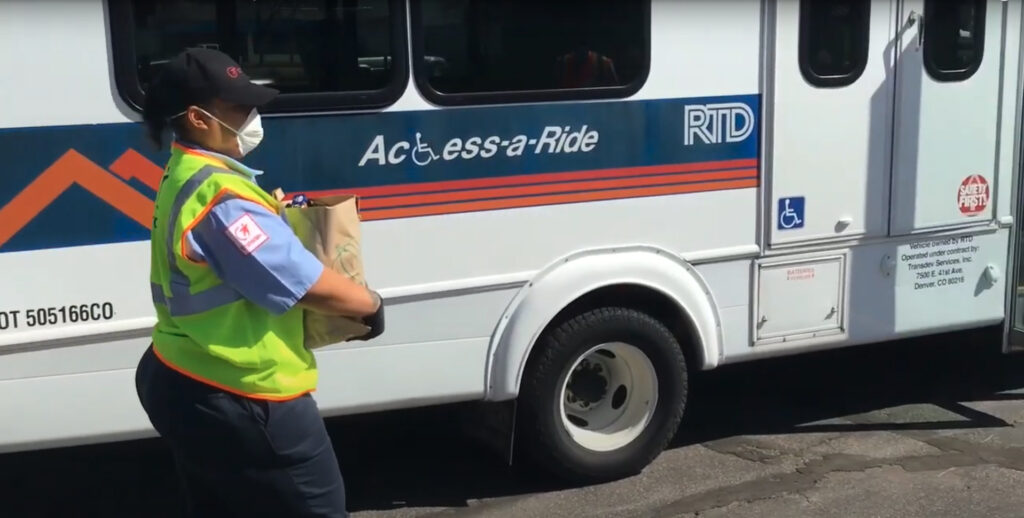 Brief Summary
This case study highlights various public transit delivery programs, in both rural and urban contexts, that arose during the COVID-19 pandemic. It further explains how these programs operate, who they serve, and how customers and geography influence program design.

Many transit agencies have launched programs tailored specifically to paratransit customers, and often these programs have expanded the eligibility parameters and have adapted to include food delivery services to residents in collaboration with community partners.

The cost of these programs is usually free to the user (minus the cost of the supplies ordered). Due to decreased requests for traditional paratransit services throughout the pandemic, agencies have been able to reallocate vehicles to help with delivery services without significant cost constraints. To cover additional operational costs, agencies have leveraged federal or state resources that have been made available.
Introduction
This case study explores some of the examples of public transit delivery programs that arose in response to COVID-19, as it highlights how they operate, who they serve, and how the differing needs of customers and geographic areas influence program design.  In addition to the delivery service overview below, the researchers took a closer look at the design and operations for the Denver Regional Transportation District (RTD) and the rural Charlevoix County Transit (CCT) programs.
—
Well before the COVID-19 pandemic wreaked havoc on traditional transportation patterns and services in the spring of 2020, many transit agencies and cities were already pursuing innovative ways to meet the unique needs of customers with mobility difficulties. (For more on initiatives  to increase accessibility, see SUMC's & NCMM's 2020 case study here.) However, these services have taken on increased importance during the current pandemic, in part because many paratransit-eligible customers are elderly or have health complications that make them more susceptible to the coronavirus. Many agencies have also cut back fixed-route service for the time being, further challenging customers' ability to access essential services.
As a result, transit agencies across the country have launched temporary programs or partnerships to provide essential supplies like groceries and prescriptions to those who may face additional mobility challenges during the ongoing pandemic, including the paratransit-eligible, seniors, and the immunocompromised. Often, these delivery services leverage an agency's existing resources, such as vehicles and drivers typically dedicated to more traditional paratransit transportation.
The majority of programs explored in this study were created as a result of the COVID-19 pandemic and serve only existing paratransit-eligible customers. For example, the Regional Transportation District serving Denver and Boulder, CO, the El Dorado transit system in El Dorado County, California, Metro Mobility in the Twin Cities, MN, and Valley Metro in Phoenix, AZ all launched programs in the spring of 2020 that were tailored exclusively to paratransit customers.
However, some agencies are seeking to serve different targeted populations or have expanded the parameters of eligibility for existing programs. For instance, the Southern Nevada transit system is participating in a food bank program available to all seniors in the Las Vegas area. Meanwhile, the Dallas Area Rapid Transit meal delivery program is using its accessible vehicles to deliver meals to students and those in food deserts in addition to its registered paratransit customers, and Austin, TX's Capital Metro is participating in the Farmshare Austin program that serves SNAP recipients and other low-income participants.
Like many transit agencies that are adapting to meet the needs of their community during COVID-19, the Linden Leap autonomous shuttle in Columbus, OH will soon deliver food pantry boxes to the Rosewind Community residents in the lower-income neighborhood of South Linden.  The Linden Leap AV shuttles will travel to the St. Stephens Community Food & Nutrition Center and deliver food boxes to the Rosewind Estates Community Center. This will limit the travel residents would normally have to make to the St. Stephen's food pantry. 
However, while the transit agencies or their contracted paratransit operators are typically the ones providing the transportation of these services to customers' doors, the programs also require collaboration with other community partners. Most commonly, these essential delivery programs partner with major grocery stores and food banks, although some also partner with local pharmacies, farms, community and senior centers, or school districts.
Most programs are structured to rely on customers to schedule deliveries, who are responsible for placing the order with the store and scheduling the delivery trip with the transit agency. Customers are required to schedule the deliveries one day in advance, typically through a designated phone number (either the same phone number for paratransit operations or a new designated phone number). Charlevoix County Transit in Michigan did allow same-day requests for delivery based on appointment availability. Capital Metro specified specific day and time availability for both its Food Delivery and Farmshare Austin programs. Depending on the grocery or pharmacy partner, customers may be able to place orders either over the phone or online, or the customer may be required to apply for delivery status with the store/organization. Call-n-Ride customers in Montgomery County Maryland could schedule deliveries by phone either with the local taxicab company dispatch or through the Call-n-Ride office. Customers are directed to provide the scheduled pickup date and time along with the store address to the reservations staff at the transit agency. Limits on deliveries per week or per household are sometimes put in effect.
Many programs spell out directives on the hand-off of groceries upon arrival at the customer's home, stating that drivers will not come inside the home with the delivery. Metropolitan Council in Minneapolis specifies a delivery window within 60 minutes of the scheduled pickup time, a four-bag limit for delivery orders, and photo ID verification to the driver. Metropolitan Council also allows for multiple pickups and deliveries for partial orders as items become available. Denver RTD provides specific instructions for the customer to provide a contact phone number for the driver to use in cases when the customer's front door is not visible from the curb. Some posted policies also state that drivers will not leave groceries at the front door of an unattended address. Some program instructions state that customers should not order frozen food, as deliveries may be onboard the vehicle for extended periods of time and the transit agency is not responsible for damaged or spoiled food. For its program with Farmshare Austin, Capital Metro provided curbside deliveries and texted customers prior to the drop-offs.
Transit agency programs for paratransit customers often use the paratransit vehicles to make deliveries due to diminished ridership and available vehicle capacity; Spokane Transit's program reportedly uses vans to make deliveries. Okotoks, Alberta stated that their process to load deliveries into transit vehicles in the morning at the partner grocery store took about an hour and used a dedicated vehicle for eight hours per day. Existing transit agency employees or contracted vehicle operators are used to drive the vehicles. Delivery service areas are usually set at the same service area as paratransit service. DART's partnership with the local school district used the district's school buses to pick up weekly food kits at a distribution center and deliver them to three community centers in the area.
Cost to Customers
In the majority of programs explored, customers are responsible for paying for the supplies ordered, but the cost of the delivery service itself is free. For example, none of the paratransit-eligible customers using the temporary grocery delivery programs in Denver, CO, Phoenix, AZ, or Portland, OR need to pay a fee for delivery; they simply must inform the operator of the pick-up details and schedule their order. In a slightly different model, Call-n-Ride customers in Montgomery County, MD must order a grocery delivery through the local taxi company, pay for the meter-rate fare from the grocery store or food bank to their residence with their Call-n-Ride card, and then submit an invoice for reimbursement of that meter fare to the Montgomery County DOT. In still another model, grocery stores themselves in Okotoks, Alberta, Canada are covering delivery costs by paying a fare to the Okotoks Transit bus operators who deliver grocery orders to homebound customers, primarily seniors. Customers in Okotoks can also choose to use the local taxi service for grocery deliveries for a discounted rate of $10, negotiated by the city.
Operating Costs
In March of 2020, use of public transit across the country dropped significantly as stay-at-home orders to combat the spreading Coronavirus went into effect and people limited their non-essential travel. Reflecting this, the number of paratransit trips requested has also decreased. In Denver, CO, the RTD asserted that the number of requested trips "continually dropped as rehabilitation centers and other facilities that are primary consumers for paratransit services have closed [due to the virus…]. Some requests are down by nearly two-thirds."  Due to the decreased ride requests, many agencies have allocated vehicles typically used to provide accessible services to grocery delivery programs without significant cost constraints.
To cover any additional costs that the operation of these programs may require, agencies can leverage federal or state resources that have recently been made available. The Washington state DOT, for example, publicly asserted that agencies can use DOT funds to support meal, food bank, and grocery delivery for homebound people, and the transit agency serving the Squaxin Island Tribe Reservation launched its temporary grocery and prescription delivery program in March with DOT support. 
Similarly at the federal level, the FTA clarified in June 2020 that agencies can use CARES Act funds – as well as Section 5307 and Section 5311 funds administered as part of the Emergency Relief program – for delivery of essential services through January 2021. Agencies seeking additional resources are also encouraged to look into FEMA's Public Assistance program for the purchase and distribution of food during the pandemic.
Most transit delivery programs either specify eligibility for paratransit customers or imply eligibility since information on the program is posted under the paratransit section of the agency website and/or handled through paratransit dispatchers. Some programs do limit deliveries to "homebound" individuals rather than offering for all customers. Availability of service area is typically specified or implied that it is the same as the normal transit agency service area, while availability of stores to deliver orders from is based on participation with the stores. Some transit agencies provide instructions for stores/organizations who are interested in joining the program to call or email the agency.
Most programs state that the number of deliveries was based on vehicle and driver availability, only the Metropolitan Council in Minneapolis specified a bag limit on orders. Some transit agency programs delivered prepared meals or meal kits instead to grocery orders, in partnership with organizations like Meals on Wheels, foodbanks, and other social service organizations. These programs were specifically focused on populations in need who would normally make trips on the transit service to pickup meals themselves. Only a few examples of delivery programs permitted customers to use SNAP and EBT benefits to pay for their orders, since they would normally require purchase with those discounts be made in person (see Charlevoix County Transit Delivery Program Case Study where discount cards are permitted). Metropolitan Council in Minneapolis, Charlevoix County Transit, and Capital Metros' Farmshare Austin program are several specific agency programs that stated SNAP and EBT benefits were permitted.
Transit agencies across the country have adapted to meet the needs of their community members throughout the COVID-19 pandemic—and food delivery programs are just one example. The programs reviewed here offer a way for transit agencies to provide essential services through food, prescription, and in some cases mail and package delivery.  These services are geared toward the most vulnerable populations, including the elderly and persons with disabilities. The programs reviewed here demonstrate that these programs can be implemented without interrupting existing transit service. Given ridership is down across the country as a result of COVID-19, they often take advantage of a transit agency's underutilized fleet and help to keep transit drivers and staff employed.  The FTA clarified in June 2020 that agencies can use CARES Act funds – as well as Section 5307 and Section 5311 funds administered as part of the Emergency Relief program – for delivery of essential services through January 2021. Agencies seeking additional resources are also encouraged to look into  FEMA's Public Assistance program for the purchase and distribution of food during the pandemic.  The success of these programs may have a life beyond the COVID-19 pandemic, as there will undoubtedly be an ongoing need for certain populations to continue to access these services where traditional public transit is not a feasible option.  
This Case Study was a joint effort between the Shared-Use Mobility Center and Todd Hansen, AICP, Assistant Research Scientist, Transit Mobility Program, Texas A&M Transportation Institute.
Related Items