Wheels2U Microtransit Service: Providing Mobility in Options in a Growing Downtown
20 minutes Author: Shared-Use Mobility Center & Todd Hansen, Texas A&M Transportation Institute Date Launched/Enacted: Jul 15, 2019 Date Published: July 15, 2019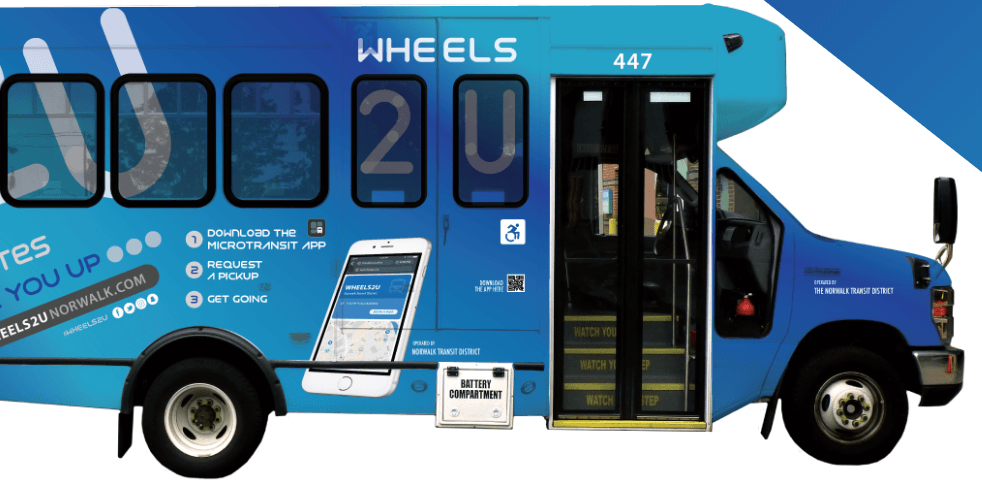 Brief Summary
Wheels2U is a public-private partnership providing microtransit service in Norwalk, CT. It was originally launched as a six-month pilot program in 2018 in a service area that includes several residential neighborhoods and downtown areas. The service is primarily centered around entertainment purposes, only operating from Thursday to Sunday and from 5pm to midnight, and takes advantage of Norwalk Transit's existing WAV fleet which allows the service to be accessible by default and make use of vehicles on off-service hours.

Marketing an entirely new service without an existing ridership base was initially a challenge, but Wheels2U found success by combining traditional marketing strategies and grassroots approaches like partnering with local businesses to offer discounts. 

Norwalk Transit met its goal for Wheels2U of increasing mobility options in the service area that were not being met previously with traditional fixed-route service, and the service saw steady growth after its launch. 

Norwalk Transit issued an RFP in March 2019 to continue service of Wheels2U beyond the pilot, and in July 2019 signed a 5-year contract with Via to operate the service

.
Case Study Updated October 2019
Introduction
The Norwalk Transit District Wheels2U microtransit service is an example of a public-private partnership that has built a wide base of support to increase mobility options within its downtown and several adjacent neighborhoods. Free on-demand rides were available to city residents during the initial six-month pilot, beginning September 2018, through TransLoc's Microtransit mobile app. The app enabled riders to request and monitor their trip to/from locations within the designated service area and offered navigation for drivers. Wheels2U ran off-peak Norwalk Transit paratransit vehicles from 5 PM to 12 AM Thursday, Friday, and Saturday, and from 12 PM to 9 PM on Sundays. The pilot was extended through August 2019 and in March 2019 Norwalk Transit issued an RFP to make the service permanent. Via Mobility, LLC was selected to continue the service in June 2019, and in September it was announced that Wheels2U would be a permanent transit program.
This case study looks at how the Norwalk Transit District was able to create, brand, and build support through marketing for a new mobility option in its downtown and several adjacent neighborhoods.
Wheels2U was launched as a six-month pilot in September 2018. The service zone for the initial pilot period was defined between South Norwalk, the East Norwalk Train station, and Wall Street. The pilot service zone boundaries and duration of the service have been extended multiple times since its initial launch. Six months into the pilot the service zone was expanded towards densely populated neighborhoods in areas of Westport Avenue, Strawberry Hill, and further into East Norwalk. The pilot service zone was later expanded again to include area hotels and new housing developments. At the conclusion of the initial six-month period, Norwalk Transit extended the Wheels2U program for two months while the agency made plans to make the service permanent. Wheels2U was extended again in May through the end of August 2019.[1] Norwalk Transit issued an RFP in March 2019 to continue the service and in July 2019 they announced that Via will operate the service as a permanent program starting September 2019.
In developing the Wheels2U pilot, Norwalk Transit worked with local public and private stakeholders. The program, which is the first microtransit service in the state of Connecticut, uses a private technology platform to manage on-demand trip requests and match riders to vehicles.[2] Customers access the service through the Microtransit app to make trip requests with predefined service boundaries. The service runs on Thursdays through Sundays during times when regular transit service is reduced. Vehicles used in the Wheels2U program are owned and operated by Norwalk Transit. Normally the vehicles are part of the transit district's paratransit fleet, but Wheels2U takes advantage of the available vehicles that would otherwise go unused during the evening. Norwalk Transit did not purchase any new vehicles as part of the start-up costs of Wheels2U.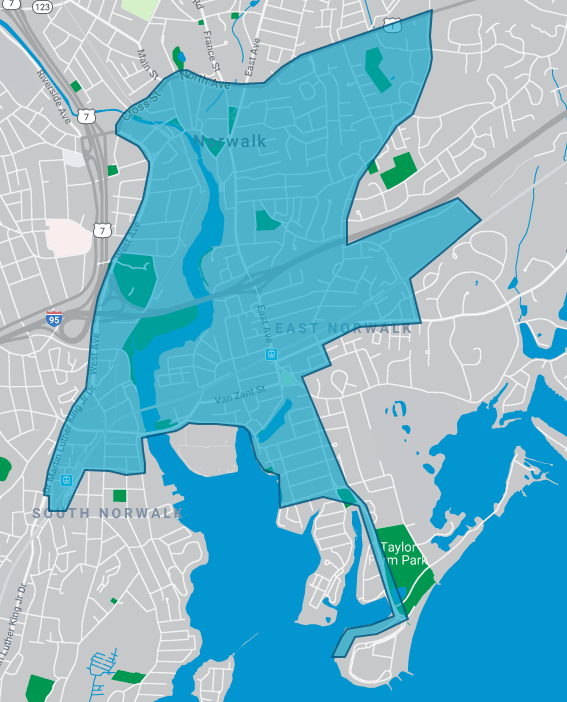 The project is supported by funding from the Federal Transit Administration (FTA) and Connecticut Department of Transportation (CDOT). Norwalk Transit initially partnered with TransLoc, a subsidiary of Ford Smart Mobility, and now has partnered with Via, to provide the technology platform used for Wheels2U. Norwalk Transit also partnered for local funding support and promotional services with local mall developer Brookfield Properties, the Norwalk Redevelopment Agency, and other local businesses and restaurants.[3] Local partnerships have enabled the agency to have limited time available promotions associated with Wheels2U.[4]  For example, in April the Stepping Stones Museum for Children offered "buy one, get one" free admission for Wheels2U riders and in June the city organized a Make Music Day event that encouraged people to use Wheels2U to travel to and from multiple stages in the service zone.
Norwalk Transit developed Wheels2U as a pilot program to serve transportation needs to an emerging retail area and to provide service to existing nightlife destinations in their entertainment district. Previous fixed-route bus operations to the district after daytime working hours had shown low service efficiencies, with buses running at low ridership levels and numerous bus stops being unused.[5] Norwalk Transit cites observed population growth nationally among 25 to 44-year-old persons, which makes up 37 percent of the city population.[6] The city of Norwalk has also developed additional housing around existing train stations in recent years for people commuting to and from New York City. Many of those residents belong to younger generations and do not own their own vehicles. The overall aim for Wheels2U was to create a viable transportation option for people to get to and from the entertainment district.[7]
The agency worked with private entities to run simulations on how microtransit service could improve efficiency of transit service, finding that microtransit could cut wait times for rides down to as little as two minutes.[8] Norwalk Transit's goals for the Wheels2U program were focused on customer wait times, service ridership, and cost efficiency. The agency specifically aimed to reduce wait times for riders, double previous service ridership, and have no increase to operational costs. On wait time, the goal was a rider wait time of 8 minutes or less for the vehicle to arrive once they request a trip. Finally, the agency believed that microtransit service could be operated more efficiently and at a lower cost via public-private partnership than with a fixed-route service during off-peak hours given the lower demand that they had observed.
The Wheels2U program has met its stated goals of increasing mobility options in its service area – primarily centered around entertainment purposes.  Since its launch on September 13, 2018, Wheels2U has observed steady growth, with 222 riders during its first month of operation and reaching 977 riders in March 2019.  Friday and Saturday between 5:00 PM and 8:00 PM observed the highest concentration of rides, with 63 percent of the total ridership occurring between that time[9].  By September 2019, Wheels2U had carried over 10,000 passengers since its launch.
In its first three months of operations, the average rate of rides-per-hour was 1.73, though it peaked at 3.19 in December 2018.  South Norwalk train station was the most common stop followed by the Waypointe residential and commercial mixed-use district.
Part of this success can be tied back to Norwalk Transit District's marketing efforts and building support for a transportation service that was entirely new to the area residents.
Wheels2U operates four days a week from Thursday through Sunday as a supplement to other transit service during nights and weekends.[10] On Thursdays, Fridays, and Saturdays Wheels2U is available from 5pm to midnight. Sunday service runs from noon to 9pm. Norwalk Transit owns the vehicles used for Wheels2U and operates them with their own drivers. The agency wrapped three vehicles from their existing paratransit fleet with Wheel2U branding – on most days there are two shuttles used to run the service. The wrapped vehicles are used for paratransit service during the day and Wheels2U service at night.[11] All vehicles are wheelchair accessible with 2 available wheelchair spots. The platform provides information to drivers on navigation directions for picking up and dropping off riders using real-time optimized routing through iPad tablets installed on the vehicles.
Users must download the Microtransit app to request a trip. Upon opening the app, Microtransit will show if service is available in the user's area according to their location relative to Wheels2U service zone.[12] Users then enter their pickup and dropoff locations into the app, which must both be located within the service zone to be eligible, as well as whether the vehicle needs space for a wheelchair for the user. The Wheels2U service does not allow for advanced trip scheduling in the Microtransit app.[13] The technology platform then groups riders together into transit vehicles based on similar destination locations. Users are notified with estimated time of arrival updates for their vehicle, and there is the option to receive text alerts if they provide a phone number. Users must reserve trips through the app, as drivers are unable to accept cash payment. There is currently not a monthly pass available for Wheels2U.
Norwalk Transit focuses marketing of the Wheels2U program through their website, with general service information, answers to frequently asked questions, informational videos, and Facebook. The city hired Silver Creative Group, a local advertising firm, to develop the Wheels2U service brand and assist with marketing. Wheels2U is described as being "like Uber, but for public transit," allowing users to request rides, pickup location, and destination. Marketing for the service also cites use of microtransit service in larger US cities. The branding effort has duel focuses of technology and approachability, portraying a modern transit service and technology solution that will be inviting for customers to use.[14] The campaign for Wheels2U won an award in marketing for a YouTube instructional video on using the service.
In addition to the traditional marketing efforts, Norwalk Transit also promotes the service through a grassroots effort, as it partnered with local restaurants and businesses to offer promotions to Wheels2U users.  The grassroots effort has helped to create a community-based service, with promotions ranging from the 12 bars of Christmas, restaurant week, and discounts to the local children's museum.  Participating businesses can display a Wheels2U promotional poster.
The agency stresses the importance of marketing in starting a new service, and for agencies to get the word out to riders and customers right away (Personal Communication Britt Liotta, Chief Operating Officer, Norwalk Transit District).
The initial six-month pilot for Wheels2U service was funded through Norwalk Transit's partnership with the CDOT and money awarded from the FTA. The federal award funded 80 percent of capital and technology costs while the remaining 20 percent came from the state[15]. CDOT also funded 100 percent of operating expenses for Wheels2U. Initial costs estimated for the contract with TransLoc[16] were $64,000 over the six-month period and were supported by $40,000 from Ford Smart Mobility and the remaining $24,000 would be drawn from a $550,000 contribution by SoNo Collection mall developer GDP.[17] The SoNo contribution has been earmarked for a circulator bus service that would operate during mall operating hours when it opens in October 2019. Through this arrangement, the service is currently free to its users.  However, Norwalk Transit does plan to charge for the service at some point once the service becomes permanent.
Norwalk Transit issued an RFP in March 2019 and received proposals from eight vendors to continue the service beyond its pilot. In July 2019, Norwalk Transit announced that Via would operate the service on a permanent basis.  The RFP (and the subsequent addenda: 1, 2, 3 and pricing proposal form) offers additional resources and outlines a number of key pieces that the service will include moving forward:
Rider profile capabilities within the software that allows for credentials of riders with accessibility needs
Mobile fare payment
Flexible booking options (SMS notifications, dispatch or call-in, web application)
Vendor insurance requirements
Vendor technical support
Data specifications & National Transit Database (NTD) reporting for all ridership data (trips/miles/hours/trip information, etc.)
Dashboard to monitor in real-time usage
The Wheels2U program contract with Via is a potential five-year contract, with the first year budgeted at $33,700 for one to five vehicles.  Each additional year will be reviewed and exercised annually with a potential total of $155,500 over the five year period.
Given Wheels2U takes advantage of the existing WAV fleet, the vehicles are by default accessible. This is an important consideration given providing accessible service often remains a challenge for public-private partnerships, particularly those that involve traditional ridesourcing vehicles.
Further accessibility measures will also be implemented when the service becomes permanent, including offering additional ways to schedule a ride, SMS text notifications and a dispatch/call center. While Norwalk Transit would prefer to handle these services through the app, having access to other ways to book the service will help to further increase its accessibility.  Via also launched a new app to access the service in August 2019.
The Wheels2U service offers an example of a transit agency adapting its fleet of WAVs to provide on-demand service during off peak service hours. Three WAVs were wrapped and branded for this service that take advantage of off-service hours when these vehicles would otherwise not be in use, as well as the 20% reserve of WAVs maintained and operated by the transit agency­.  By using its own fleet of WAVs, the transit agency has been able to remove some of the most common barriers to entering into a public-private partnership, those being insurance, accessibility and driver training.
In light of this, the biggest challenge Norwalk Transit needed to overcome was marketing. Wheels2U was an entirely new service without an existing ridership base, requiring the transit agency to build up a ridership base from zero. Norwalk Transit observed the success of the marketing campaign of tapping in to new customers to try the Wheels2U service, but initial ridership awareness was a significant hurdle to overcome.
Other challenges that Norwalk Transit needed to address were providing a service that did not cannibalize existing fixed-route bus ridership, while also anticipating a future when they will begin to charge its riders for microtransit service. To address the service question, Norwalk Transit monitors its bus ridership. The microtransit service primarily operates during nights and weekends, and has not appeared to draw riders who might otherwise have taken a bus during those off-peak hours. Norwalk Transit has also stated that they will eventually charge for the service. It is difficult to say to what extent this will impact its use. However, given there is limited service when Wheels2U is in operation, and since it is competitively priced with traditional ridesourcing services, it is likely to still remain a viable transportation option (Personal Communication Britt Liotta, Chief Operating Officer, Norwalk Transit District).
Norwalk Transit views this service as an important part of its mobility network and is exploring expanding the service area. Norwalk Transit CEO Kimberlee Morton, stated, "We believe that microtransit will positively impact the city's social mobility, and it's economic viability, while also addressing growing concerns stemming from traffic congestion, parking congestion."[18]
Norwalk Transit is continuing to partner with local businesses to help build a ridership base, which will help ensure that Wheels2U is still utilized when the time comes that the service will no longer be free to its users.
The Wheels2U program offers an example of a transit agency taking advantage of its existing fleet of WAVs and partnering with an app based technical service operator to provide on-demand microtransit service.  Taking advantage of the Norwalk Transit vehicles and using Norwalk Transit drivers helps to mitigate some of the biggest hurdles that public-private partnerships must overcome when providing service, such as insurance, driver training and accessibility.
The marketing of this new service also offers lessons for other transit agencies that might be interested in implementing on-demand service. The marketing involved more traditional forms but also took on a grassroots approach as they partnered with local businesses to offer discounts for those that used the service for their travel.  These types of marketing strategies can go a long way toward building community support and buy-in for the service and are often overlooked by more formal marketing campaigns.
References used in October 2019 Update:
This Case Study was a joint effort between the Shared-Use Mobility Center and Todd Hansen, AICP, Assistant Research Scientist, Transit Mobility Program, Texas A&M Transportation Institute.
Related Items