King County Metro, Sound Transit, the City of Seattle, and Via partner for "Via to Transit", Southeast Seattle & Tukwila, WA, 2019
5 minutes Date Launched: Apr 16, 2019 Pilot Project Timeframe: 1 year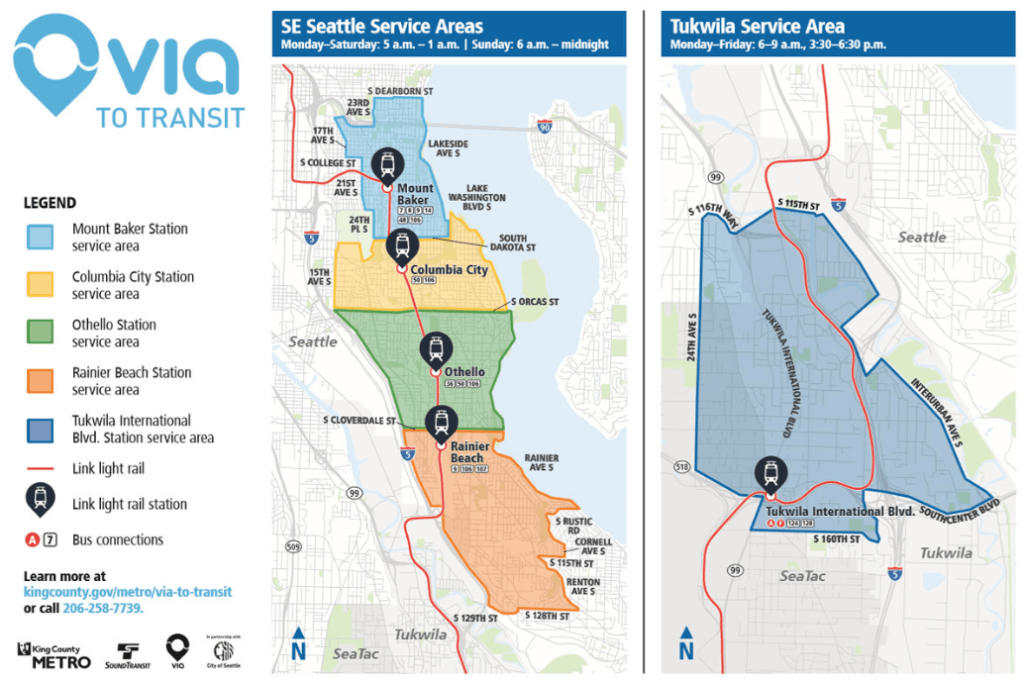 Summary
King County Metro (the transit authority in King County, WA), Sound Transit (the transit authority for the metropolitan area of Seattle, WA), and the City of Seattle have partnered with mobility service provider Via to launch "Via to Transit" – a one-year pilot program to help connect people in southeast Seattle and Tukwila with local transit services. As of April 16, "Via to Transit" will offer on-demand rides to/from five Link light rail stations, where bus and train service is also available. Rides can be booked through the Via app or by calling, and paid for using a smart (ORCA) transit card upon boarding. The service costs the same as a Metro bus trip. This pilot is one of the grant recipients of the Federal Transit Administration's MOD Sandbox Program.
As an additional resource, the contract between King County and Via  is available for reference on the MOD Learning Center.  The contract serves as a resource for other cities interested in developing an on-demand microtransit program and what contract considerations should be raised prior to entering into an agreement.
The contract covers such considerations as:
Insurance requirements
Data sharing
Vehicle supply and maintenance
Access for unbanked customers
Marketing and communications coordination
Pick-up and drop-off locations and stations
ADA compliance
Matrix of project goals, performance indicators, performance targets, and data field relied upon
The independent evaluation of the Via to Transit pilot program is available here. The document outlines the evaluation approach, pilot project goals, data collection and analysis plan, and performance metrics.  To reference all of the MOD Sandbox Independent Evaluations visit the USDOT National Transportation Library.
Contributed through a partnership between the Shared-Use Mobility Center, ITS America and the Federal Transit Administration's Mobility on Demand Program. 
Updated May 2019
Download Supporting Documents