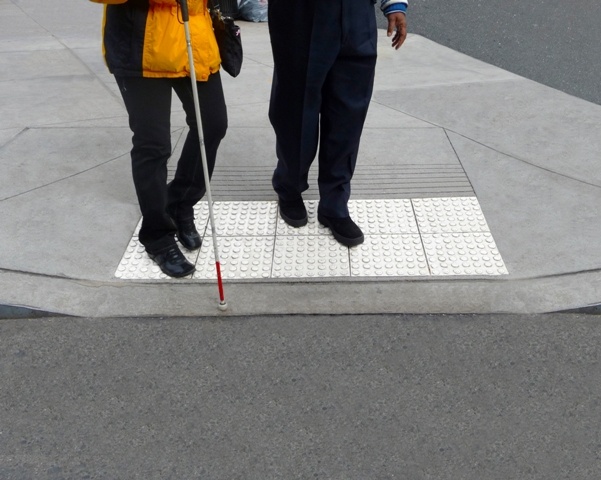 Shared mobility has offered access to transportation options beyond the private automobile for a lot of the population. The technologies behind shared mobility have also offered additional, on-demand alternatives to day-before bookings for ADA required paratransit. The US Department of Transportation Department's Accessible Transportation Technologies Research Initiative (ATTRI) publishes reports and hosts presentations and webinars on research and implementation of the latest technology enabling universal design of transportation systems.
Public-private partnerships and regulations, however, have surfaced some of the challenges of innovative services. For instance, provision of fully wheelchair-accessible vehicles (WAVs) has proved challenging. Data sharing likewise remains a sticking point for parties negotiating a public-partnership (P3). This module will provide some case studies of projects that have worked to overcome these challenges.
The history of the disability rights movement provides insight into the importance of providing mobility to all users on an individual scale. Since its inception in the Civil Rights Era, the modern disability rights movement has often targeted access to transportation facilities, and specifically transit, as a priority. Although the Federal Rehabilitation Act of 1973 laid the groundwork for access to all federally funded programs, and remains an important source of funding for local Centers for Independent Living, paratransit as we know it today was not required until the Americans with Disabilities Act in 1990.
The challenge, from both the users' and planners' perspectives is that there are a variety of options—operated by transit agencies and human service agencies of various models—that are usually not coordinated into the "one click-one call" system that offers the possibility of user-centric mobility that also might provide higher utilization for the transportation operators.
Federal Rehabilitation Act (1973) This foundational law aims to "empower persons with disabilities to maximize employment, economic self-sufficiency, independence, and inclusion and integration into society." This law codified and provided a funding mechanism for the Independent Living programs that often coordinate human services transportation. It is also the measure against which the Americans with Disabilities Act is measured.
Americans with Disabilities Act (1990) In the transportation context, the ADA requires that all fixed-route systems and demand-responsive systems have wheelchair accessible facilities and vehicles. The FTA's regulations state that users within one half mile of fixed-route service are ADA Paratransit eligible  (Per Title 49 CFR Part 39).
The US Department of Transportation encourages transit agencies to explore Mobility on Demand pilots to enhance paratransit service. According to a 2016 Dear Colleague Letter, they strongly recommend that the agencies maintain their traditional 24-hour paratransit scheduling system to remain in compliance with the ADA.
Non-Emergency Medical Transportation (NEMT) is a specific category of human services transportation that, as the name implies, conveys patients to medical appointments. Medicaid has a provision for NEMT, though the service provision differs by state, which might affect coordination with other services. The Government Accountability Office produced guidance in a report Non-Emergency Medical Transportation: Updated Medicaid Guidance Could Help States, and the Henry J. Kaiser Family foundation has written both a helpful "key issues" primer and a state-by-state clearinghouse.
The National Center for Mobility Management (NCMM) defines Mobility Management as "a customer-centered approach to finding transportation solutions for all populations with a particular focus on people with disabilities, aging populations, English language learners, low income communities, and other groups with unique needs." Mobility management principles are also embodied in the US Department of Transportation's vision of Mobility Services for All Americans.
One Click/One Call is a consumer-focused program that marshals the various resources of public agencies and their private partners to offer a single point of contact—either telephonically or online—to transportation users. If successful, the system offers mobility options for ADA Paratransit and NEMT users.
A transit agency can address accessibility on a scale from a pilot project that offers on-demand mobility to ADA complementary paratransit users, to the transformation of an agency to a mobility management provider that partners both with private vendors and other agencies to offer on-demand mobility to all users
Taxicabs often operate under preexisting conditions requiring ADA compliance through training, service, and wheelchair accessible vehicles (WAV), and taxis already operate voucher programs. Taxi MOD agreements bring together the preexisting agreements and MOD technology. The KCATA RideKC Freedom On-Demand (discussed below) and the Chicago Taxi Access Program (TAP) are prime examples of this model.
The Community Transportation Association of America provides a helpful list of Federal Funding for Transportation" that including for Older Adults and People with Disabilities. The challenge is to bring together these disparate programs, which span agencies and obstacles addressed.
The Federal policies on paratransit service dictate a very significant portion of the scope of MOD accessibility programs. Per the FTA, paratransit MOD programs must include wheelchair-accessible vehicles, and any transit agency will want to include a data agreement in any agreement. However, these policies need to be considered together for an effective partnership. As such, it is perhaps most helpful to examine the partnerships and case studies.
Perhaps because of the above mentioned taxi MOD model, in which a basic model for service is already established, ridesourcing partnerships are the most frequently implemented in this young MOD partnership model.
In March 2019, Dakota County, Minnesota launched a partnership with Lyft to offer flexible, on-demand rides to individuals with disabilities who receive home and community-based services in the County. Through this pilot program, eligible individuals may use Lyft credits, paid through Medicaid waivers, to order rides to or from work. Download the contract between Dakota County and Lyft here.
The KCATA RideKC Freedom On-Demand program is built on an existing contract between the agency and cab companies to provide both ambulatory and WAV service to users. The agency used operating reserve funds to build an app-based service that enabled shared, on-demand rides in two pilot zones. The program has expanded to include the entire KCATA service area.
The Massachusetts Bay Transportation Authority (Boston "T") launched an ongoing pilot program, The Ride On-Demand, for paratransit-eligible persons with disabilities. This program partners with Lyft and Uber to offer on-demand service through their apps. The vendors partner with subcontractors to provide WAV service. In the pilot program, the rider pays the first $2, while the agency pays the next $13, and the passenger pays the remainder. For instance, for a $20 Lyft trip, the rider would pay $7, and the agency would pay $13. The agency projects significant cost savings.
With Pinellas Suncoast Transit Authority's Direct Connect First Mile/Last Mile Program, users access the Goin application to hail either a taxi, a ridesourcing vehicle, or a CareRide WAV. Users can dial-in, as well.
Pierce Transit Limited Access Connections is part of the FTA MOD Sandbox grant program, and is a partnership between the agency and Lyft. The pilot program is free to users, and available in two areas, but the program is well-advertised to WAV users, although they must be accessed via phone dispatch.
Bikesharing. Given the variety of vehicles needed for complete service—hand cycles, tricycles, tandems, etc.—most accessible bikeshare programs are run out of bike rental kiosks. However, the Detroit and Portland bikeshare systems have launched Adaptive MoGo and Adaptive Biketown services, respectively. Both systems still require day-ahead reservations, and are run out of a single location, but they are pulled into the bikesharing system, meaning that the vehicles are branded and discoverable on the app and website, and the payment system. It is an incremental change towards accessible bikesharing.
From the perspective of accessibility, most shared mobility transit agency partnerships either are/were pilots that seek to address directly how to improve mobility for users of ADA complementary paratransit, or are flexible route service (i.e. microtransit) that should share the accessibility standards of fixed-route service.
The Regional Transportation Commission (RTC) of Southern Nevada has partnered with Lyft to provide on-demand, subsidized rides for paratransit users. Riders can use the Lyft app or the RTC's Customer Care Center to schedule either a traditional Lyft ride or a shared ride on the pooled Lyft Line service, paying the standard fee of $3, with the RTC subsidizing the rest of the cost, up to $15. If the ride is more than $18, riders can choose to pay the remaining balance or schedule a ride through the traditional paratransit service. Customers who use a wheelchair can request a ride through the Customer Care Center, which then dispatches an on-demand Wheelchair Accessible Vehicle (WAV) to their location.
The RideKC Freedom On-Demand and The Massachusetts Bay Transportation Authority programs mentioned above serve as individual case studies. They are similar in that they use an automobile (Taxi or TNC) to provide on-demand service to users with disabilities and seniors.
Microtransit partnerships, such as Pickup by Capital Metro in Austin, have the advantage of using vehicles typically larger than the cars and light trucks typically used for cabs and ridesourcing vehicles. The Austin MOD pilot used re-branded cutaway vehicles from its paratransit fleet.  A universally design fleet serves both users who might need the wheelchair ramp or assistance from a trained driver.