AVs + Rideshare = RAPID, Arlington, TX
20 minutes Mar 23, 2021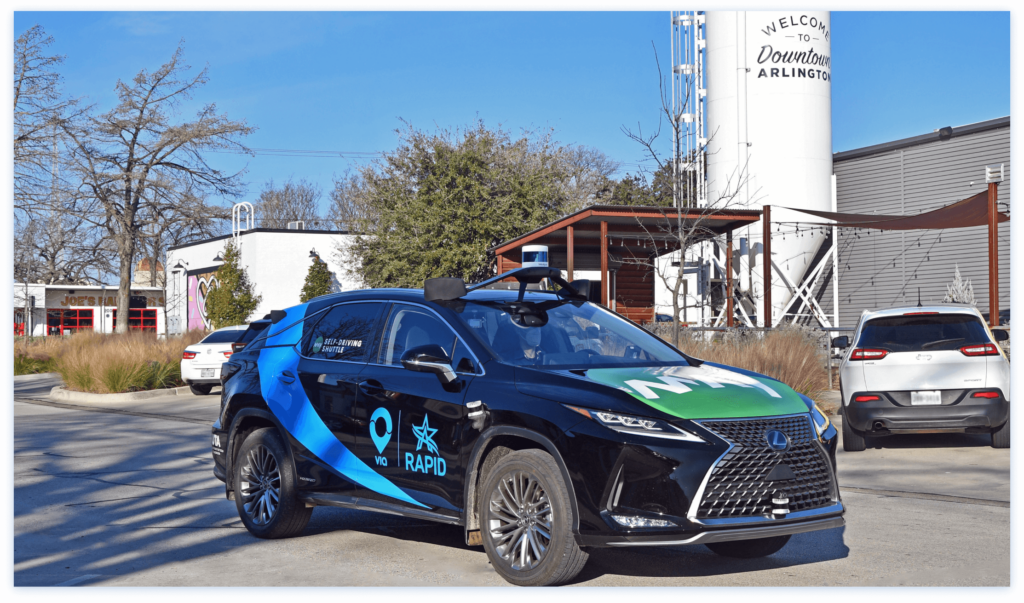 Brief Summary
In early 2021, the City of Arlington expanded a public mobility-on-demand (MOD) program city-wide.
Arlington previously completed two other autonomous vehicle (AV) pilot projects with separate partners, EasyMile and Drive.ai.
Arlington integrated a new AV pilot into its MOD network after successfully applying for an Integrated Mobility Innovation grant from the Federal Transit Administration.
Description: Video interview with Ann Foss from the City of Arlington.
Credit: Shared-Use Mobility Center (SUMC)
Note: SUMC's Mobility Learning Center hosted a public forum with Ann Foss on January 12, 2022. Click here to watch a recording of this event.
Introduction
What do you get when you mix autonomous vehicles (AV) with mobility on-demand (MOD)? RAPID! After piloting two other AV projects and expanding a rideshare program, the City of Arlington developed RAPID, also known as the Rideshare, Automation, and Payment Integration Demonstration, in Spring 2021. This AV program is a first-/last-mile mobility option for people inside a 1 square mile area that includes Arlington's downtown core and the campus at the University of Texas at Arlington. Using an app, Via, customers can request low-cost or fare-free shared AV rides as part of the city's broader MOD network.
After securing a Federal Transit Administration Integrated Mobility Innovation grant and seeing the successes of its other mobility initiatives, City of Arlington staff leveraged their relationships with new and existing partners to design a program well-tailored to their needs as a city in the Dallas-Fort Worth metropolitan area. This case study explores how RAPID developed and how it serves people in Arlington.
Arlington prides itself for being the first city in the United States to offer AVs for public use, testing different solutions since 2017. Milo, the city's first AV pilot, ran from August 2017 to August 2018 when it partnered with EasyMile to provide off-street shuttles to and from parking areas and venues in the city's Entertainment District. [1] In October 2018, Arlington transitioned into its second AV pilot in partnership with Drive.ai. This pilot also took place in the Entertainment District but on the street network, where passengers could use on-demand autonomous vans to get to and from different employment sites and venues. The Drive.ai pilot ended in May 2019. [2, 3]
Coinciding with these AV pilots, Arlington also implemented a mobility on-demand pilot that replaced its one bus transit route. In partnership with Via, passengers can request point-to-point shared rides within the City. When the Arlington Via Rideshare program first began in 2017, it offered customers access to 16 Via vans within a service area of 26 square miles. In 2020, Arlington Via Rideshare expanded its fleet to 28 vehicles and its service area to 40 square miles. [4] At the beginning of 2021, Arlington Via Rideshare further widened its service area to all of Arlington, an area of 99 square miles, with a fleet of 70 vehicles. [5] Via provides the vehicles for Arlington's rideshare service through an agreement with Avis, a car rental company.
At the same time, Arlington was planning to integrate its third AV pilot, the Rideshare, Automation, and Payment Integration Demonstration (RAPID), into the rideshare network.
The City of Arlington worked with Via and May Mobility, an AV company that emphasizes deploying safety-first technologies, to apply for outside funding for the RAPID project idea. In early 2020, the City of Arlington received an Integrated Mobility Innovation grant from the Federal Transit Administration. With federal dollars secured, City staff, along with project partners at Via, May Mobility, and the University of Texas at Arlington, worked to develop the RAPID program for its launch in March 2021.
Arlington RAPID launched on March 23, 2021 for a one-year pilot. RAPID's operating zone is a 1 square mile area that includes the city's downtown core and the campus at the University of Texas at Arlington. May Mobility provides a fleet of five vehicles: four hybrid electric Lexus RX 450h's and one electric wheelchair accessible Polaris GEM.
RAPID is integrated into the citywide Via Rideshare microtransit program with the same fare rates and a limited amount of free rides available to UTA students.
Standard fares for using Arlington Via Rideshare are:
Trips from 0-1.5 miles: $3.00
Trips from 1.5-3 miles: $3.50
Trips from 3-4.5 miles: $4.00
Trips from 4.5-6 miles: $4.50
Trips over 6 miles: $5.00 [6]
Since rides on RAPID tend to be short distances within a small service area, a standard fare usually amounts to $3 and can be paid through the Via app by credit, debit, or prepaid card. As of now, rides are fare-free for students at the University of Texas at Arlington, supported through Arlington's $1.7 million grant from the Federal Transit Administration.
Customers can request shared rides through Via's app or by phone between 7 AM and 7 PM, Monday through Friday. If their origin and destination are within the zone for RAPID, they are given the option to select a RAPID or standard Via Rideshare vehicle. An attendant staffs every ride on RAPID and can manually operate the vehicle when necessary.
During much of the COVID-19 pandemic, rides were limited to only one booking of up to two passengers riding together. That restriction was lifted during the summer of 2021 as the city began to re-open and more people received vaccinations. Up until mid-summer, partitions were also placed in between passengers and the vehicle attendant. Passengers and the vehicle attendant are required to wear masks for the duration of the pandemic. The vehicles are also cleaned on the inside daily so as to mitigate the risk of virus transmission.
RAPID ridership has steadily increased since beginning operations on March 23, 2021. As of November 2021, RAPID has provided over 15,000 rides to members of the Arlington community. Up until August 2021, 96.5% of RAPID passengers are students at the University of Texas at Arlington.
Customers who have the choice to use RAPID autonomous vehicles or Arlington Via Rideshare standard vans, based on their origin and destination, have increasingly opted to use the RAPID service. At first, only about half of these eligible riders in the 1-square-mile RAPID zone selected the AVs. As of August 2021, between 60 and 70% of these eligible customers chose to ride a RAPID vehicle.
RAPID has also been popular with customers, who rated the quality of their experience at an average of 4.9/5, with 5 being the highest rate of satisfaction. As of August 2021, wait times have stayed an average of under 12 minutes and rides have arrived on time more than 90% of the time. At the end of August, about 67% of rides on RAPID were shared between different passenger parties. As a result of high levels of construction in downtown Arlington, there are significant periods of time in which the vehicle attendant is required to operate the vehicle manually; May Mobility has determined that its RAPID vehicles have been able to operate autonomously about 75% of the time.
The City of Arlington supports the RAPID program with an approximate $2.8 million budget. In 2019, the City applied for and earned an Integrated Mobility Innovation grant of $1,698,558 from the Federal Transit Administration. The remaining $1,146,925 is supported through in-kind contributions from May Mobility, Via, UTA, the city, and dollars from the municipal budget. [7]
The City of Arlington, Via, May Mobility, and the University of Texas at Arlington utilized a variety of traditional methods to market the RAPID and citywide ridesharing program. When the Arlington Via Rideshare service first launched, staff carried out targeted outreach to community groups, senior centers, and UTA students. As the program expanded, the City of Arlington also marketed the ridesharing service through billboards and radio announcements.


Description: Video promotion for RAPID.
Credit: City of Arlington

As Arlington Via Rideshare evolved into offering RAPID at UTA's campus and in the city's downtown core, the City of Arlington and its partners marketed the program through social media, local news outlets, and presentations to community groups. At UTA, there were ads and promotions in the student newspaper, flyers across campus, and rider outreach at student orientation events. A research group also conducted three focus groups to measure interest in RAPID. These focus groups respectively included the general public, people at UTA, and people with disabilities. From these focus groups, the City of Arlington realized that there was little interest in RAPID from people with disabilities.
One of the five vehicles in RAPID's fleet, a Polaris GEM, is specifically designed to serve people with disabilities. The vehicle can hold one passenger on a wheelchair at a given time. Like the Lexus AVs, the Polaris GEM also has an attendant when in operation who can manually operate the vehicle as necessary and assist the passenger.

Members can request wheelchair accessible rides on the Via app by indicating their accessibility needs in their account profile. The Via app also supports voice-to-text features for people with vision impairments. Customers can also choose to request rides for RAPID or Arlington Via Rideshare by calling a local phone number and talking with a Via call center.

The City of Arlington marketed the Polaris GEM to the broader community of people with disabilities by inviting players from the University of Texas at Arlington Lady Movin' Mavs wheelchair basketball team to ride on the vehicle and offer feedback. [8] At this time, there have been no organic completed rides from community members on the Polaris GEM. In a survey, staff at the City of Arlington realized that only a small proportion of customers indicated a need for wheelchair accessible vehicles.


Description: Video promotion for RAPID's wheelchair accesssible Polaris GEM vehicle with members of UTA's Lady Movin' Mavs wheelchair basketball team.
Credit: City of Arlington
Both the RAPID pilot and Arlington's partnership with May Mobility, Via, and UTA continue to run smoothly. Nonetheless, certain challenges have been observed with RAPID being a first-of-its-kind pilot in the AV space.
Integration: Via and May Mobility had partnerships that pre-existed their pilot with Arlington, but had some new challenges in integrating their platforms for RAPID. In other programs, May Mobility has commonly used the Polaris GEM. Integrating their application programming interfaces (APIs) into the Lexus vehicles and Via's routing software took longer than expected.
High temperatures and noise on vehicles: RAPID customers complained that the Lexus vehicles became hot and that the computing stack for the AV technology, located in the back trunk, was loud. Program staff suspected that the levels of heat were created by a mixture of high outdoor temperatures, poor air circulation due to the partitions separating the driver from the passengers, and from the computing stack. When COVID-19 restrictions began to loosen up during the summer, RAPID program staff removed the partitions, increasing air flow and making the vehicles more comfortable. Engineers from May Mobility also designed a box that covers the computing stack fan output, muting some of its noise and channeling its hot air out through the back of the vehicle.
AV operations: Some elements in the environment outside of AVs have affected their ability to operate at complete autonomy. High levels of construction in the downtown core of the RAPID zone have required that vehicle attendants manually operate the vehicles at times. Overgrown bushes alongside the RAPID routes and sunglare generated from stoplights have also created challenges for the LiDAR sensors on the vehicles. Engineers at May Mobility have accounted for these difficulties and are looking to improve the processing of data for their vehicles. Due to these minor challenges, the RAPID vehicles have operated at full autonomy about 75% of the time.
In its first year of operation, RAPID can be considered a highly successful pilot. After launching in the midst of a pandemic, ridership steadily increased and popularity for RAPID remained high. RAPID did encounter obstacles with integration of different partner technologies, noise and heat inside vehicles, and autonomous operations. Fortunately, the City of Arlington has been able to navigate these challenges based on its strong partnerships with Via, May Mobility, and UTA.
AVs are an experimental mode of transportation in the shared mobility space. As a result, best practices are yet to be well established in how they should be used in communities. Since Arlington has hosted different iterations of AV projects, the City entered the pilot with a relatively strong understanding of how they could leverage this partnership with their technology projects. After securing funding from the Federal Transit Administration, Arlington staff was clear with its expectations to Via and May Mobility on subjects like data sharing, safety, vehicle contracting, integration, and deployment. Arlington built on its experiences of earlier AV pilots and its partnership with Via to provide a new version of its on-demand microtransit service. Having this institutional knowledge, along with a clear scope and vision, helped to make this pilot project a success. Transit agencies and municipalities should consider factors like these as AV pilots become more commonplace across the United States.
Key Considerations for Developing an AV Program:
What community need(s) can your AV program address? Consider using a needs assessment to determine how and if an AV program should serve your community.
Know what AVs best serve your community. How many passengers can be on a vehicle at a given time? Are the vehicles best designed to navigate an on-road or closed environment?
Be clear about the deployment environment. Are the AVs for a fixed-route or mobility on-demand service? Does the service function as a shuttle and/or a first-/last-mile operation? Are the AVs meant to serve a dense commercial area, a business district, a school/university, a recreation district, or a residential area?
Is your AV program a completely new service or does it supplement an existing service? How can you integrate the AV program into what existing service you have? Will it serve your community more effectively than these other services?
Speak upfront with potential partners. What can different companies in the AV industry provide you? What needs exist across different communities in your service area? Can you receive financial and in-kind support from technology companies, foundations, and other government agencies?
Identify opportunities to form and strengthen partnerships across other government agencies. What are your project needs and what can other agencies bring to the table?
Ask yourself how you want to oversee your AV program. Do you want to manage the day-to-day operation? Or, do you want a turnkey solution?
Be clear about your data needs with your AV and technology vendor(s) and understand your internal limitations to process large datasets.
How can your program serve people with disabilities and address other equity needs?
Watch an interview with Ann Foss who oversaw RAPID's implementation.
Published on November 16, 2021
City of Arlington: "Milo Pilot Program Closeout Report". https://p1cdn4static.civiclive.com/UserFiles/Servers/Server_14481062/File/City%20Hall/Depts/Office%20of%20Strategic%20Initiatives/Transportation%20Planning/Milo_Closeout_Report.pdf. Accessed October 27, 2021.
City of Arlington: "Autonomous Vehicles". https://www.arlingtontx.gov/visitors/transportation/autonomous_vehicles. Accessed October 27, 2021.
City of Arlington: "Arlington Concludes Successful Pilot Program with Drive.ai", published May 23, 2019. https://www.arlingtontx.gov/news/my_arlington_t_x/news_stories/successful_pilot_program_concludes.
Via: "How to Make Autonomous Transportation Useful", published May 25, 2021. https://ridewithvia.com/resources/articles/how-to-make-autonomous-mobility-on-demand-useful/.
City of Arlington: "Arlington's Via Rideshare Service Now Available Citywide", published January 24, 2021. https://www.arlingtontx.gov/news/my_arlington_t_x/news_stories/via_citywide_expansion_2021.
City of Arlington: "Via Rideshare". https://www.arlingtontx.gov/city_hall/departments/office_of_strategic_initiatives/transportation_planning/via_rideshare. Accessed October 27, 2021.
Federal Transit Administration: "FTA Transit Bus Automation Factsheet: City of Arlington, Texas". https://www.transit.dot.gov/sites/fta.dot.gov/files/2021-08/Arlington-Fact-Sheet_0.pdf. Accessed October 27, 2021.
City of Arlington: "Arlington RAPID, City's Self-Driving Shuttle Service, Aims to Improve Access to Public Transportation for Passengers Who Rely on Mobility Assistance", published May 13, 2021. https://arlingtontx.gov/news/my_arlington_t_x/news_stories/arlington_rapid_accessibility.
Related Items