City Pilots On-Demand Autonomous Shuttles in Downtown Area, Arlington, Texas, 2021
5 minutes Date Launched: Mar 23, 2021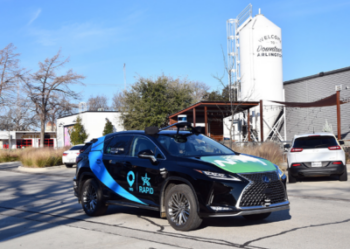 Summary
The City of Arlington, which sits in between Dallas and Fort Worth in Texas, has launched RAPID (Rideshare, Automation, and Payment Integration Demonstration), a pilot program that provides on-demand autonomous shuttle rides within the city's downtown area and the campus at the University of Texas at Arlington (UTA). RAPID is integrated into the citywide Via Rideshare microtransit program, with the same $3 fare rates and a limited amount of free rides available to UTA students. Customers can request rides between 7 AM and 7 PM, Monday through Friday.
Currently, RAPID has a fleet of five vehicles: four hybrid electric Lexus RX 450h's and one wheelchair-accessible electric Polaris GEM. While all vehicles are autonomous, all rides will have an attendant to take control of the vehicle when needed for safety purposes. Partners in the program include Via, which provides the software where people can request rides, May Mobility, which develops and provides the autonomous vehicle technologies, and UTA. The pilot is funded through a $1.7 million grant from the Federal Transit Administration's Integrated Mobility Innovation (IMI) Program.
Arlington originally partnered with Via when they chose to replace their public transit system with the Via Rideshare system in 2017; initiatives like these have the potential to show how communities can still provide mobility options in lower density areas.
Last updated April 13, 2021