Electric Scootershare Safety Study, Austin, TX, 2019
5 minutes Date Enacted: Apr 1, 2019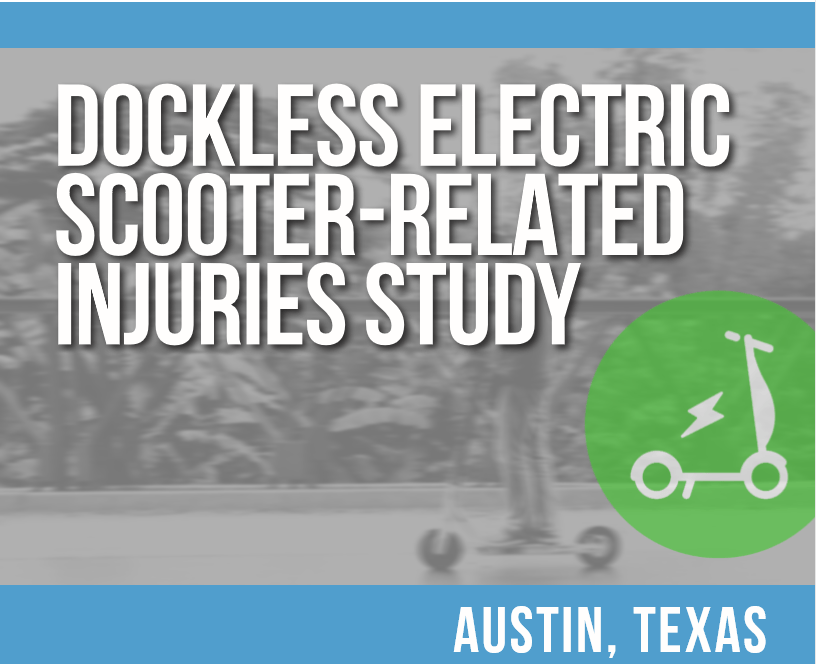 Summary
The Austin Public Health Department (APH), with assistance from the Centers for Disease Control and Prevention conducted a study to look at the rate of injuries involving rentable dockless electric scooters in Austin, TX.  The study was released April 2019 and can be downloaded here, "The Dockless Electric Scooter-Related Injuries Study".
Scooters first appeared in Austin in April 2018.  Austin has a well-defined scootershare permit program that outlines a number electric scootershare policies and also safety measures that scootershare operators must follow.  In light of these policies, the safety of scootershare had not yet been examined, making this study an important resource as it highlights the safety concerns related to scootershare along with the importance of having supportive land-use policies and training to help assure their safe use.
The study collected emergency room visit data between September 5 to November 30, 2018 and also followed-up with telephone interviews of the reported cases.
Key findings of the study include:
33% Reported this was their first time on an electric scooter
80% Of the riders head a severe injury
55% Injured on the street
50% Believed a pothole or crack was the cause of the accident
37% Reported that excessive scooter speed contributed to their injury
Only one rider, <1% was wearing a helmet
For more information on scootershare policies across the country visit the Electric Scootershare Learning Module.
Updated May 2019
Download Supporting Documents