Fare-Free Microtransit Service Begins in Northeast Wake County, NC 2022
5 minutes Date Launched: Mar 28, 2022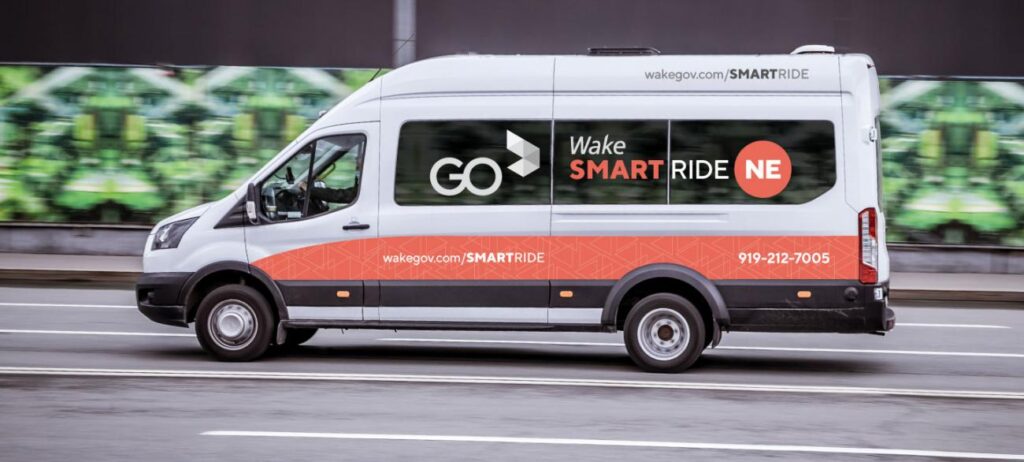 Summary
Wake County is piloting a fare-free microtransit service called GoWake SmartRide NE. For this pilot, customers can request shared curb-to-curb rides in and around the communities of Rolesville, Wendell, and Zebulon in the northeast region of the county. Customers can request rides in real-time by using the Uber app or calling a local hotline and should expect a pick-up window of up to 30 minutes. Uber serves as the booking and routing technology vendor for this pilot. Rides take place in one of three vans that can fit up to 11 passengers. GoWake SmartRide NE operates from 6 AM to 7 PM, Monday through Friday.
Description: Video promotion for GoWake SmartRide NE.
Credit: Wake County
Wake County is funding this pilot with a $393,527 Integrated Mobility Innovation grant from the Federal Transit Administration. This pilot can help Wake County, a region with high population growth, determine if:
Microtransit is a viable mobility solution in lower density areas and;
If customers use this service to connect to and from fixed-route transit.
Last updated May 3, 2022