Town Launches Fare-Free Mobility On-Demand Service, Morrisville, NC 2021
5 minutes Date Launched: Oct 2, 2021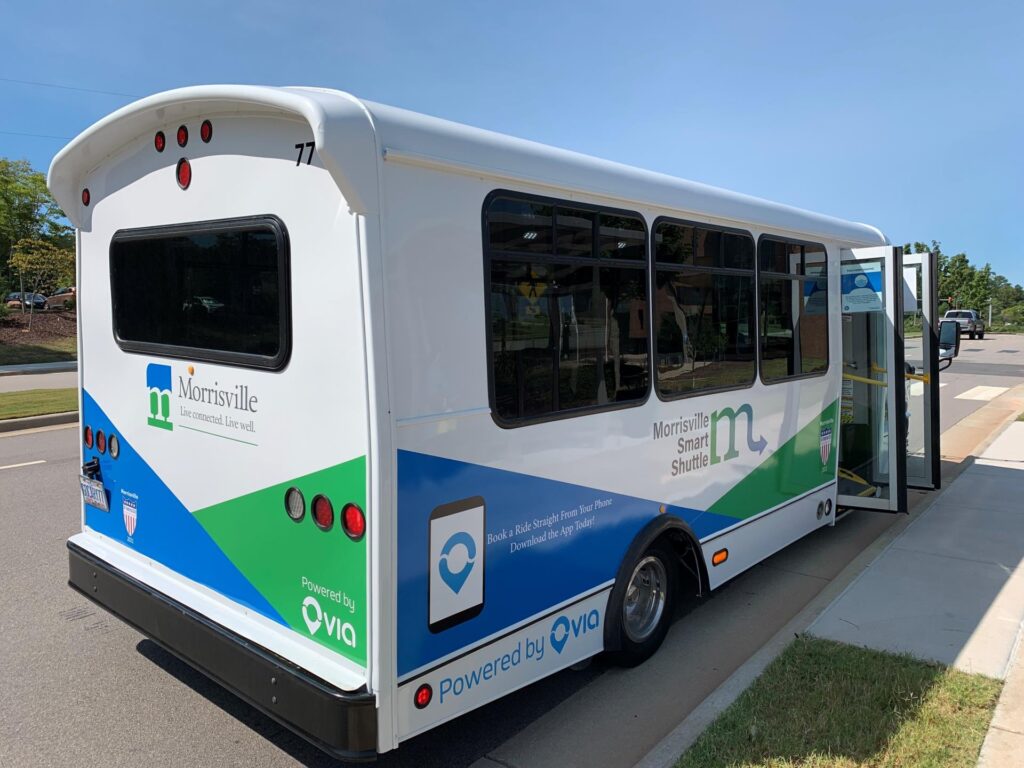 Summary
The Town of Morrisville in the Raleigh-Durham area has launched the Morrisville Smart Shuttle, a mobility on-demand service (MOD). With this service, customers can use an app or online portal to request fare-free rides to and from 14 nodes inside the Town's boundary along with the Regional Transit Center near Research Triangle Park, a business district.  Some of the Morrisville nodes include the Cedar Fork Community Center, shopping centers, and the Morrisville Community Library. Five of the nodes are also bus stops for two other regional transit agencies, GoCary and GoTriangle.

GoCary operates the Morrisville Smart Shuttle service, providing a fleet of two 16-passenger cutaway buses. The buses have bicycle racks and are wheelchair-accessible. Both buses will operate from 7 AM to 9 PM on weekdays and one bus will operate between 8 AM to 8 PM on Saturdays and 8 AM to 7 PM on Sundays. Via is the service's booking and technology provider.
The Morrisville Smart Shuttle is financially supported by municipal dollars and a half-cent transit sales tax approved by Wake County voters in 2016. After completing a Public Transportation Study in 2019, Town officials determined that a mobility on-demand service would best meet the communitys' needs. Depending on demand, new nodes might be added to the Morrisville Smart Shuttle's network over time.
Last updated October 18, 2021