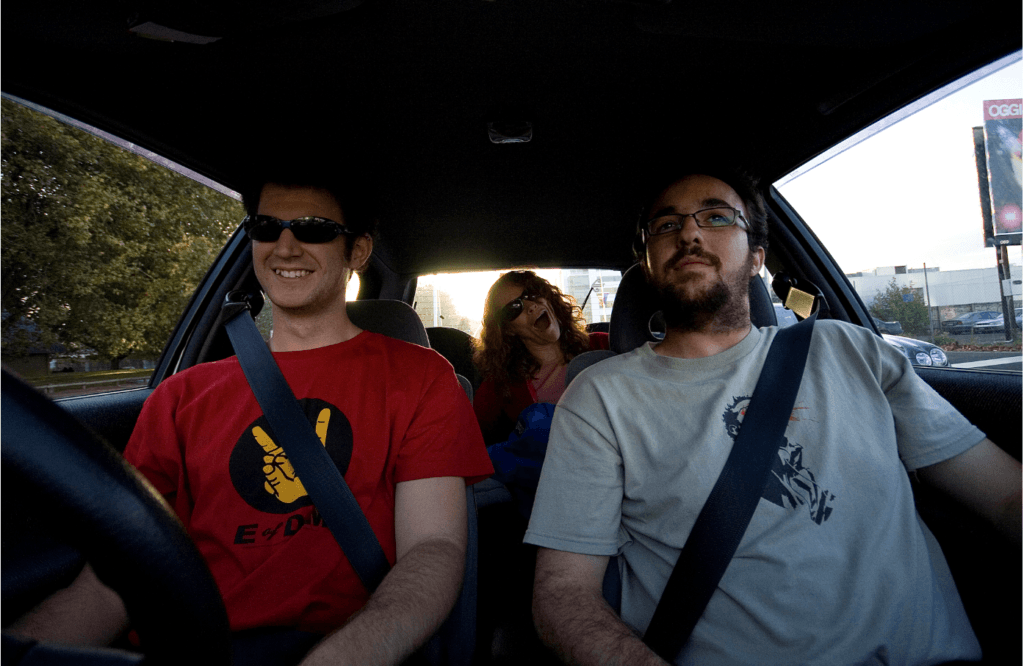 Carpooling, also known as ridesharing, is the grouping of drivers and passengers with common origins and/or destinations into common trips. Carpooling is the oldest form of ridesharing, and can reduce congestion, lower carbon dioxide emissions, and give communities more transportation options. However, the number of people carpooling in the US has decreased since the 1980s. New technology provides an opportunity to revive the practice, with carpooling apps aiming to connect drivers and riders in innovative ways.
Carpooling has existed since the dawn of the commute. In America, sharing rides to work first became popular during World War II, when the federal government and military encouraged citizens to carpool in order to save rubber and other resources. Workers have historically used a variety of tools to arrange shared rides. In the 1960s, employers took their employees' information and hand-matched them by geographic area. Popularity again spiked in the 1970s during the oil crisis, due to the expense of gasoline and consciousness over energy conservation. However, starting in the 1980s, these gains were slowly lost as driving became less expensive and two-earner households became more common, making it harder to coordinate trips. In the 1990s and early 2000s, telephone- and Internet-based carpool matching were introduced by cities and municipalities with varying degrees of success. Carpooling apps are the latest technological innovation to be introduced to the sector, beginning with the widespread popularity of smartphones in the late 2000s (a company named Carma claims to be the first, starting in 2008). According to census data from 2013, 9.4 percent of Americans shared rides to work.
Apps like SPLT, Waze, and Scoop mark an evolution from the traditional model of carpooling. Through these apps, users can conveniently plan rides to and from work through their smartphones. Shared rides are formed and scheduled on an ad hoc basis, using GPS to match drivers and riders based on their routes and user preferences.
These apps aim to increase the share of carpoolers by offering a model that prioritizes convenience and usability. These apps differ slightly in their interfaces and operations, but in general, they ask users whether they want to be a passenger or driver, their work/home addresses, and the times they like to leave and return from work. Based on that information, drivers and passengers are then paired and connected through the app, after which users can accept or turn down matches. Some important aspects of these apps include:
Planning: Instead of "on-demand" commuting, these apps require that users plan their trips ahead of time and give a range of times when they would be comfortable leaving. Planning policies differ from app to app. For example, Scoop allows rides to be booked up until 9 p.m. the night before for the morning commute and until 3 p.m. that day for an evening ride. SPLT allows users to request or post a ride at anytime, but recommend that users schedule their rides ahead of time to increase the likelihood of a match.
Cost: A major benefit for riders is the price. Most passengers pay between $2 to 10 for rides with Scoop, with similar prices for many of the other apps. The cost of rides is meant to reimburse the driver for expenses incurred while driving, and not to serve as an additional source of income. Indeed, many apps cap reimbursement rates at less than the IRS standard mileage rate for the use of a car for business ($0.58 per mile for 2019).
Carpool Comparisons
These apps aim to create more sustainable, convenient commutes and connect riders and drivers who would not otherwise meet.
| | | | |
| --- | --- | --- | --- |
| | Waze | Scoop | SPLT |
| Limitations | No time limits | Must wait at least two hours between rides | No time limits |
| | | | |
| | | | |
| Cost | Suggested Base Price: $0.54 per mile, no service fee | Base Price: $0.54 per mile, service fee: $1 per passenger | Reimbursement rates set by companies, SPLT does not take portion |
| | | | |
| | | | |
| Booking Process | Scheduled through the app, no time limits | Scheduled through the app, until 9pm the previous day and until 3pm same day for evening commutes. | Scheduled through app, no time limits |
| | | | |
| | | | |
| Business Model | Business to Consumer | Business to Consumer and Business to Business | Business to Business |
Generally, passengers pay a set amount through the app (usually based on mileage), which the driver then receives. Revenue streams differ from company to company. Some services are funded by companies who contract with them, while others take a portion of the payment; for instance, Scoop collects a $1 fee from the passenger's payment and SPLT charges an annual fee to businesses and institutions who contract with them. Waze, a subsidiary of Google, does not currently charge for the service and is focused on building its user base before they begin to take a percentage of each transaction.
The new carpool apps also utilize different business strategies. Some, like SPLT, work on a "Business-to-Business" model and offer their services only to employers or municipalities who contract with them. This makes it more likely that the company will have a base density of users in a geographic area, which helps ensure customers have sufficient options when planning their commute. Others, like Waze, offer their services through a "Business-to-Consumer" model, which allows anyone to download and use the app. Scoop operates on a hybrid model, allowing anyone to download and use the app, but also contracting with specific businesses who want to offer carpooling as a benefit to employees.
The emergence of these apps has created hope that carpooling could regain popularity in America. In a few major U.S. cities, carpooling has experienced a small uptick in recent years and there is evidence that Generation Y is more receptive to the idea of sharing rides. Whether these trends are permanent or a temporary blip will be informative in the coming years as to the potential of carpooling apps to reform our daily commute.
The promise of private apps to promote carpooling has already been recognized by cities and municipalities across the country. Public policy can help support the adoption of carpooling in a variety of different ways – including:
Incentivize Carpooling
Subsidize rides: In 2016, the cities of San Mateo and Foster City subsidized trips with Scoop in order to promote carpooling. Through their program, commuters paid $2 per ride during peak AM/PM hours. During the first few months of the program, both cities saw a dramatic increase in the number of carpool rides through the application.
In July 2017, San Mateo County launched its own $1 million, year-long carpooling program based off the model of these two cities. Within the first two months, the program saw a 60 percent increase in the number of Scoop carpool trips that started or ended in the county. While the program has ended, the city is still partnering with Scoop and Waze to offer new users discounts and free rides.
Currently, King County Metro (Seattle) is using a similar subsidization program in conjunction with a major highway closure, as part of its strategy to reduce anticipated congestion. The program is temporary, but officials will decide after the pilot period whether to extend and modify it to become a long-term initiative.
Ensure Convenience: In a pilot program funded by an Federal Transit Administration sandbox grant, Bay Area Rapid Transit (BART) guarantees customers who carpool with Scoop a parking spot at 17 of its stations. Finding parking at BART's stations has been a long-standing challenge, with the lots filling up early each weekday. As a 2015 survey found that 99 percent of those who use the park-and-ride station drive alone, BART saw an opportunity to decrease the amount of traffic through carpooling. Under the program, users who use Scoop are reserved a parking spot in a special permit area until 10 a.m. on weekdays. Users can even pay for BART parking through the Scoop app.
Help Companies Promote Carpooling: Some apps, like SPLT, work with companies to increase the prevalence of carpooling. By working with employers, rideshare apps can have a built-in customer group that is being marketed to and incentivized to use the service.
Employers are a good place to grow carpooling as there are often numerous benefits for the employer as well as the community. These include less congested parking and a more connected workforce. Cities can work with companies to realize these benefits by helping the employers and rideshare companies to promote the practice. This could involve designing and distributing promotional materials for employee orientations or even helping employers shoulder the cost of subsidized rides.
If incentives don't go far enough, policymakers can also use the law to help achieve a more sustainable transportation system. Since 1991, a Washington state law made it so that "major employers" (over 100 employees) are required to implement a plan to reduce the vehicle-miles traveled of their employees. Some of the recommended policies for these companies are carpooling incentives, including providing preferential or free parking for high-occupancy vehicles, instituting ride-matching services and subsidizing carpool trips. Partly through this program, Seattle has been able to make sure that the growth of their city didn't equate to a growth in single-occupancy vehicle travel.
Top U.S. Metropolitan Areas for Commuting by Carpool
(Among 40 Largest Metro Areas)[i]
| | |
| --- | --- |
| Metropolitan Area | Percent Commuting by Carpool |
| Riverside-San Bernardino-Ontario (California) | 12.5% |
| Phoenix-Mesa-Scottsdale (Arizona) | 11.0% |
| San Antonio-New Braunfels (Texas) | 10.7% |
| San Jose-Sunnyvale-Santa Clara (California) | 10.6% |
| Houston-The Woodlands-Sugar Land (Texas) | 10.4% |
| Washington-Arlington-Alexandria (D.C., Virginia, Maryland and West Virginia) | 10.0% |
| Sacramento-Roseville-Arden-Arcade (California) | 9.9% |
| Seattle-Tacoma-Bellevue (Washington) | 9.9% |
| Las Vegas-Henderson-Paradise (Nevada) | 9.9% |
| Portland-Vancouver-Hillsboro (Oregon and Washington) | 9.9% |
Devote road space to carpools
Create HOV lanes: Creating High Occupancy Vehicle (HOV) lanes on existing highways helps to incentivize carpooling by making shared commutes faster and easier.
Implement Congestion Pricing: In addition to commute times, high tolls can also encourage people to carpool. While no American city has implemented congestion pricing, New York City has considered adopting a system.
HOV vs. HOT lanes: High-Occupancy Toll (HOT) lanes are like HOV lanes, except that they allow single-occupancy vehicles (SOV) to take the lanes if they pay a toll. Models and a real-world study show that the conversion from HOV to HOT lanes sometimes has a negative effect on carpooling, as some carpool participants may choose to pay the toll and travel alone.
This is not the case in every city, however, as other metros like San Diego and Denver saw their carpooling numbers increase after they converted their HOV lanes to HOT lanes. One explanation is that more publicity for the HOT lanes and the advertisement of a concrete price that enables carpooler to calculate their savings helped to encourage carpoolers.
One of the biggest challenges for carpool matching services is achieving sufficient density of users. Apps have to build a large enough user base in order for these users to see quick pick-up times and a wide variety of commuting options. If it's not convenient for riders or drivers to use the app, then they will find other ways to get to work.
The most common way that carpooling apps try to get around this issue is through promotions and partnerships. Companies like SPLT and Scoop partner with specific employers to expand their service, while other companies work with municipalities to reach their traffic, environmental and public health goals. Many of these partnerships feature incentives and special pricing for people to try out the app with the hopes that they will become regular users.
Currently, the density challenge is mainly being addressed by attracting new users to carpooling, but if the market becomes more saturated there will also be an issue of retaining customers. As several competing apps move into an area, the carpooling community could be split among different platforms and see fewer commuting options.
Waze received some complaints about its practice of pairing up drivers and riders without user input. The company has since instituted a star-system and allows users and drivers to pick their fellow passengers. SPLT uses a similar system in its app.
Carpooling's popularity has risen and fallen in the past century in sync with different economic, social and demographic factors. Now, new technology hopes to resurrect the practice and help relieve traffic, clean our air and reduce our carbon footprint. While some startups have demonstrated initial success, there is yet to be a consensus on whether they will lead to a large transportation mode shift. Such a change will not only require cutting-edge technology, but also partnerships across the public and private sectors, to help consumers realize the numerous financial and social benefits of sharing their ride.
Nelson Chan and Susan Shaheen, "Ridesharing in North America: Past, Present, and Future," Transport Reviews, 32:1, 93-112, 4 November 2011, available at http://innovativemobility.org/wp-content/uploads/2015/01/Ridesharing_in_North_America_Past__Present__and_Future.pdf
Brian McKenzie, US Census Bureau, Who Drives to Work? Commuting by Automobile in the United States: 2013, August 2015, available at https://www.census.gov/content/dam/Census/library/publications/2015/acs/acs-32.pdf
Matt Elliot, "Getting started with Waze Carpool," CNET, 11 October 2018, available at https://www.cnet.com/how-to/getting-started-with-waze-carpool/
Erik Ferguson, "The rise and fall of the American carpool: 1970–1990," Transportation, 24:4, 349-376, November 1997, available at https://link.springer.com/article/10.1023/A:1004928012320.
Sabrina Tavernise and Robert Gebeloff, "Once Popular, Car Pools Go the Way of Hitchhiking," New York Times, 28 January 2011, available at https://www.nytimes.com/2011/01/29/us/29carpool.html.
Carma Technology Corporation, "Carma", accessed on 12/31/2018 at https://www.gocarma.com/.
Tatevik Aprikyan, "New ride-share apps offer flexible commutes, but at what cost?" Q13 Fox, 21 April 2017, available at https://q13fox.com/2017/04/21/new-ride-share-apps-offer-flexible-commutes-but-at-what-cost/.
Andrew Hawkins, "Google's Waze is making a big, nationwide bet on carpooling," The Verge, 10 October 2018, available at https://www.theverge.com/2018/10/10/17956496/waze-carpool-expand-nationwide-us-google.
Kirsten Korosec, "Google's Waze has expanded its carpooling app to every US state," TechCrunch, October 2018, available at https://techcrunch.com/2018/10/10/waze-carpool-app-nationwide-amazon/.
Congestion Management and Environmental Quality (CMEQ) Committee, "C/CAG Countywide Carpooling Incentives Pilot Program Update," 30 October 2017, available at http://ccag.ca.gov/wp-content/uploads/2017/10/7-103017-Scoop.pdf.
Sarah Perez, "Waze Carpool's new app lets riders get more choosy about their drivers," TechCrunch, March 2018, available at https://techcrunch.com/2018/03/05/waze-carpools-new-app-lets-riders-get-more-choosy-about-their-drivers/.
Laura Bliss, "Carpooling Is Totally Coming Back This Time, We Swear," CityLab, 15 September 2017, available at https://www.citylab.com/transportation/2017/09/is-carpooling-making-a-comeback/539979/.
Craig Giffi, Joe Vitale and Masa Hasegawa, Deloitte, Global Automotive Consumer Study, 2014, available at https://www2.deloitte.com/content/dam/Deloitte/us/Documents/manufacturing/us-auto-global-automotive-consumer-study-100914.pdf.
Laura Kolodny, "Scoop gets Bay Area cities to pick up the tab for carpooling to alleviate traffic jams," TechCrunch, 2016, available at https://techcrunch.com/2016/10/04/scoop-gets-bay-area-cities-to-pick-up-the-tab-for-carpooling-to-alleviate-traffic-jams/.
City/County Association of Governments of San Mateo County (C/CAG) Board of Directors, "C/CAG Countywide Carpooling Incentives Pilot Program," 13 July 2017, available at http://ccag.ca.gov/wp-content/uploads/2017/07/6.2-Carpooling-incentive-program_July17_Board.pdf.
City/County Association of Governments of San Mateo County, "New Carpool Discount Program Available for San Mateo County Commuters," org, August 2017, available at http://ccag.ca.gov/wp-content/uploads/2017/08/Carpool-In-San-Mateo-County-Flyer_1.pdf.
Spare the Air Employer Program, "San Mateo," accessed on 31 December 2018 at https://employerssparetheair.org/ultimate-commute-program-resource/san-mateo/.
King County Department of Transportation, "King County Metro partners with carpooling apps to offer discounts, incentives and mobility options for commuters," 3 December 2018, available at https://kingcounty.gov/depts/transportation/news/2018/20181203-Carpool-incentives.aspx.
King County Department of Transportation, "It's time to get ready for the SR 99 closure," 27 November 2018, available at https://kingcounty.gov/depts/transportation/metro/programs-projects/transit-corridors-parking-and-facilities/sr99-closure.aspx.
Bay Area Rapid Transit, "Scoop to BART Carpool Program," accessed on 31 December 2018, at https://www.bart.gov/guide/parking/carpool.
Bay Area Rapid Transit, "BART Pilots New Way to Get to Station; Carpool with Scoop and Get a Guaranteed Parking Spot," Mass Transit, 17 January 2017, available at https://www.masstransitmag.com/technology/facilities/parking-managment/press-release/12295919/bay-area-rapid-transit-bart-bart-pilots-new-way-to-get-to-station-carpool-with-scoop-and-get-a-guaranteed-parking-spot.
Bosch, "SPLT," accessed on 31 December 2018 at http://splt.io/home.
King County Department of Transportation, "Carpool Program," 4 December 2018, available at https://kingcounty.gov/depts/transportation/metro/travel-options/rideshare/programs/carpool.aspx.
Seattle Department of Transportation, "CTR Requirements," accessed on 31 December 2018 at https://www.seattle.gov/transportation/projects-and-programs/programs/transportation-options-program/commute-trip-reduction-program/ctr-requirements#employerprogramrequirements.
Shared Use Mobility Center, "Successes in Seattle: Using Transportation Demand Management and Commute Trip Reduction Legislation to Reduce Automobile Commutes," 14 August 2017, available at https://live-sumclearningcenter.pantheonsite.io/casestudy/successes-in-seattle-using-transportation-demand-management-and-commute-trip-reduction-legislation-to-reduce-automobile-commutes/
Tiffany Dovey Fishman, "7 Strategies to Maximize Ride-Sharing's Potential," Government Technology, 8 June 2015, available at http://www.govtech.com/transportation/7-Strategies-to-Maximize-Ride-Sharings-Potential.html.
Federal Highway Administration, Exploratory Advanced Research Program, Casual Carpooling Scan Report, available at https://www.fhwa.dot.gov/publications/research/ear/12053/12053.pdf.
Hai Yang and Hai-Jun Huang, "Carpooling and congestion pricing in a multilane highway with high-occupancy-vehicle lanes," Transportation Research Part A: Policy and Practice, 33:2, 139-155, February 1999, available at https://www.sciencedirect.com/science/article/pii/S0965856498000354.
Tri-State Transportation Campaign, "Road Pricing in London, Stockholm and Singapore," 2018, available at http://nyc.streetsblog.org/wp-content/uploads/2018/01/TSTC_A_Way_Forward_CPreport_1.4.18_medium.pdf.
Hideo Konishi and Se-il Mun, "Carpooling and Congestion Pricing: HOV and HOT Lanes," Regional Science and Urban Economics, July 2010, 40:4, 173-186, available at https://www.sciencedirect.com/science/article/pii/S0166046210000189.
Mark Burris, Negin Alemazkoor, Rob Benz and Nicholas S. Wood, "The Impact of HOT Lanes on Carpools," Research in Transportation Economics, 44, 43-51, June 2014, available at https://www.sciencedirect.com/science/article/abs/pii/S0739885914000055.
Federal Highway Administration, Benefits of Congestion Pricing, 25 July 2018, available at https://ops.fhwa.dot.gov/congestionpricing/cp_benefits.htm.
David Gutman, "Scoop app's limited entry in Seattle offers carpools without commitment — and free rides for Amazon employees," Seattle Times, 17 April 2017, available at https://www.seattletimes.com/seattle-news/transportation/scoops-limited-entry-in-seattle-offers-carpools-without-commitment/.
Kevin Kelly, "San Mateo County Floats Cash Incentives for Carpooling," Mercury News, 8 August 2017, available at https://www.mercurynews.com/2017/08/08/county-floats-cash-incentives-for-carpooling/.
iTop Ten Carpooling Metros: United States Census Bureau, 2013-2017 American Community Survey 5-Year Estimates, "Means of Transportation to Work," accessed on 9 January 2019 at https://factfinder.census.gov/; Selected from the largest 40 metropolitan areas by population, American Community Survey 2017 Population Estimates.
Related Items