Bird Supports Micromobility Pilot in San Ramon, CA, 2022
5 minutes Date Launched: Dec 1, 2022 Dates given are approximate.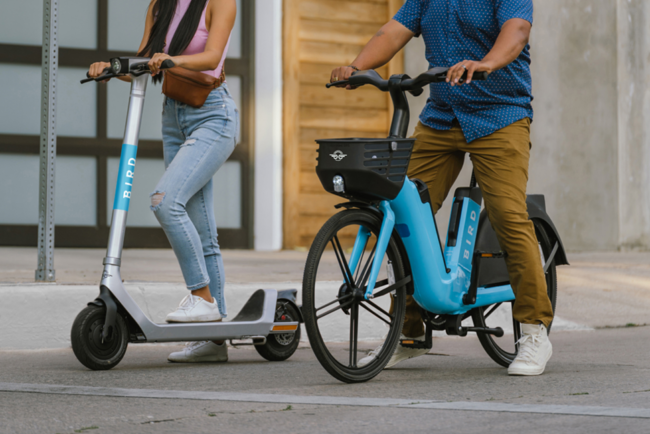 Summary
Bird is providing a fleet of 150 electric micromobility vehicles, consisting of e-bikes and e-scooters, to users in the City of San Ramon, California. The program allows customers to borrow these vehicles using Bird's smartphone app. Customers without a smartphone can borrow the vehicles using SMS/text messaging, and Android users also have the option to pay for their rentals with cash. As a promotion to new users, Bird rentals will have no unlock fee for the first three months of operation in San Ramon. Rentals cost $0.39 per minute, and veterans, students, teachers, seniors, and low-income individuals are eligible for a discount of 50 percent.
San Ramon procured Birds' services from the Contra Costa Transportation Authority's (CCTA) Mobility-On-Demand program, which functions as a subproject of the agency's Innovate 680 Mobility As A Service initiative. The Federal Highway Administration funds Innovate 680 with an $8 million Advanced Transportation and Congestion Management Technologies Deployment (ATCMTD) grant. CCTA selected Bird as a micromobility vendor for its jurisdiction through a competitive bidding process. Micromobility often functions as a substitute for short car trips; with this in mind, the City of San Ramon hopes its new micromobility program can help the community achieve carbon neutrality by 2045.
Last updated December 22, 2022