City Expands Bikeshare Program and Pilots Dockless E-Scooters, Milwaukee, WI, 2021
5 minutes Date Launched: Jun 1, 2021 Date Ended: Nov 15, 2021 Dates given are approximate.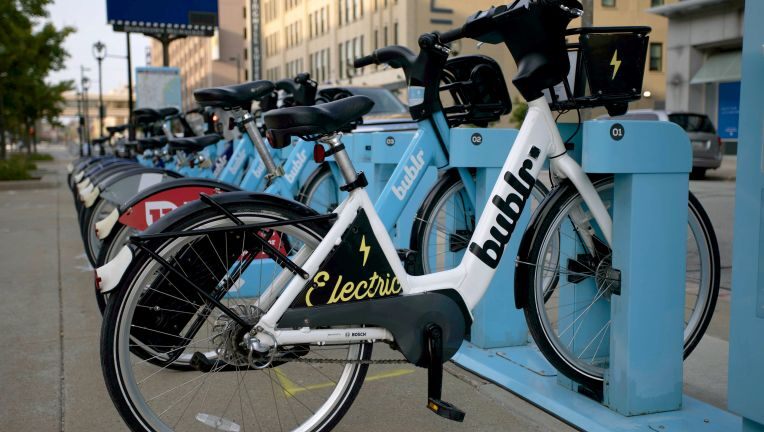 Summary
The City of Milwaukee has announced a significant expansion to its bikeshare system, Bublr, and its second pilot of dockless e-scooters. Bublr's program will expand through the installation of 26 new docking stations and 250 new bicycles, 200 of which will be the system's first electric-assist vehicles. Bublr's expansion is supported through a $1.2 million grant from the federal Congestion Mitigation and Air Quality Improvement (CMAQ) program.
Bird, Lime, and Spin are the selected vendors for Milwaukee's e-scooter pilot after a total of six micromobility companies submitted bids. The pilot will run from June 1 to November 15, with up to 1,000 scooters allowed for operation by each of the approved vendors. In this pilot, Bird, Lime, and Spin will incorporate technology to prevent usage of their vehicles on sidewalks. All vendors will also have at least 100 adaptive scooters in each of their fleets to serve customers with accessibility needs and are expected to host routine outreach and education events.
Like other communities around the US, Milwaukee's micromobility program expansion is largely driven by the city's desire to address equity in transportation access. For example, the e-scooter pilot requires that vehicles be distributed throughout seven zones throughout Milwaukee. Bublr's new stations are largely in areas that were not previously served by bikeshare. As micromobility programs mature, cities are better equipped to evaluate how these programs can serve their communities more effectively.
Last updated on June 1, 2021