City Launches Microtransit Service, Annapolis, MD, 2022
5 minutes Date Launched: May 17, 2022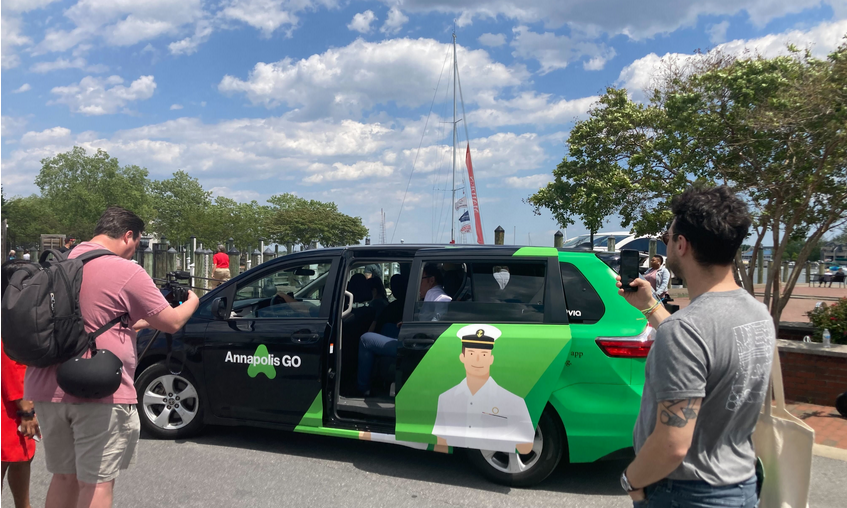 Summary
The City of Annapolis has launched Annapolis GO, a microtransit service that customers can use to ride to and from anywhere within a designated service area. Using a smartphone app or a telephone, customers can request a shared point-to-point ride in real-time. A standard fare is $2 plus $1 per additional passenger in a ride party. As a promotion, a customers' first two rides are fare-free if they redeem a code inside the Annapolis GO app. Wheelchair-accessible vehicles are available on request. Annapolis GO is open from 2 PM to 8 PM during the workweek, from 12 PM to 8 PM on Saturdays, and from 11 AM to 7 PM on Sundays. Via, a technology company, is the booking, routing, and payment vendor for this service.

Description: Short video of Annapolis GO launch event.
Credit: Via

Key destinations in the Annapolis GO service area include the Annapolis Library, the United States Naval Academy, the Annapolis City Dock, and the Eastport Maritime District. The City of Annapolis hopes that this microtransit service, along with other transportation partnerships and initiatives, can reduce private car use and bolster mobility and commerce across the city. Mictrotransit can be a convenient transportation option in mid- and lower-density areas and as a means to connect to fixed-route transit as well.
Last updated June 7, 2022