When Uber Replaces the Bus: Learning from the Pinellas Suncoast Transit Authority's "Direct Connect" Pilot, SUMC Case Study, 2019
5 minutes Date Enacted: Jun 13, 2019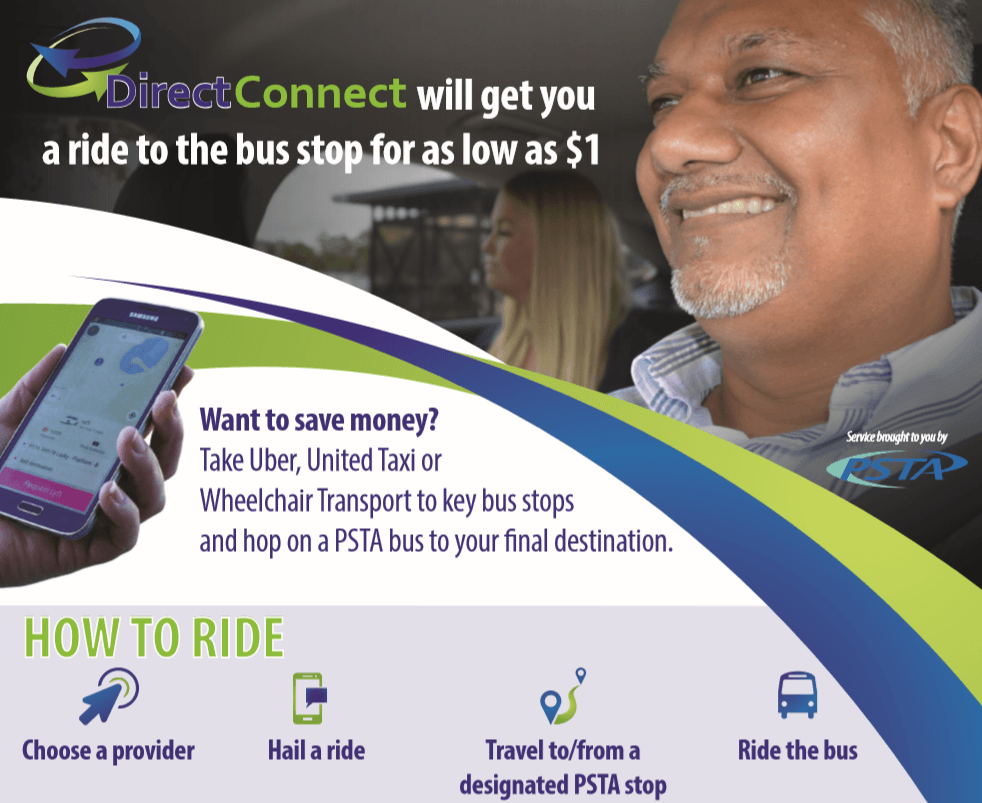 Summary
The Shared-Use Mobility Center, in collaboration with Transit Center, released a case study to evaluate the Direct Connect first/last mile program with Pinellas Suncoast Transit Authority (PSTA). Download the Direct Connect Case Study.
PSTA was the first public transit agency to sign a service provision contract with a private transportation network company (Uber) to provide subsidized first/last-mile connections to transit stops. The case study for the PSTA Direct Connect Pilot details the reasons why the agency took this step, how they responded to internal and external challenges as their pilot developed, and lists lessons learned with recommended actions for pilots going forward.
While PSTA was the first to take this step in 2015, today such partnerships are numerous, and are increasing in both variety and scope. Agencies at any stage in the pilot process can benefit from understanding PSTA's experience. The Direct Connect case study particularly addresses the following areas:
The necessity of determining pilot goals and factoring in post-pilot program development early in planning
The value of being flexible in response to changing circumstances
The vital role played by project champions both within an agency and in public
The need for data-sharing and the importance of arriving at an agreement from the start—or making other plans for evaluation if that can't be achieved
Partnering with an on-demand service provider offers transit agencies and riders great value in the right circumstances, but they're far from a universal solution. These partnerships can be a convenient, affordable solution for first­/last-mile connections and for service in low-density areas that are hard to serve with fixed route transit, and are a key component in the development of integrated multi-modal transportation systems.
The Direct Connect Case Study is a valuable tool for agencies that illustrates some of the challenges with transit-TNC partnerships and helps to shape agency approaches for future projects.
Download SUMC and Transit Center's 2019 case study, When Uber Replaces the Bus: Learning from the Pinellas Suncoast Transit Authority's "Direct Connect" Pilot.
Download Supporting Documents