Dockless Bikeshare Pilot, New York City, NY, 2018
5 minutes Date Launched: Jul 13, 2018 Date Ended: May 31, 2019 Dates given are approximate.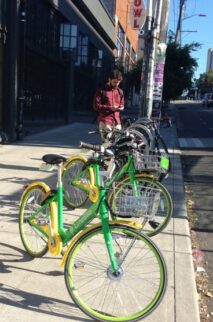 Summary
Launched in July 2018, New York City introduced its first dockless bikeshare pilot in select boroughs; Rockaways first, then parts of Staten Island and the Bronx. These areas were selected because they are not yet served by the city's Citi Bikes docked public bikeshare system. The NYC Department of Transportation (NYCDOT) issued a Request for Expressions of Interest (RFEI) for this pilot back in December 2017.
Several dockless bike operators were permitted to deploy up to 200 bikes in designated areas. Lime and Pace, for example, were initially the only operators permitted in the Rockaways peninsula. However, one permitted operator – ofo – pulled out before the program even began.
In March 2019, the pilot was extended for 90 additional days to allow for additional evaluation.  In April, NYCDOT released an additional RFEI for companies interested in operating a dockless system throughout the entire borough of Staten Island beginning in summer 2019.