Electric Carshare Program Begins in Rochester, NY 2021
5 minutes Date Launched: Sep 1, 2021 Dates given are approximate.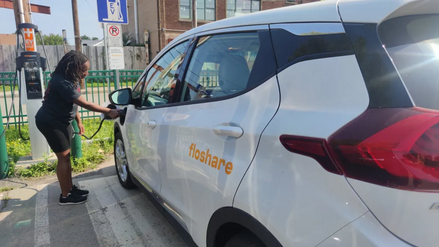 Summary
Floshare, a new electric carsharing service, has started operations in Rochester. Through Floshare, member customers can rent from a fleet of four 2020 Chevy Bolts on an hourly or daily basis. Two of these cars are available for pick up and return at charging stations at St. Mary's Hospital, while the other two are located at charging stations at the Rochester Public Market. Customers can reserve a car ahead of time through Floshare's app or website.
On a single charge, these vehicles have a 260 mile range. Rentals cost $5 per hour, $40 for an entire weekday, and $45 for an entire weekend day. Customers are allowed to drive up to 150 miles per trip. If a customer exceeds the 150 mile cap, they pay $0.35 for each mile driven in excess of that limit. Costs for maintenance, insurance, and roadside assistance are built into the cost of a rental. Customers also pay a one-time fee of $20 when they apply for a Floshare membership. Drivers can have a license from any state and must be at least 21 years old with a clean driving record and a valid credit, debit, or prepaid card.
Floshare is intended to provide a new mobility option to Rochester residents in a city that is highly car-dependent. Other forms of shared mobility, like bikeshare, are only seasonal in Rochester because of heavy levels of snow in the winter. As Floshare becomes more established, it will be important to see if its fleet and use of its vehicles increases and if more rental locations become available to customers.
Last updated October 5, 2021