On-demand Sunday Service launched by regional transit agency, Redding, CA, 2019
5 minutes Date Enacted: Nov 13, 2019 Date Ended: Nov 1, 2021 Dates given are approximate. Pilot Project Timeframe: 24 Months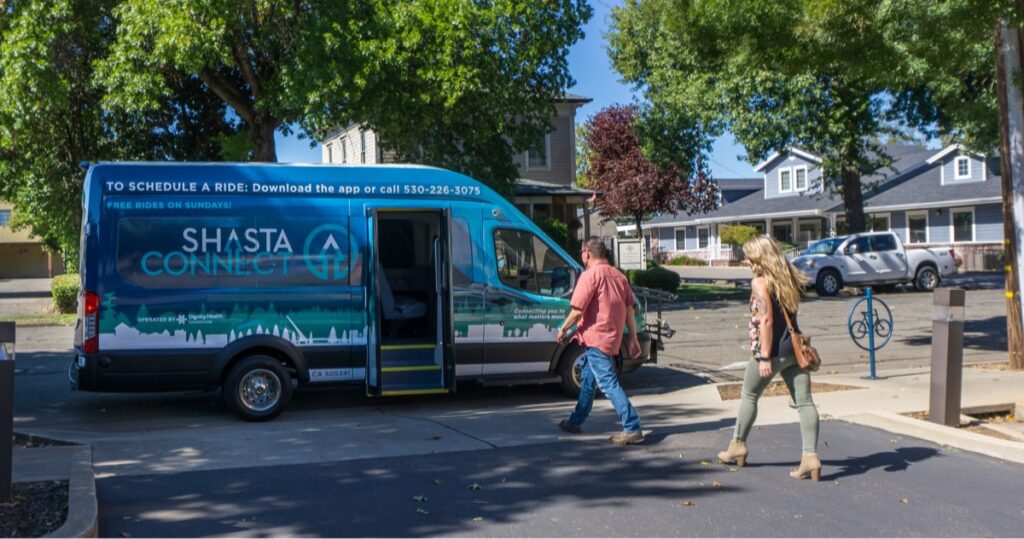 Summary
In November 2019, the Shasta Regional Transportation Agency (SRTA) launched its ShastaConnect program which provides shared on-demand trips in the Redding, California area on Sundays. Customers can request door-to-door rides via dedicated app, by phone or website, and rides can be booked on-demand or up to three days in advance. The service operates from 6:30am to 7:30pm Sundays, and it will initially be free to use.
The program is a partnership with Dignity Health Connected Living, a local non-profit that aims to promote independence for seniors and people living with disabilities. Routematch, an Atlanta-based software company, has provided the mobility platform and routing system. The service uses dedicated vans and buses. Funding for the program was received through the California Low Carbon Transit Operations Program, and it is anticipated to operate for 2 years.
Customers can specify vehicles to accommodate their needs, such as wheelchair-accessibility, space for a service animal, or bicycle storage. Rides are shared with other passengers, although reservations can be made for up to 5 additional passengers. The program's service area covers the majority of Redding city.
The initial concept for this Sunday service emerged as a result of the SRTA's 2016 Feasibility Study and Action Plan. Marketing firm Circa Now LLC was hired to assist with community outreach and promotion of the program.