Pickup by Capital Metro, Austin, Texas, 2017 (updated in 2019)
5 minutes Date Launched: Jun 6, 2017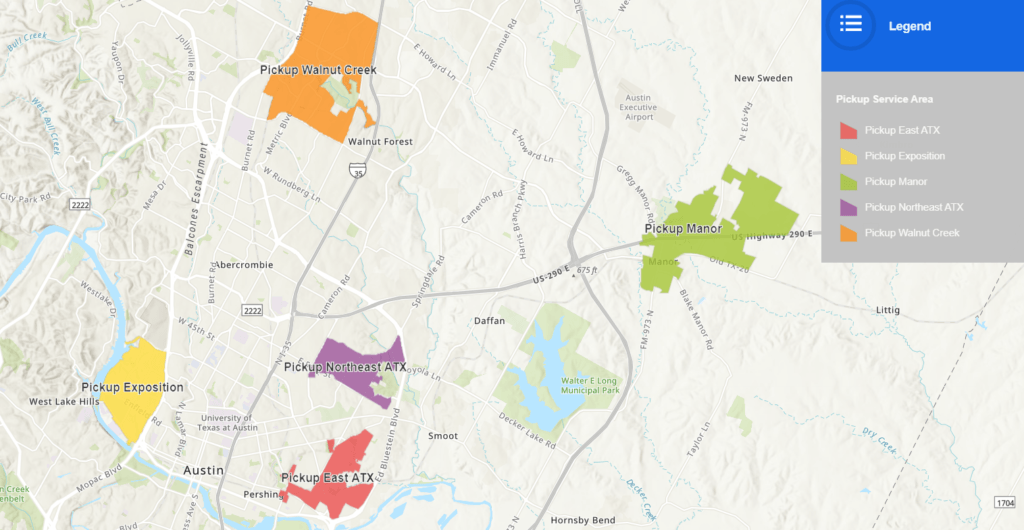 Summary
In partnership with on-demand, ridesharing company Via, Capital Metro has developed the Pickup app. When the PickUp pilot was first tested in 2017 and 2018 it served riders in Northeast Austin (ranging from the intersection of Manor Rd. and Airport Blvd. to the I-35 access road north of Rutherford Ln.). Riders in this neighborhood could use the Pickup app to access the new ride-hailing bus service that could accommodate up to nine passengers. Pickup service was free of charge during its pilot testing in 2017 and 2018 and was available from 7 AM – 7 PM on weekdays, and 10 AM – 5 PM on Saturdays. This pilot program aimed to provide door-to-door, on-demand public transportation service to Austin residents, and replaced Capital Metro's Metro Flex Upper Eastside pilot route. The PickUp service used PickUp branded cutaway that were wheelchair accessible.  When the pilot ended Capital Metro studied it and released the findings report.
In June 2019, it was announced that PickUp would continue its service in five neighborhoods across Austin (see service area map below).  The weekday hours are the same in all five neighborhoods (7 AM to 7 PM) and the PickUp Northeast ATX service area will also operate on Saturdays from 10 AM to 6 PM. In addition, to the expanded service areas, PickUp now costs $1.25 per trip.  PickUp continues to use branded cutaway buses that can accommodate up to one wheelchair at a time.
For more information download the PICKUP Pilot Project Overview or see the link for the Capital Metro homepage, below.
Contributed through a partnership between the Shared-Use Mobility Center, ITS America, and the Federal Transit Administration's Mobility on Demand Program
Updated August 2019
Download Supporting Documents