Rural Agencies Launch Mobility On-Demand Pilot, 21 Counties, OK, 2021
5 minutes Date Launched: Jun 1, 2021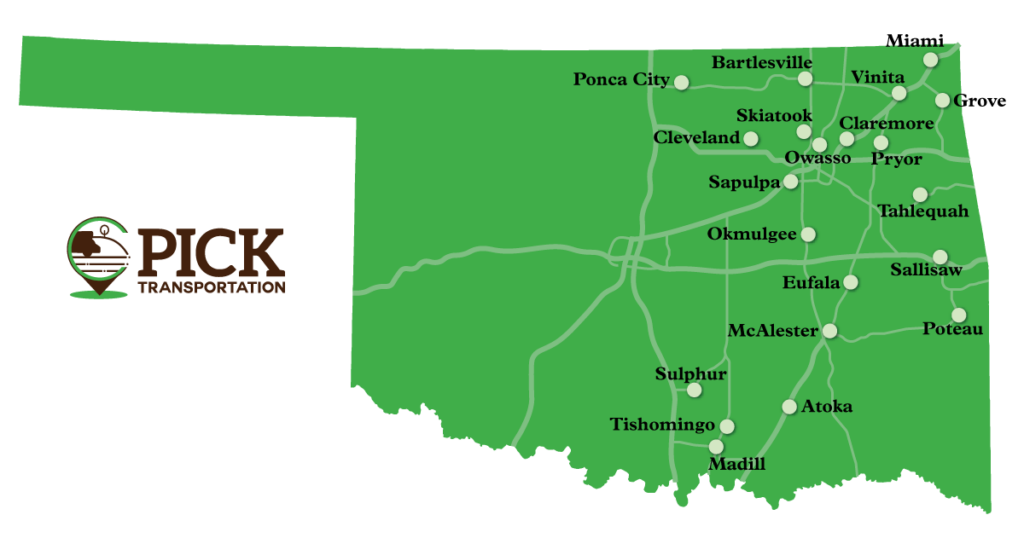 Summary
The Grand Gateway Economic Development Association received a Federal Transit Administration Integrated Mobility Innovation grant to support PICK Transportation, a microtransit service.

The Grand Gateway Economic Development Association is using the grant to coordinate off-peak point-to-point transportation for customers in over 20 central and eastern Oklahoma communities.

Customers can request their using the Uber mobile app or by calling a hotline.
Cimarron Transit, JAMM Transit, the KI BOIS Area Transit System, and Pelivan Transit, in partnership with the Grand Gateway Economic Development Association, have launched PICK Transportation, a mobility on-demand pilot serving central and eastern Oklahoma. PICK Transportation functions as an off-peak point-to-point microtransit service, available from 5 PM to 10 PM during the work week and 10 AM to 2 PM on Saturdays. Customers can request rides by phone or through the Uber app, the booking and routing technology partner for the pilot. Fares on PICK Transportation are a flat $3 and are paid in app. Between the four participating transit agencies, PICK Transportation has a fleet of 41 ADA-compliant vehicles. PICK Transportation is currently funded through an Integrated Mobility Innovation (IMI) grant of about $1.5 million from the Federal Transit Administration. During its first week of service, PICK Transportation launched in the communities of Atoka, Bartlesville, Owasso, and Tahlequah. 17 other rural communities will be served as PICK Transportation's service area expands.
Demand-responsive transportation can be an effective mobility solution where fixed-route transit does not effectively serve communities. Notably, PICK Transportation can also supplement transit services for American Tribal communities based in rural Oklahoma, including the Cherokee Nation, Miami, and Shawnee tribes. Beyond this pilot, it will be important to determine if PICK Transportation can operate sustainably and support the transportation systems of small towns in central and eastern Oklahoma.
Last updated June 15, 2021