Suburban Transit Agency Launches New Mobility On-Demand Service, Denton County, TX 2021
5 minutes Date Launched: Sep 7, 2021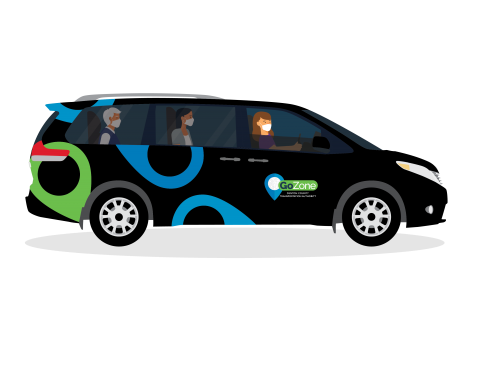 Summary
The Denton County Transportation Authority (DCTA) is launching GoZone, an on-demand microtransit service. Through GoZone, customers can request curb-to-curb shared van rides across two designated zones: Denton and Lewisville/Highland Village. GoZone operates from 5 AM to 10 PM, Mondays through Thursdays, 5 AM to 11 PM on Fridays, 8 AM to 11 PM on Saturdays, and 8 AM to 6 PM on Sundays and holidays. From Monday to Saturday, rides must start and end within the same zone. On Sundays, rides can start and end across the two separate zones.
Customers can book their rides in real time through the DCTA GoZone smartphone app or by phone. Via, a transportation network company, is the booking technology partner supporting the app. A single-ride fare costs $0.75 and can be paid through the app or with exact cash on board the GoZone van. Rides cost nothing extra if a customer uses any type of DCTA fare pass. As a promotion, GoZone customers also get their first four rides fare-free until October 7.
DCTA is starting this service after determining that microtransit can be more efficient for its customers during certain times or at particular locations. While the agency will continue operating many of its transit and mobility services, GoZone will also replace some existing mobility on-demand and rideshare services. Like many transit agencies serving more suburban and rural areas, DCTA sees point-to-point microtransit as an important mobility solution for suburban and rural residents.
Last updated September 22, 2021