For both transit agencies implementing bikeshares and operators managing the systems, the goal of such a system is to establish an affordable, financially-sustainable bikeshare system that increases mobility and equitably serves the community. Unfortunately, due to a number of geographic, cultural and physical factors, many bikeshare systems do not equitably serve different populations.
For example, just how great is the disparity in bikeshare usage between socioeconomic groups and races? Much of that depends on the market in question, but some of the biggest bikeshare systems in the country faced significant criticism for not sufficiently serving populations that stood to benefit the most from the new mobility option. For example, in Chicago, only 2% of the city's bikeshare system's memberships were held by black residents in 2017, despite the fact that African Americans comprise 30% of the city's overall population (Greenfield, 2018).  And Chicago is not alone: Washington D.C. is approximately 50% black, but in 2015, only 3% of Capital Bikeshare memberships were held by black residents (Schneider, 2017).
Some of this discrepancy has to do with bike placement. For example, a 2016 study of the seven biggest bikeshare systems in the country found that in most markets, people making over $100,000 annually were more likely to live within 0.3 miles of a bikeshare station than people making less than $20,000 – as were people with a college degree when compared to those without one (Jaffe, 2016). However, even the discrepancy in geographic access to bikeshare does not completely explain the relative lack of use among minority and disadvantaged communities.
A great deal of research has been conducted to determine what specific barriers are preventing bikeshare use in these communities. A 2016 study from Rutgers University determined that fear of traffic collision, robbery and poor road conditions were the biggest concerns for black and Hispanic respondents (Brown et al, 2016); however, others suggest that it is the lack of information on discount programs, safety, and concern regarding liabilities and hidden fees that are of greatest concern for residents of low-income, minority neighborhoods (Huth & Salem, 2018). Another study found that low-income residents and people of color were less likely to have exposure to bikeshare though their family and friend networks, or through their person experiences; however, their biggest hurdle to using bikeshare was that the bikes were simply located too far away (McNeil et al, 2017a).
Separately, for people with physical disabilities, bikeshare systems could serve as a much-needed mobility mode to complement paratransit service; however, in most cities, adaptive bikes that meet the needs of people with disabilities have yet to be included on a large scale.
However, many city agencies and community organizations are exploring ways to address these barriers in order to ensure that local bikeshare systems are as equitable as possible. Below are some of the ways different cities are working to address different obstacles.
Efforts to Address Barriers related to Geographic Coverage: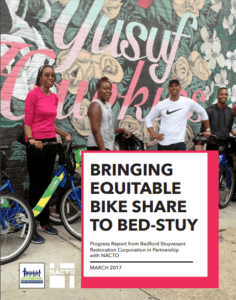 Efforts to Address Barriers related to Safety and Comfort Concerns:
Efforts to Address Barriers related to Financial Concerns:
Examples of Effort to Address Barriers related to Physical Limitations:
For all of the avenues for addressing barriers to bikeshare usage shared above, none are effective without the corresponding community engagement and awareness efforts.  Programs and policies are only beneficial if they are used: for example, according to the Washington Post, a 2014 program intended to cover the bikeshare membership costs for 200 qualifying low-income residents in Washington D.C. had only distributed 20 free memberships in its first nine months. Unless the targeted communities have reliable sources from which to find out about low-cost memberships and free helmet programs, or about bike laws and liability risks, or about adaptive bike availabilities, then system usage will remain unequitable.
References: