A County-Wide Transformation of Demand-Response Service into Microtransit, Baldwin County, Alabama
20 minutes Author: Shared-Use Mobility Center Date Launched/Enacted: Sep 26, 2022 Date Published: September 26, 2022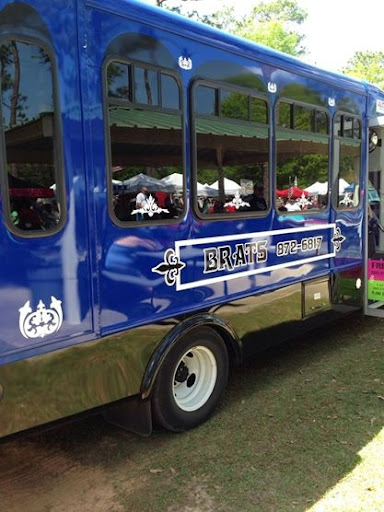 Brief Summary
In 2020, the Baldwin Regional Area Transit System (BRATS) in Baldwin County, Alabama partnered with Via to transition its demand-responsive transit service to an on-demand microtransit service through an Integrated Mobility Innovation (IMI) grant from the Federal Transit Administration (FTA).
Through this pilot project, BRATS intended to increase efficiency of its public transit service, reduce passenger wait times, improve reliability, and enhance transit access for all residents of Baldwin County. 
BRATS launched the same week as a hurricane touched down in the area and had to temporarily suspend service, but was able to use that time to further fix bugs and get staff ready to relaunch the following week. 
BRATS collects and analyzes a large amount of data to evaluate the microtransit service, and works closely with Via to improve Via's own data collection methods. 
The new platform brought major improvements in ridership, rider experience, efficiency, flexibility, and service for Baldwin County residents.

Description: Video interview with Ann Simpson from Baldwin Regional Area Transit System.
Credit: Shared-Use Mobility Center (SUMC)


This pilot project is part of the Mobility Innovation Collaborative (MIC) program, a partnership between the Shared-Use Mobility Center and the Federal Transit Administration. The MIC program provides a comprehensive suite of technical assistance resources, promotes knowledge sharing activities, and captures stories and lessons learned from nearly 50 innovative mobility projects across the United States.
Introduction
At over 1,600 square miles, Baldwin County in Southern Alabama is the largest county by area in the state. Though mostly rural, the county contains small pockets of urbanized areas around Mobile Bay as well as tourist areas in the south along the coastline of the Gulf of Mexico. Additionally, it is one of Alabama's fastest growing counties by population. As the only public transit operator in the county, the Baldwin Regional Area Transit System (BRATS) serves the entire community with on-demand transportation. 
In 2019, BRATS, in partnership with transportation technology company Via, received an Integrated Mobility Innovation (IMI) grant from the Federal Transit Administration (FTA) to develop an on-demand transportation platform with automatic scheduling, routing, and dispatch technology, a smart phone app, and a passenger notification system. This technology upgrade helped to transition BRATS from its scheduled demand-responsive (DRT) transit service to an on-demand microtransit service. This marked the first of its kind for a largely rural transit system serving its entire service area with mobility-on-demand transportation, rather than a designated zone within the service area. Changing the nature of the transportation service was a large undertaking, but in doing so BRATS could enhance transit access for all residents in Baldwin County. 
This case study highlights the history and operations of BRATS's microtransit service, from a rocky launch in the midst of a natural disaster, to its transition from pilot to permanent program.
BRATS began providing public transit service in 1985 as a department of the Baldwin County Commission. With a large service area, no major urban center, and a growing population, the Commission recognized the critical need for transportation throughout the county. 
The main service BRATS provided was DRT, using a traditional routing and scheduling software. This allowed BRATS to achieve its goal of serving the entirety of Baldwin County, but BRATS's service operated with limitations. For example, door-to-door transportation was available for more populated regions in the county, but riders had to book trips over the phone several hours or days in advance. BRATS' service schedule booklet was about 40 pages long and often difficult to read and interpret for both riders and drivers. Residents in outlying areas experienced a more restricted service. For many rural areas, BRATS operated deviated fixed-route service, which was sometimes only available one or two days a week, and for limited windows of time during those days. 
This situation was often inefficient and impractical for both BRATS and the users; customers' plans could sometimes change after booking a trip, and riders would forget to call back to cancel, leading to no-shows when drivers would arrive. Furthermore, riders often had trouble planning for more urgent trips that they may not have known about in advance. Though BRATS provided a necessary service to the community, it recognized some serious challenges with its system.
 BRATS also found the need for more flexibility for scheduling drivers' shifts. BRATS full-time drivers have the option of working 10 hour or 8 hour shifts. Many of the part-time employees request to work certain times of day or certain days of the week. To accommodate drivers' availability, BRATS needed to be able to change driver schedules quickly and easily. With these issues and the county's continued growth in mind, the Baldwin County Commission wanted an innovative approach to improve reliability, improve flexibility, increase ridership, and serve the evolving community. 
BRATS intended to move away from the advanced booking requirement and at the same time expand to a new customer base while improving service for existing riders. The agency saw the need to transition from the traditional DRT service it had previously been running to a tech-enabled on-demand microtransit service. 
The Commission determined that in order to meet these goals of a fully on-demand micro-transit system, BRATS would have to incorporate a new routing and dispatching software. The Transportation Director researched various on-demand transportation software providers, and ultimately partnered with Via. Via's platform provides automatic dispatching and scheduling for both on-demand and pre-booked rides. Through this partnership, BRATS identified the opportunity to apply for the FTA's IMI program, a competitive grant program designed to help agencies across the country adopt innovative mobility solutions to enhance transportation effectiveness and efficiency. The agency applied for and was awarded $260,800 through the IMI program in mid-2020. 
BRATS faced an immediate major challenge coinciding with the launch of the new service. The system debuted on Monday, September 14, 2020 – coincidentally the same week that Hurricane Sally touched down in southern Alabama. The governor declared a state of emergency, and all county services, including BRATS, were shut down. BRATS worked with Via to publish notifications to customers, some of whom had already scheduled rides in advance, that BRATS would be closing their facilities and postponing service. Despite the unforeseen issue, BRATS took advantage of the opportunity to work with Via to correct software bugs that appeared at the service launch and the extra time allowed the agency to be better prepared to relaunch the following Monday. Additionally, BRATS ran a few evacuation routes during the storm which served as makeshift test runs that BRATS could use to further evaluate and refine the system. The service relaunched a week later with no other major setbacks.
The rollout of the new system brought various operational changes. BRATS has innovated from its earlier DRT and semi-fixed route trips to provide a unique on-demand transportation service for the whole county. Users access the service through the BRATS's branded Via's smartphone app, which allows for planning, booking, requesting, and paying for rides. The app also sends notifications to riders when a vehicle is on the way. The app is designed to be as easy and user-friendly as possible, and BRATS still maintains a call center for customers to book rides without a smartphone.
Initially, BRATS ran a tiered system for service type. There were four service zones in more populated parts of the county where users could request on-demand trips. If a trip origin or destination fell outside of any of the zones, riders would still have to book the trip 24 hours in advance. This system proved to put more restrictions on their service, as it would lock people out of pick-up or drop-off locations that were otherwise reasonable to get to. BRATS eventually abandoned the zone-based service area design and now, with the exception of a small, very rural area, the entirety of Baldwin County has access to the on-demand service. The rural zone still has access to transportation, but riders traveling to or from the zone must book trips in advance. BRATS would ideally provide on-demand service to the area, but it can take up to 40 minutes to drive to the area from BRATS's closest hub, which presents major challenges with incorporating it.
While fare collection previously occurred manually through drivers collecting cash fares or validating pre-purchased passes as passengers would board, the Via system includes an  electronic fare collection system. When the passenger deboards the bus, the driver completes the trip in the driver app and the passenger fare is charged to their linked account. This contactless payment system is especially helpful in light of the COVID-19 pandemic, as customers are more wary of handling cash and close interactions with drivers. BRATS can also take payment through mail-in check or money orders, accommodating unbanked customers. 
For the first two months of the pilot, collection of fares were postponed to allow customers time to establish payment accounts. BRATS fares vary based on trip distance. Customers are charged $2.00 for the first five miles, then $.50 for each additional five miles. Additional passengers cost $2.00.
The agency currently has 34 drivers on staff – 20 full-time and 14 part-time. Baldwin County is a popular retirement destination, and as a result, many of BRATS's drivers are senior, semi-retired adults who work part-time and want to give back to the community. To recruit new drivers, BRATS relies almost solely on word of mouth outreach. That outreach is generally successful; 30% of BRATS drivers since 2020 are new. The flexible work schedule available to BRATS drivers is a positive recruiting tool. Because of the ease of recruitment, BRATS did not have any permanent staff shortages during the COVID-19 pandemic, unlike many other transit agencies in the country. 
BRATS currently owns 46 vehicles, around 30 of which are in operation per day. The majority of these vehicles are small cutaway buses with a capacity of about 10-25 passengers, though BRATS also operates 8 full-sized buses. The vehicles are distributed among four operational hubs around the county: one hub in the north, one in the rural central part of the county, one in the southern section near a tourist area, and one on the western county border, which is a small urbanized area. Having hubs situated strategically around the county allows BRATS to serve different parts of its service area more efficiently than having all vehicles dispatched from one central location.
BRATS received a $260,800 grant through FTA's IMI program to fund the deployment of the on-demand software. As a condition of receiving this federal grant, 20% of the project's budget needed to be a local match. By early 2021, BRATS expended all of its IMI pilot project funds, and transitioned to operate its on-demand service as a permanent service funded by FTA formula grant funds. Since Baldwin County has a mix of small urbanized and rural areas, BRATS receives funds from both FTA's 5307 Urbanized Area Formula Grants and FTA's 5311 Formula Grants for Rural Areas. The amount of formula grant funding allocated to BRATS will likely change after the 2020 census data is released in late 2022 and updated population counts are input. BRATS anticipates a decrease in available 5311 funding as the urban population continues to grow, but since BRATS provides county-wide service, the agency also anticipates an increase in 5307 funding, expecting that the total allocation of funds will even out. However, only 5311 funding can be applied to administrative costs, so it is more beneficial for overall operations.
BRATS carried out ample community engagement efforts to spread awareness of the new system to Baldwin County residents. Getting the word out to long-time BRATS customers was straightforward; BRATS mailed information to riders whose addresses the agency had on file from the previous system. To attract new customers, BRATS staff went to civic centers and retirement communities to tell people about the program, answer questions, and distribute flyers and brochures. BRATS also published information on the Baldwin County Commission's social media pages and worked with local news organizations to broadcast stories about the launch. Aside from spreading awareness, much of BRATS's outreach efforts included educational programs to teach the public how the system works, and programs specifically for unbanked riders to teach how to use prepaid or reloadable credit and debit cards. BRATS produced a how-to video hosted on the Baldwin County website and promoted regularly on social media to teach riders how to download and use the app. 
BRATS collects rider feedback regularly through the Via app, where users can rate their ride experience and leave reviews. Via's platform allows BRATS to tie these reviews to a specific ride ID number, which is associated with the ride date, driver and pick-up and drop-off times. If a user comment mentions a specific issue, BRATS is able to review details of the trip. For instance, if a review notes that a driver was late picking up a passenger, BRATS can ascertain the trip pick-up time and driver for the trip, and easily determine what happened. BRATS staff also shares riders' insights with the drivers as another tool which helps BRATS continuously improve service.
Like many agencies, BRATS collects and analyzes various data points for its microtransit service. The majority of the automated service data collection is done through Via's app and platform, though BRATS collects some service data as well. BRATS staff analyzes service data using Microsoft Excel.
Comparing metrics before and after the technology upgrade is difficult. Previously, windows of service were much more restricted, and traveling to and from certain locations in the county would require passengers to transfer buses at a hub to get to their final destinations. BRATS's old system logged such journeys as two separate trips. Because of these limitations, data showing trip amounts, trip times, and vehicle miles traveled (VMT) do not translate for comparison to more recent data. 
However, BRATS has been able to closely monitor changes since the pilot program began. Surprisingly, in the first few months after the launch, BRATS saw a reduction in efficiency levels. This is likely due to the service attracting people in remote parts of the county that had not had access to that level of on-demand service before. Ridership did not immediately increase throughout the county during the initial rollout as much as BRATS expected, but riders in outlying areas were making use of a service they could not use before. This may have presented as less efficient overall from a data analysis standpoint, but it also meant that BRATS was able to improve transportation options for all county residents. 
Once ridership began to steadily increase, efficiency metrics improved. BRATS now sees increased passenger trips, vehicle hours, VMT, driver utilization rate (completed rides/driver hours), and decreased cost-per-mile. BRATS now completes around 8,100 trips per month, more than twice the average of 3,400 trips per month from the first four months of the program.
BRATS and Via have a mutually beneficial relationship when it comes to data collection. Via is constantly improving their data reporting and sharing tools, and when BRATS notices discrepancies with certain data points, the two organizations work together to fix it as well as to improve data collection methods going forward. For example, early in the pilot, BRATS staff noticed a discrepancy between trip VMT based on odometer readings and the VMT collected through the Via platform. As it turned out, Via's platform was not collecting the full VMT, as some drivers were marking trips complete through the app early. In some cases, the drivers were so familiar with specific routes that they did not need the Via app to guide them, and marked trips as complete from the start. The trips still took place and customers were still able to get where they needed to go, but the Via platform only recorded the very beginning. Via has been receptive to BRATS' recommendations and works closely with BRATS to improve the platform.
Many BRATS customers are individuals with mobility challenges: persons with disabilities, older individuals, and individuals with limited or no access to a personal vehicle. All BRATS vehicles are wheelchair accessible, and the BRATS app allows for riders to indicate if they have other accessibility needs when booking their ride. BRATS also accounts for additional time needed to help riders with ambulatory challenges board and exit the vehicles. 
Baldwin County has a moderate population of unbanked residents and residents without smartphones. All fare payments are collected electronically, however unbanked riders can mail in checks or money orders and utilize prepaid credit or debit cards. BRATS also maintains a call center for riders who cannot access the app. The call center is open from 7 AM to 4:30 PM, Monday through Friday for scheduling.
The project's main goals were to improve access to transit, increase ridership, and improve the rider experience. BRATS saw positive outcomes in relation to these goals very quickly after launching the pilot service. 
Although ridership did not immediately increase as much as BRATS expected in the very beginning of the pilot, it steadily rose as more people became aware of the service improvements. BRATS has now completed over 115,000 rides since the new platform, and around 8,100 rides per month. BRATS has also managed the ridership increase without significantly increasing driver labor hours. 
 The new platform brought major improvements in rider experience. Having more flexibility in scheduling has allowed Baldwin County residents to use and enjoy public transit in a more convenient way than before. For example, Baldwin County has a low unemployment rate overall, but transportation to those jobs can often be difficult. The program improvements have allowed BRATS customers the flexibility to schedule transportation around their work schedules, rather than schedule work appointments around transportation availability. Approximately 50% of all trips are now scheduled by the passengers on the convenient mobile app which is available 24/7. Additionally, the implementation of a notification system has improved communication and helped make the entire system more efficient. Riders now get real-time updates about service, including reminders when their ride is on the way and notifications about delays. These notifications reduce customer no-shows and improve overall efficiency and quality of service.
For many rural transit agencies, implementing new technologies can bring challenges even as it opens up new possibilities. In BRATS's case, getting customers and staff acquainted with the new system and operations that come with microtransit was a significant challenge. Most of BRATS's passengers are long-term customers who were already used to the earlier operations and wary of change. BRATS pursued extensive educational initiatives to introduce the new technology and help riders to transition to using the new platform. 
 BRATS experienced some resistance to change among staff as well. Under BRATS's previous software, drivers drove pre-determined, consistent routes that included ample down-time between trips. The Via software, in contrast, prioritizes trip efficiency in order to allow as many rides as possible to be scheduled and completed. The software conversion therefore resulted in a significant change in drivers' workdays. Under the Via system, drivers do not know where in Baldwin County they will be until they arrive at work and review their ride plan for the day. Even then, due to the on-demand nature of the software, changes to their schedule occur throughout their shift. Scheduled down-time no longer exists, with the exception of pre-scheduled lunch breaks and breaks for vehicle maintenance. Eventually, drivers became accustomed to the overall service changes and are glad to be able to transport more passengers to and from their desired destinations than was previously possible. 
Launching in the midst of the COVID-19 pandemic, while unavoidable, brought challenges as well. Because of travel concerns, Via was not able to have on-site visits. While the company was available remotely, not having an on-site presence meant that they could not work directly with drivers and BRATS staff, which caused setbacks. Via was able to be a reliable partner and support the program, but in an ideal situation BRATS would not launch without having an on-site presence from their technology partner.
BRATS hopes to continue expanding and providing service to the Baldwin County community. Rising fuel costs coupled with the flexibility of on-demand transportation and the easy-to-use mobile app – which is especially appealing to Baldwin County's younger population – means that there is increased demand for the service. BRATS is testing operational efficiency as ridership steadily increases, but the new system brings flexibility for future scaling efforts. So long as BRATS can procure additional vehicles, the service is easy to scale as needed. Regardless, BRATS hopes to continue to meet rising demand, and continue to increase and improve service. 
Via's software easily allows expansion of the service. However, procuring additional vehicles has proven to be a challenge. BRATS is currently in the process of acquiring high-roof, 5-6 passenger transit vans with wheelchair lifts to add to its fleet. Vehicle procurements through the Alabama Department of Transportation currently take longer than anticipated due to manufacturing delays. BRATS was able to order vans in 2021 and early 2022, but they are not scheduled to be delivered until mid-2023.
Microtransit has emerged in recent years as an evolution of traditional DRT enabled by technological improvements, like booking, routing, dispatching, and payment software. As the only public transportation provider in Baldwin County, BRATS must keep innovating and improving to provide dependable service to residents. Implementing new technology to automate scheduling, routing, and dispatching helped BRATS modernize its on-demand transportation and more efficiently and effectively serve its community.
How is the current system meeting or not meeting the needs of your community? What needs can an on-demand service address that your existing services do not? Consider using a needs assessment to determine how a microtransit program can best serve your community

What other mobility services does your agency provide? How might integrating on-demand transportation impact those other services?

What are the technology needs of your agency in implementing on-demand transportation? What might you need from a technology partner?

What is your service area? Will you operate in specific zones, or bring the service to the entire community?

Are you able to support your program with your agency's existing vehicles, or do you need to procure them from an outside vendor?

What staffing needs do you anticipate? Do you need to hire new staff to support the new service? How do you plan to hire and retain operators?

What performance metrics do you intend to collect? How do you plan to analyze and report that data? 

Are you planning on expanding the program in the future? If so, how can you ensure that it will be scalable?
Related Items