Collaborative Planning: A Look at the Partnership between Metro Transit and Heartland Bike Share in Omaha, NE
20 minutes Author: Shared-Use Mobility Center Date Launched/Enacted: Jul 21, 2023 Date Published: July 27, 2023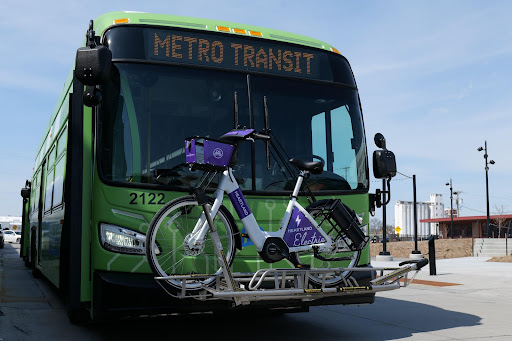 Since 2021, the Shared-Use Mobility Center (SUMC) has convened an Innovative Transit Micromobility Integration working group, in partnership with the Federal Transit Administration (FTA). In these working group meetings, representatives from transit agencies discuss challenges and strategies they face in integrating micromobility programs into their transit systems, and share knowledge and resources to learn from each others' experiences. This case study is part of SUMC's technical assistance work for the FTA that is conducted under the Mobility Innovation Collaborative program, and incorporates knowledge gained from a guest presentation at one of these working group meetings.

---
Watch a presentation on the partnership between Metro Transit and Heartland Bike Share with Benny Foltz, Executive Director of ROAM, and Evan Schweitz, Senior Manager of Planning & Scheduling with Metro Transit. 
Credit: SUMC
Bikeshare is often touted as a practical first and last mile solution, helping people make transit connections when other options are unavailable, unreliable, or slow. Thoughtful integration of bikeshare and transit networks can increase use of both services, facilitate access to more destinations, and ultimately reduce the number of cars on the road. Even if bikeshare and transit are operated by different entities, when collaboration, partnerships, and intermodality are focal points, both systems benefit. 
In Omaha, Nebraska, the city's public transit provider Metro Transit and non-profit bikeshare provider Heartland Bike Share have been collaborating on ways to make biking and transit more connected and more appealing in their community. Though these are separate operating entities, their relationship exemplifies how transit and micromobility integration can benefit a city, support both modes, and provide more options for travelers.
Omaha Rapid Bus Transit (ORBT)
Metro Transit is the main transit provider in Omaha, Nebraska, and has been providing bus and paratransit service to the region since 1972. In November 2020, the agency launched Omaha Rapid Bus Transit (ORBT) to serve a main corridor through the city. ORBT has a fleet of 60-foot articulated, natural gas-powered buses with accessibility features including level boarding, wider doors, and navigation aids. With dedicated bus lanes and signal priority, ORBT provides a more streamlined service, while only changing bus stops by 3 blocks or less for over 90% of riders. The ORBT route functions as a spine for the network, running centrally through Omaha and overlapping with many of the city's other bus routes. As an integral part of Omaha's transit network, ORBT has very high ridership, and currently serves about 15-20% of Metro Transit's daily customers. In addition to providing a more reliable and convenient bus service, one goal of ORBT was to better integrate with multi-modal travel options, including bicycling.
Heartland Bike Share
Heartland Bike Share has operated bikeshare in the Omaha/Council Bluffs metro area since its start in 2011. Originally launched as a side-project of another non-profit, Live Well Omaha, Heartland Bike Share became its own independent 501(c)(3) non-profit organization in 2016 that eventually grew to launch and operate two other systems in the state: BikeLNK in Lincoln, and Valentine Bike Share, North America's most rural bikeshare station with 10 bikes at The Cowboy Trailhead in the town of Valentine. This organization, dedicated to the development, promotion, and operation of bikeshare systems throughout Nebraska and southwest Iowa, was rebranded in 2023 as ROAM. 
As Heartland Bike Share in Omaha continued to grow, the organization formalized a relationship with the City of Omaha in 2020, which helped secure funding for the bikeshare, helped cement the longevity of the program, and helped solicit additional business partnerships and funding. As part of this city partnership, half of Heartland Bike Share's equipment is owned by Omaha, while the other half is owned by ROAM. In Spring 2023, Heartland Bike Share relaunched with an all e-bike fleet. As of 2023, Heartland Bike Share has 400 bikes and over 90 stations.
Though ORBT officially launched in 2020, Metro Transit had been working on a bus rapid transit (BRT) study since 2012, which led to developing a design plan for ORBT throughout 2015-2019. ORBT was designed as a replacement for Route 2, one of the city's most popular and productive bus routes, and Metro Transit determined that launching ORBT would require removing or relocating some existing bus stops. Although the majority of ORBT riders were within 3 blocks of a planned ORBT station, 6% of riders would have to travel between 4 and 7 blocks. This presented an opportunity for the agency to seek out a way to bridge this gap. 
As Metro Transit was working on ORBT, Heartland Bike Share submitted its own expansion plan in 2016 which included placing bikeshare facilities along the ORBT line in development. Ultimately, the 2020 partnership between the two entities helped Heartland Bike Share and Metro Transit collaborate on the locations of bikeshare stations, focusing on creating a first/last mile solution, particularly for some of the people who had longer distances to travel to get to a bus stop.
Throughout 2022 and 2023, Heartland Bike Share completed the installation of these stations. Funding for bikes and e-bike retrofitting came from a grant from the Nebraska Environmental Trust, while the stations near ORBT stops were funded through Metro Transit using the FTA's 5339 – Grants for Buses and Bus Facilities formula grant program. 
Both ORBT buses and stations are designed to facilitate bike travel. ORBT stations provide bike parking and each bus has enough on-board bike storage to hold six bicycles. Initially, riders could only bring their personal bikes on buses, but stemming from requests from riders and through the partnership with Heartland Bike Share, Metro Transit updated their bike policy so that riders could also bring bikeshare bikes onto the buses. Heartland Bike Share e-bikes can be heavy for some riders, but ORBT's on-board bike racks are strong enough to hold them. 
Recognizing that strict time limits on bike rentals increased the rush on trips, making them less enjoyable, less safe, and less useful for commuting, Heartland Bike Share offers daily, monthly, and annual memberships instead of a pay-as-you-go option. This allows more flexibility for riders to travel further and makes bike-bus connections more useful. 
Both Heartland Bike Share and Metro Transit have implemented other efforts to promote intermodal integration as well, including a staff pass program between the two entities, cross-promotion of services, and planned station coordination on other Metro Transit routes. With these policies, both entities have made it easier for users to make intermodal connections, travel outside of both the bikeshare and bus footprint, and more seamlessly access more destinations around Omaha.
Surveys distributed to Omaha residents in 2023 by ROAM highlighted the impact that bikeshare and transit integration can have on Omaha residents. Survey results showed that bikeshare stations near transit stops would increase the use of both systems; 53% of respondents said that they would use public transit more often with bikeshare stations near bus stops, and 67% of respondents said that they would ride bikeshare more often. Ridership data supports this, and Heartland Bike Share stations at ORBT stops are among the busiest in the system.
With the launch of ORBT and the concurrent bikeshare expansion, Metro Transit and Heartland Bike Share both recognized that collaboration benefits both organizations as well as Omaha commuters. Having both bikeshare and BRT options available and integrated helps people access more destinations more easily and conveniently, while simultaneously promoting both modes. The partnership between Metro Transit and Heartland Bike Share helps bridge gaps in Omaha's transportation network, connecting more people with public transit and promoting bikeshare as a convenient first/last mile solution.
Related Items