Findings from the Mobility on Demand (MOD) Sandbox's Independent Evaluation
5 minutes Author: Shared-Use Mobility Center Date Launched/Enacted: Mar 3, 2023 Date Published: March 3, 2023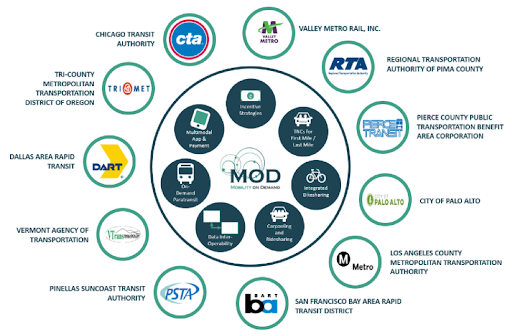 In February 2023, the Federal Transit Administration (FTA) published the Synthesis Report: Findings and Lessons Learned from the Independent Evaluation of the Mobility on Demand (MOD) Sandbox Demonstrations. This report presents an overview of findings from the 11 Mobility on Demand (MOD) Sandbox demonstration projects selected by FTA in 2016 to test strategies that advance the MOD vision of a multimodal, integrated, automated, accessible, and connected transportation system in which personalized mobility is a key feature.
An independent evaluation (IE) is required by federal law for demonstration projects receiving FTA public transportation innovation funding. An IE also provides a comprehensive and unbiased assessment of project impacts to inform transportation practitioners, policymakers, and the public.
The report offers readers  an overview of the impacts of the MOD Sandbox program and gives insights for the planning, procurement, operations, and evaluation of technology-enabled mobility initiatives. It also presents an overview of the evaluation methodology and a framework to assess the project's impact and institutional factors influencing its development. Further, it  explores cross-cutting findings from the data analysis on user impacts and systems operations alongside those gleaned from interviews with project partners and their vendors. . Additionally, the report provides considerations for future demonstration programs based on its findings, concluding that more research and guidance are needed to better understand:
Policies and practices to prepare for automated vehicle deployments in a MOD context,  and the impacts of these deployments on public transportation;

Potential impacts, opportunities, and challenges of artificial intelligence and machine learning;

Life cycle cost estimation of MOD;

Impacts of MOD on communities (e.g., land use, travel behavior);

Physical and digital infrastructure needed to support MOD;

Guidance for incorporating MOD into modeling and scenario planning; and

Best practices for ensuring MOD meets the needs of all users (e.g., definitions of equity, overcoming technology and banking challenges).
The report also includes site-specific summaries of findings from each of the 11 MOD Sandbox evaluations. 
The ICF and UC Berkeley Transportation Sustainability Research Center (TSRC) team selected by the FTA to conduct the IE of the MOD Sandbox Program are also conducting the IE of the IMI and AIM programs. Learn more about What to Expect for Independent Evaluation Team Site Visits. 
Related Items