Meadville, Pennsylvania - A Grassroots Approach to Rural Bikeshare
20 minutes Author: Shared-Use Mobility Center Date Launched/Enacted: Jun 6, 2022 Date Published: June 2, 2022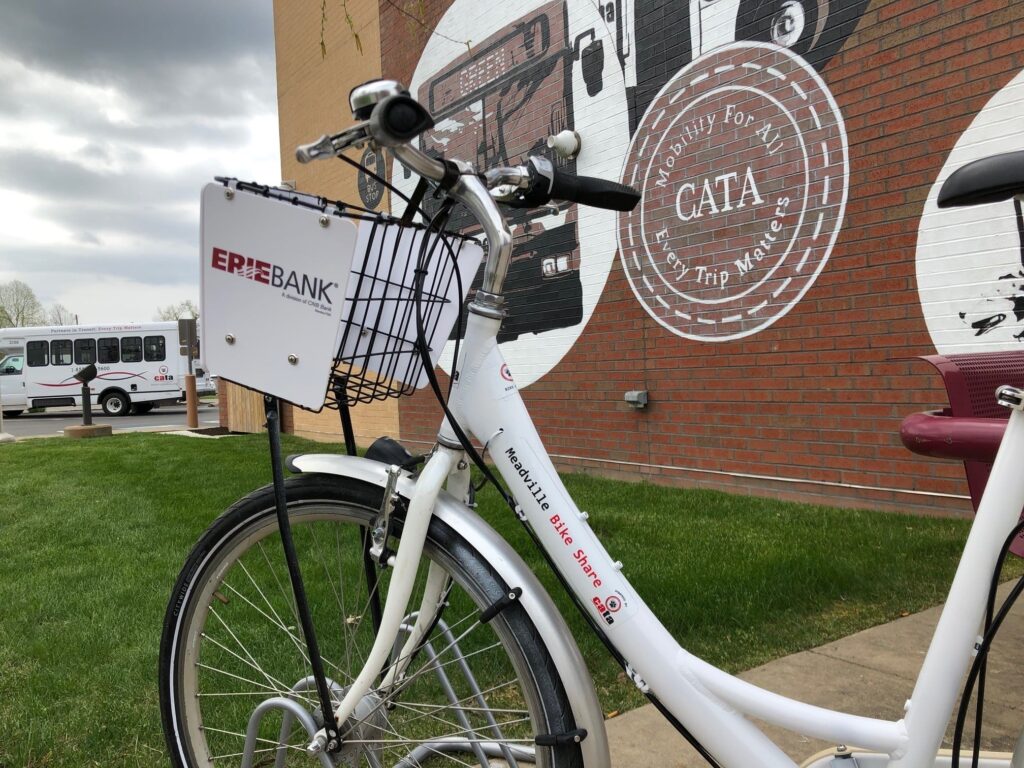 Brief Summary
In 2021, the Crawford Area Transportation Authority (CATA) formed a non-profit organization to enhance regional mobility and bring bikeshare to the City of Meadville, a rural community in Northwest Pennsylvania. With few existing bikeshare models in rural areas to replicate, it was initially challenging for CATA to garner financial support for a relatively untested concept. Ultimately, because of the agency's standing in the community, CATA was able to build partnerships to get the Meadville Bike Share program off the ground.
CATA took a grassroots approach to partnership building, funding, and marketing. The program is funded with sponsorships from multiple local businesses, and marketing is done through community engagement. 
CATA partnered with Koloni for the program's technology needs, with local bike shops for bike maintenance, and with local businesses for funding through sponsorships. CATA handles the program's management and operations. 
By Spring 2022, at the end of its first year of operations, the Meadville Bike Share system had 20 bikes at 7 docking stations throughout the city. Future plans for the program involve expanding its fleet size, reaching nearby towns and connecting with trailheads at state parks. 

Description: Video interview with Tim Geibel from the Crawford Area Transportation Authority.
Credit: Shared-Use Mobility Center


This case study is a product of SUMC's Mobility Innovation Collaborative (MIC), a platform that captures stories and lessons learned from nearly 50 innovative mobility projects across the United States. MIC is supported with funding from the Office of Research and Innovation at the Federal Transit Administration.
Introduction
Though bikeshare has seen immense growth in recent years, most systems operate in urban or suburban environments, or university campus areas. But despite few models in rural areas, bikeshare programs in less-dense settings can be successful. In 2021, the Crawford Area Transportation Authority (CATA) started its own bikeshare program in Meadville, a city of about 12,000 people in Crawford County in Northwest Pennsylvania. With a vibrant downtown area, multiple recreational areas, trails, parks, and the Allegheny College – a small liberal arts school – Meadville appeared to be a suitable setting to support a bikeshare program. As the bikeshare program completes its first full year of operations, CATA has already gathered insights and learned lessons about how to create and operate an innovative rural micro mobility program.
CATA began its operations as a small rural transit authority in Meadville, Pennsylvania in 1979, providing fixed-route bus and door-to-door paratransit services for the city. In 2018, CATA merged with the nearby Venango County Transportation Office, expanding its service to towns in both Crawford and Venango counties. With a guiding principle of "Every Trip Matters," CATA has been recognized twice by the Federal Transit Administration for outstanding public service in rural transportation. 
In pursuit of expanding mobility options in the community, CATA sought to add bikeshare to its suite of services in 2019. Tim Geibel, General Manager of CATA, championed the initiative to expand CATA's services by incorporating micromobility, and began the planning process. However, several challenges can make it difficult to get a bikeshare program running in small communities. For instance, for-profit bikeshare operators have not offered sustainable business models which can effectively serve the needs of small town communities. Furthermore, transit agencies of all sizes face institutional and funding limitations in integrating bikeshare to their services. For example, since bikeshare is not defined by the Federal Transit Administration (FTA) as a mode of public transportation, it is ineligible for federal funding in most cases. Programs can use FTA funds for amenities related to bicycle access to public transportation under certain conditions, but not for the purchase of bicycles themselves, or for any operational costs. Given the overall landscape of introducing micromobility options, CATA's five member Board of Directors created a separate 501(c)(3) non-profit organization called the Northwest Pennsylvania Mobility Alliance (NPMA). This arrangement allowed CATA to create an institutional house for the bikeshare program, as well as to leverage other funding sources while maintaining control over the program's operations. 
The NPMA's first goal was to initiate a grassroots effort to raise money and awareness for the bikeshare program. Beginning with surveys of local residents, the organization found plenty of community interest in bikeshare, particularly at trailheads and other recreational facilities in the area. Starting an agency-led bikeshare program in a rural area through a non-profit organization is innovative, and one of NPMA's main initial objectives was to test the waters and see how sustainable this model could be. 
After researching the market for small bikeshare program vendors, NPMA eventually partnered with Koloni as the bikeshare technology provider. Koloni provides the user-facing and administrative apps, rear tire locks, and some of the program's bicycles. Having Koloni as a reliable technology partner was vital to the program's success. With the software and locking technology in place from Koloni, all that NPMA staff had to worry about was getting acclimated to the software to fully manage the program. 
Although NPMA intended to launch the program in Spring 2020, the outbreak of the COVID-19 pandemic delayed those plans for about a year, and Meadville Bikeshare officially started on April 30, 2021. In the first year of the program, CATA acquired 20 internal gear hub bicycles, and plans to integrate 10 additional 3-speed bikes by Summer 2022.
The Meadville Bike Share program is seasonal, operating April through November, depending on the weather. Currently, there are bikes available at seven geofenced locking stations around Meadville; the most heavily used site at Ernst Trailhead, the start of a roughly five-mile paved path through French Creek Valley. 
Meadville Bike Share bikes are white, internal 5-speed bikes, with branded baskets mounted on the front. The docks placed around Meadville are racks that lock docked bikes and release them by smartphone Bluetooth control. Riders unlock the bikes using a smartphone app, and are charged $2.50 for the first hour of use, then $1 for each additional half-hour. The goal of this fee is to directly cover the operational costs of the program, and in doing so, achieve financial sustainability through user fees. 
Unlike most systems in large urban areas, NPMA owns and operates the bikeshare program in-house, with staff handling bicycle balancing and maintenance efforts. This configuration allows for NPMA to manage all operational needs of the program, and keep it fully community-driven and community-supported. If more intensive bike maintenance work is needed, the agency has formed partnerships with two local bike shops whose services it can employ. These partnerships have been crucial for the program, as NPMA can use qualified, locally-based technicians to address major issues and get bikes back into circulation.
As Tim Geibel notes, "the future of rural transit is partnerships." Meadville Bikeshare is almost completely financed through partnerships and sponsorships with local businesses. Banks, medical centers, and other local organizations provide funding to the NPMA to operate the program as part of sponsorship agreements. Some of these sponsorships include: 
Erie Bank

Hagan Business Machines of Meadville

The Meadville Medical Center Foundation

The Crawford Heritage Community Foundation

The Crawford County Convention and Visitors Bureau

Arc of Crawford County
CATA has three donation levels for sponsorship: an organization can sponsor an individual bike for $900, sponsor a bike rack location for $250, or become a "Friend of Meadville Bike Share" for $100. Sponsorship for bikes and bike racks allows for branded recognition on the bikes or racks, while becoming a Friend of Meadville Bike Share allows for name recognition at community events and fundraisers. Currently, sponsorship agreements are renewed yearly, but NPMA is exploring options for multi-year sponsorships, which will help diminish some of the uncertainty in long-term funding for the program.
Like many other aspects of the planning and partnership-building for Meadville Bikeshare, marketing efforts have been conducted via grassroots initiatives. Instead of traditional advertising, CATA has promoted the bikeshare program through various community events and relied on word-of-mouth to raise awareness. For example, the city of Meadville hosts weekly farmers' markets on Saturday mornings from May to October. CATA brought demonstration bikes to some of these gatherings to let people try them out and learn more about the program. Though these demonstration events can sometimes pose a challenge due to CATA's small staff working after-hours, providing the opportunity to test ride the bikes and teach people how to access them at these events greatly increases CATA's presence in the community.
Crawford County also has a small and dedicated community of cyclists who are helping spread awareness and collect some donations through everyday interactions with people in the community. Grassroots connections like these are integral in raising visibility and promoting the program.
Per the agency's website, CATA's services "help eliminate rural isolation, improve quality of life and help thousands of people stay connected to the everyday world!" In alignment with this, one of CATA's strategic goals is moving beyond simply operating buses, and becoming a comprehensive mobility provider. This involves expanding the agency's definition of mobility, diversifying sources of funding, improving existing services, and offering new mobility options. The creation of the NPMA and the Meadville Bikeshare program furthers this goal by providing Meadville residents access to a new form of transportation, improved access to other mobility services, and advertising opportunities with local partners. 
Tied to increasing mobility access through bikeshare, CATA also hopes to increase brand recognition and attract more riders to all of its services. Many Meadville Bike Share users have never ridden a bus, so their first experience with CATA is through the bikeshare program. This puts bikeshare in a unique position to increase CATA's overall presence in the community. If people have a positive experience with bikeshare, it can help influence their decisions to use other CATA services. 
As the program expands, CATA hopes bikeshare will be an easy and affordable way to complement multimodal trips. CATA promotes "Mobility for All!" and hopes that bikeshare stations in underserved communities will improve transportation options for residents, especially in areas with greater bus headways. 
CATA also published a Climate Action Plan in April 2022 to guide operations and promote active and sustainable transportation within Crawford and Venango counties. The plan lays out several goals and initiatives to reduce greenhouse gas emissions in the coming years, one of which is investing in alternative transportation modes. CATA is still determining how specifically to measure the climate impact and sustainability of bikeshare as compared to car use, but as a low-emission mode of transportation, promoting and expanding the service is a key strategy in support of CATA's climate goals.
In its first year of operation, the Meadville Bike Share program has shown promise in expanding the mobility options in the area, and it has become clear that it is something the Meadville community wants and values. As an example, the addition of the trailhead station allowed some community members to access Ernst Trail in a way not possible previously. Prior to the bikeshare program, many people had wanted to ride the trail, but either did not have access to a bike, or lacked a way to transport their bike there. People can now use CATA buses to get to the trailhead, rent a bikeshare bike once they arrive, and enjoy the trail. Unsurprisingly, the highest bikeshare utilization is currently for recreation at Ernst Trail. Meadville residents also now have another option to get around the city to run errands or get to work. Someone can easily make a one-way trip downtown by bike and be able to take another mode back.
With the initial goal of testing the waters for the sustainability of this type of program, one of the most impactful outcomes has been the growth of CATA's presence in the community. Through the bikeshare, the agency has been building goodwill and opening doors to support expansion. Since launching, CATA has been approached by local businesses outside of current partnerships, who inquire about sponsorship opportunities, as well as nearby communities who discuss developing plans to deploy bikes and stations outside of the initial service area. With such strong community engagement, CATA foresees gaining support to pursue its vision for a larger regional bikeshare network.
Following the successes of its first year, plans for the future of the program are focused on growth. CATA aims to invest in more permanent improvements to the current system and to expand bikeshare into neighboring communities. Currently, the system only exists in Meadville, but CATA's intention is to bring bikeshare to neighboring Oil City, Titusville, Franklin, and others throughout the next five years, with the entire system unified under one app. Ultimately, CATA envisions having 200-250 bikeshare bikes at various new stations, connecting the region through a corridor with parks, bus stations, and other key destinations. Furthermore, CATA intends to build a bus shelter network between Crawford and Venango Counties and plans to include space at the facilities for bike accommodations. The extent to which the program scales will ultimately depend on its sustainability as a community-supported initiative, but CATA is optimistic about the program's future growth. NPMA issued a Request for Proposals in September 2021 for an additional 50-75 bikes to incorporate into the system. CATA has awarded a multi-year contract to Koloni as a technology partner to maintain and expand the bikeshare program. 
Through the upcoming "Friends of the State Park" partnership, CATA will soon expand to add a bikeshare station to the Maurice K. Goddard State Park in nearby Mercer County. Officials from the state park approached CATA to explore a potential collaboration and examine how incorporating bikeshare can fit into the park's strategic plan to encourage more people to use the park's trails.
Many bikeshare programs experience operational challenges due to bikes being vandalized, stolen, or intentionally damaged. Since bikeshare was a new service in the community, NPMA did not know what to expect as a community response. Fortunately, despite a couple of minor incidents where bikes went missing for a few days at a time, the first season ended without any lost bikes. 
The greatest challenge in starting this project was the uncertainty. A rural transit agency incorporating bikeshare into its suite of services and handling operations is unusual, and there were few models to look to when planning the Meadville Bike Share program. Through surveys during the planning process, NPMA recognized that community members would appreciate a bikeshare system, but there were still unknowns about what would happen once the program started operations. It was initially a challenge to pitch a sponsorship opportunity to the Meadville business community based on an untested concept, but local businesses were willing to support CATA's initiative.
Meadville Bike Share program is mostly funded through sponsorship agreements renewed on a yearly basis. This causes uncertainty to the future program as NPMA has limited long-term financial security. NPMA is working to mitigate this uncertainty by building and maintaining good relationships with local businesses and community members, although the relationship-building process poses its own set of challenges that require significant time, commitment, and effort from NPMA staff. This seems to be getting easier as the program gains more visibility in the community. As awareness of bikeshare grows, businesses become more mindful of the benefits the service brings to the area and are more willing to support it. Through this process, NPMA has gained more experience, formed stronger relationships, and expanded its community presence. 
Any mobility project requires work and input from a great number of people and organizations, and the Meadville Bike Share program is no exception. A key takeaway is the importance of a local leader who can help bring stakeholders together and set a project like this in motion. With the uncertainty associated with a novel and innovative bikeshare program, it was essential to count with someone who can organize, amass community interest, and move the project forward. From his position as CATA's General Manager, Tim Geibel was able to champion this initiative by spearheading many of the planning, community engagement, and relationship-building efforts that allowed for the bikeshare program to get off the ground.
The Meadville Bike Share program began as a leap of faith. Micromobility is a flourishing industry, but very few programs operate in rural areas. As this case demonstrates, bikeshare can expand mobility options, encourage active transportation, build community, and complement other existing forms of transportation in many contexts. 
The program is unique from many larger-city counterparts in several ways. For one, it is owned and operated completely by a non-profit organization, NPMA, which itself is a part of CATA. This configuration ultimately allows CATA to maintain complete ownership of the program. For an agency looking to be a leader in expanding mobility, this level of autonomy is crucial. 
The program is also unique in the grassroots nature of its marketing and funding. The program's success hinges on its partnerships, and NPMA has carefully fostered relationships with local organizations. Honing in on partnerships often involves CATA staff members personally connecting with business and community leaders. Furthermore, without traditional advertising and marketing, awareness of the program is driven by personal interaction and engaging with the community. 
Through innovative planning and community support, NPMA and CATA have been able to introduce a popular and effective addition to Meadville's mobility network, and have shown that it can be a successful model for rural micromobility. Meadville Bike Share has seen a 40% increase in rental transactions between May 2021 and May 2022.
Does your agency plan to handle program operations? If so, what is your staff/resource/time capacity? Will you need to hire new staff? If your agency does not plan to handle operations, keep in mind these key considerations in the procurement process.

What funding sources will your agency need to sustain the program? How will the bikeshare service pricing or multimodal fare structure be decided?

What are the technology needs of your program? What would you need to procure from a technology partner?

How will a bikeshare program impact other transit services your agency provides? 

Get to understand who your intended users are and what their needs are. Have you conducted a community mobility needs assessment study? How have you engaged the community to learn about its mobility needs?

What potential destinations and trip purposes in your community have you identified that could be served by bikeshare? 

Do you plan to expand the program? If so, how will you ensure that it will be scalable?

What safe roadways and bikeways have you identified in your community that could be appealing to bikeshare users? What opportunities can you identify to coordinate with local, county, and state agencies to promote safe biking?
Related Items