2nd E-Scooter Pilot Launch, Chicago, 2020
5 minutes Date Launched: Aug 16, 2020 Date Ended: Dec 14, 2020 Dates given are approximate.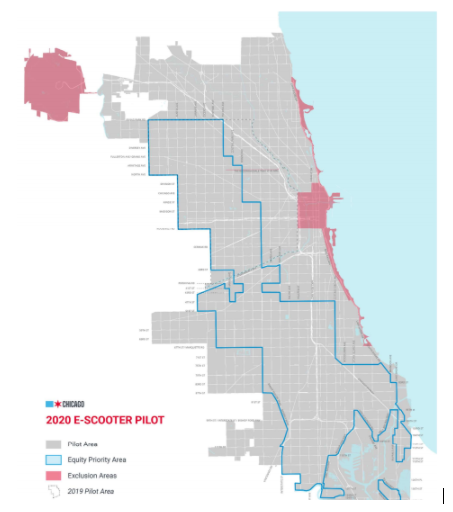 Summary
The City of Chicago has launched a 2020 E-Scooter pilot, allowing three shared e-scooter companies to operate: Bird, Lime and Spin. The pilot will run four months from mid-August to mid-December and seeks to provide valuable information to key questions generated from last year's pilot. Each of the selected vendors is allowed 3,333 e-scooters for deployment throughout the city, with the exception of the Lakefront Trail, the Central Business District, O'Hare Airport and the Bloomingdale Trail (The 606). The new pilot continues to focus on safety and equity.   
The focus on equity is being tackled through a few different guidelines. Each vendor must operate at least 50% of its fleet within the Equity Priority Area, which covers 43% of the total pilot area, and the city will check for compliance twice per day. The Equity Priority Area was chosen in these communities due to the disadvantages that area residents face with underdeveloped transportation and urban development resources. Additionally, each vendor is required to provide access to their system without a smartphone as well as offer cash-based payment options for unbanked users. With regards to safety, the e-scooters are limited to a 15 mph speed and only permitted to operate on the street from 5 a.m. to 10 p.m. Vendors are required to abide by COVID-19 safety guidelines in regards to COVID-19 by cleaning each e-scooter at least twice a day. New to the pilot is that e-scooters must be locked to a fixed object to end the ride, to reduce obstruction of roads or sidewalks as well as requiring riders to pass a safety quiz before using a device. At least two of the vendors plan to test a sidewalk riding system on their devices that would issue warnings to users who do not comply with this restriction. The goal of the pilot is to determine if e-scooters can effectively improve mobility for those who experience economic, social, educational and transportation barriers, if dangers associated with e-scooter riding can be limited, if e-scooter usage can significantly reduce single-occupancy vehicle trips, and identify what best practices are for managing a potential permanent e-scooter program.