City Department of Transportation Extends Pilot for Mopeds, Washington, DC, 2021
5 minutes Date Enacted: Apr 1, 2021 Date Ended: Dec 31, 2021 Dates given are approximate.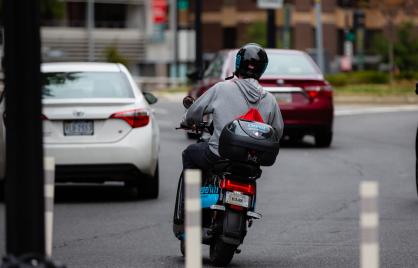 Summary
The District Department of Transportation (DDOT) has announced that it is extending its Pilot for Shared Motor-Driven Cycles through the end of December 2021. Originally launched in 2019, this program allows micromobility companies to provide mopeds for use by the broader public on the condition that they meet the requirements of the city's new Public Right of Way Occupancy Permit (PROWOP). Some of the PROWOP terms include requiring riders to wear helmets, have drivers' licenses, and abstain from driving the mopeds on bike lanes or sidewalks. In addition to the PROWOP, the pilot caps the supply of shared mopeds to 800 vehicles. Currently, Lime and Revel are the only moped providers participating in this pilot.
This pilot is part of a larger effort in Washington, DC and elsewhere to encourage the use of shared modes of transportation in place of single-occupancy vehicles. Many cities and states see mobility on-demand strategies as integral to their transportation and environmental policies. The Pilot for Shared Motor-Driven Cycles can help DDOT to evaluate its efficacy and determine if mopeds and other forms of micromobility should play a more permanent role in Washington's transportation landscape.
Last updated April 13, 2021
Download Supporting Documents