City to Launch Autonomous Shuttle Project, Grand Rapids, MN, 2022
5 minutes Date Launched: Oct 5, 2022 Date Ended: Apr 5, 2024 Dates given are approximate. Pilot Project Timeframe: 18 months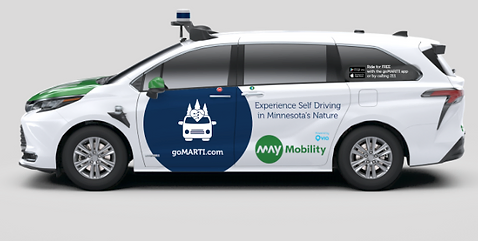 Summary
Through a partnership with the City of Grand Rapids and May Mobility, the Minnesota Department of Transportation will launch goMARTI (Minnesota's Autonomous Rural Transit Initiative), an autonomous vehicle (AV) shuttle pilot program. goMARTI will feature five self-driving shuttles throughout Grand Rapids, three of which are wheelchair accessible. The pilot will run for 18 months beginning in October 2022, cover nearly 17 square miles, and include roughly 70 pickup and drop-off points. Rides are free, and can be requested through the goMARTI mobile app, which will be available at launch. 
Vehicles are fully autonomous, but will have a vehicle operator on board at all times to ensure safety and assist passengers. 
The goMARTI pilot intends to increase transportation options for Grand Rapids, especially for those with mobility challenges. goMARTI also seeks to advance and inform AV technology development, specifically in rural settings and winter conditions. As AV technology improves, transit agencies throughout the world are considering how AVs can fit into their fleets. Pilot programs like goMARTI are important in learning more about how shared AVs can address mobility challenges.

Last updated September 29, 2022