Greenride Bikeshare Expands and Replaces Fleet with Electric Bicycles, Burlington, South Burlington, and Winooski, VT, 2021
5 minutes Date Launched: May 1, 2021 Dates given are approximate.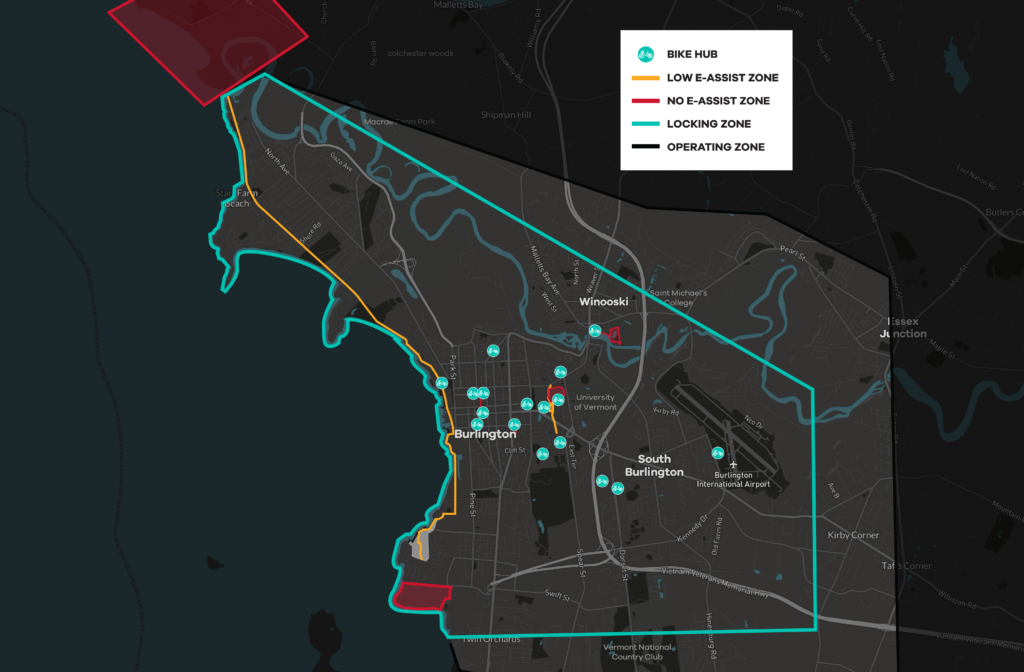 Summary
Greenride Bikeshare has announced a large expansion of its services, replacing its 100 non-electric bicycles with 200 electric pedal-assist bicycles and adding 13 new docking hubs to its 17 existing hubs across three cities in the Burlington metropolitan area. BOLT Mobility will supply the bicycles and the service will be jointly sponsored by the Chittenden Area Transportation Management Association (CATMA), the University of Vermont, and Champlain College. For safety reasons, geofencing technology is used to slow the electric assist feature or deactivate a Greenride bicycle entirely depending on its location; for example, a rider cannot take a Greenride bicycle onto the Causeway, a greenway.
Electric pedal-assist is expected to improve the utility of the Greenride Bikeshare system. With electric assistance, more customers will hopefully use Greenride for purpose driven trips, hopefully replacing their use of cars in some instances. For Burlington in particular, this new electric bikeshare program is expected to help the city meet its goal of becoming a Net Zero Energy City by 2030.
Last updated May 19, 2021