IndyGo Launches Microtransit Service in Southeastern Indianapolis, IN, 2022
5 minutes Date Launched: May 11, 2022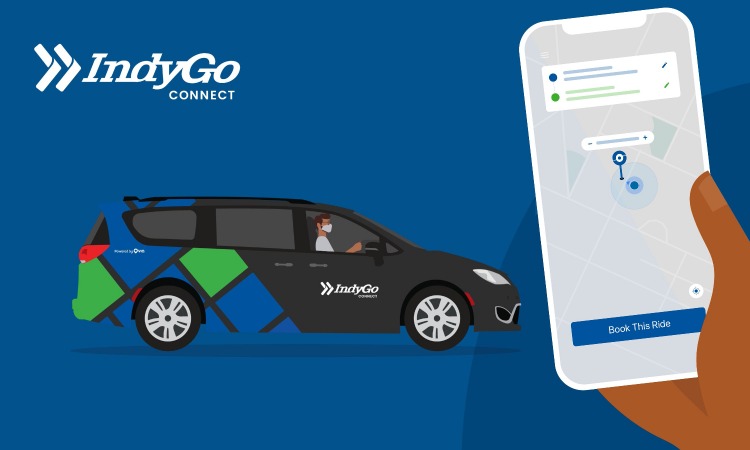 Summary
In May, the Indianapolis Public Transportation Corporation (IndyGo) launched their new on-demand transit pilot project known as IndyGo Connect to expand transportation access in the city's southeast region. The southeastern portion of IndyGo's service area sees the least frequent bus service, with the majority of routes only running every 60 minutes.
The service looks to bridge gaps in transportation options and service by connecting residents and workers to essential community destinations within the area as well as the larger public transit system. Popular destinations in the on-demand zone include various grocery stores, Red Line bus rapid transit stations, and a courthouse. 
Travelers can book a shared ride for $1.75 per trip or less through the IndyGo Connect mobile application or by phone call. Seniors (65+) and youth under 18 ride for $0.85 one way with valid identification. Service runs from 6 AM-9 PM Monday through Saturday and 7 AM-9 PM on Sundays. 
IndyGo Connect arose out of a partnership between IndyGo and Via, a vendor that supports the booking, payment, and routing technology behind the service. Via's technology is able to match passengers heading in the same direction to provide convenient and efficient trips within the IndyGo Connect service zone. Travelers are also given the option to select a wheelchair accessible vehicle when booking a trip. 
IndyGo Connect is one example of how transit agencies and private companies can work together to bring flexible and affordable transportation options to enhance community mobility. Furthermore, pilots like these demonstrate the ability for on-demand service to fulfill or supplement rides in lower-service areas.
Last updated June 1, 2022