City Pilots Fixed-Route Autonomous Shuttle Service, Fishers, IN, 2021
5 minutes Date Launched: Dec 20, 2021 Date Ended: Jun 1, 2022 Dates given are approximate. Pilot Project Timeframe: 6 months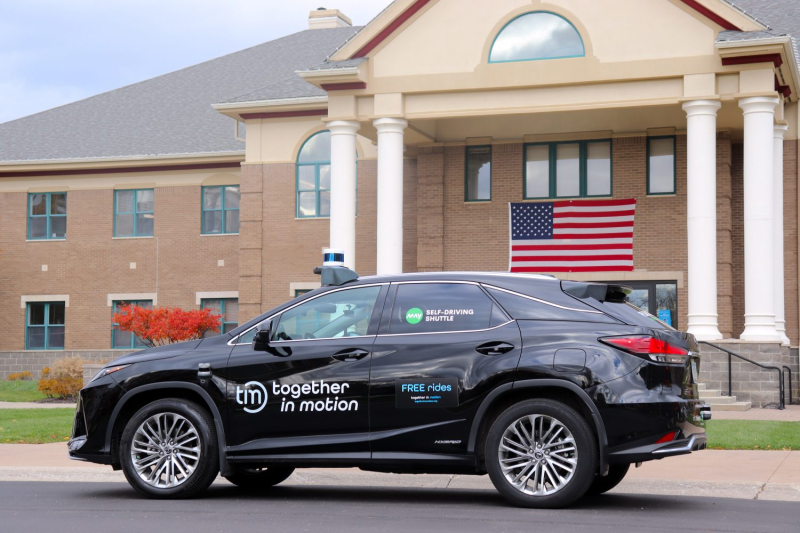 Summary
The City of Fishers, an Indianapolis suburb, is partnering with the Toyota Mobility Foundation (TMF), Energy Systems Network, the Indiana Economic Development Corporation, and May Mobility to pilot an autonomous vehicle (AV) service. This pilot is the second phase of TMF's Together in Motion Indiana initiative. Together in Motion Indiana's first AV pilot concluded in November 2021 with a similar AV program in Indianapolis.
In this fare-free service, customers have access to a fleet of five hybrid Lexus RX 450h vehicles and one electric wheelchair-accessible Polaris GEM. This service will operate along a three-mile fixed route in the Nickel Plate Cultural District. The shuttle route has nine stops. Customers can use the service from 8 AM to 8 PM during the workweek and expect the vehicles to pick them up every 10 to 15 minutes. Customers with disabilities can request to ride on the wheelchair-accessible Polaris GEM by calling a phone number. The Lexus 450h vehicles can accommodate three passengers and move up to 25 miles per hour. An attendant staffs all vehicles while in operation and can manually operate the vehicle if necessary for safety reasons.
This pilot will help test how AV shuttles serve more suburban communities as a first- and last-mile mobility option.
Last updated January 3, 2022