Riverside Transit Agency Launches GoMicro in Hemet and San Jacinto, CA, 2022
5 minutes Date Launched: Dec 1, 2022 Dates given are approximate.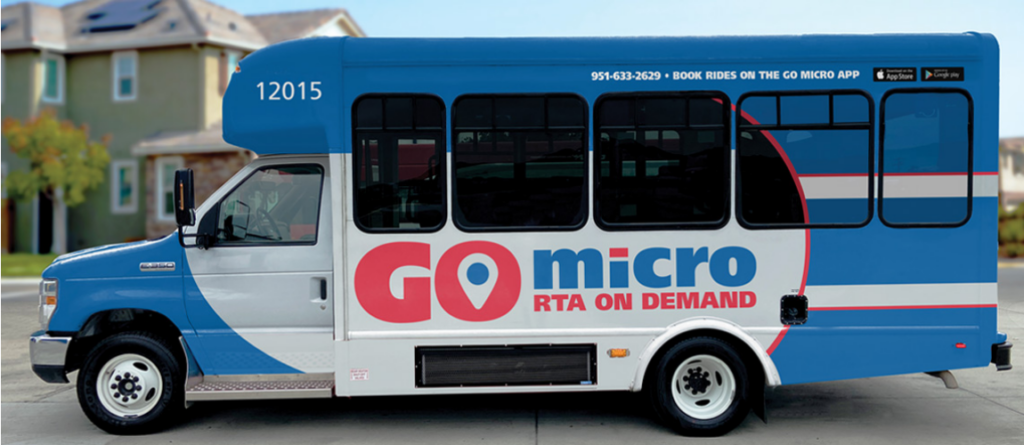 Summary
The Riverside Transit Agency (RTA) has launched GoMicro, an on-demand microtransit service, in the communities of Hemet and San Jacinto. Customers can use GoMicro to travel between existing fixed-route bus stops across a single service zone in the adjacent cities. GoMicro is available from 6:30 AM to 6:30 PM during the work week and from 7 AM to 7 PM on weekends. Customers can request their rides in real-time or up to a week in advance using a smartphone app, online portal, or phone. RideCo serves as the booking and routing technology for GoMicro. Fares on GoMicro are the same as on RTA's fixed-route vehicle, which customers can pay on the microtransit vehicle. Vehicles for GoMicro are wheelchair accessible, can seat up to 12 passengers, and are equipped with wi-fi and bike racks.
Description: Video promotion for GoMicro.
Credit: Riverside Transit Agency
Seven fixed bus routes served in GoMicro's service area before the microtransit program began operations. Three of these bus routes will discontinue service, and three others will be truncated. A new circulator route will also start that connects Mt. San Jacinto College and the Hemet Valley Mall. Key destinations inside the GoMicro zone include schools, a Walmart, the Hemet Global Medical Center, and a casino. Microtransit services like GoMicro often are more cost-efficient and timely than fixed-route buses in lower-density areas.
Last updated January 24, 2023