Three Micromobility Companies to Participate in E-Scooter Pilot, New York, NY, 2021
5 minutes Date Launched: Jun 1, 2021 Dates given are approximate.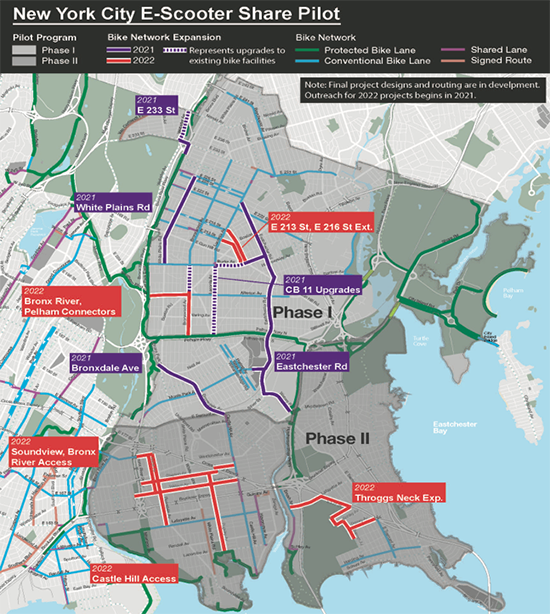 Summary
The New York City Department of Transportation (NYC DOT) has announced its first e-scooter pilot, which will take place in the East Bronx area, an 18-square-mile area with limited access to transit and about 570,000 residents, including about 25,000 individuals who are affordable housing participants through the New York City Housing Authority.  This pilot will take place over two phases with three micromobility operators: Bird, Lime, and Veo. After participating in community engagement activities to educate the public and determine the sites for parking corrals, Bird, Lime, and Veo will offer a fleet of up to 3,000 e-scooters in its first phase of the pilot, which is expected to begin in the Summer of 2021. Phase two of the e-scooter pilot, which is expected to begin in 2022, will see an expanded service area and a fleet of up to 6,000 vehicles.
Throughout this pilot, Bird, Lime, and Veo are expected to address equity and safety concerns through a variety of measures. Some of these measures include:
Hiring salaried employees, not contractors/gig workers
Establishing free helmet giveaways and discounted helmet purchase programs
Providing accessible vehicle options to people with disabilities, like seated scooters and wheelchair attachments
A typical individual ride on an e-scooter in this pilot is expected to cost less than $5 and discounts will be available to low-income customers. Coupled with this pilot, NYC DOT is expected to construct new bicycle lanes throughout the East Bronx to make the infrastructure more inviting to people using e-scooters and bicycles.
This pilot is another opportunity to explore the roles of e-scooters in peoples' transportation journeys and to determine how to more effectively promote equity in transportation initiatives.
Last updated April 22, 2021